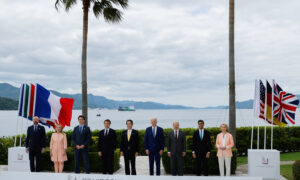 Commentary
The G-7 summit of developed democracies ended on an unprecedentedly tough note against the regime in China. The seven economically strongest democracies—the United States, Japan, Germany, France, United Kingdom, Italy, and Canada—distributed a May 20 statement with a list of complaints against the regime in Beijing, including its failure to pressure Russia into ending the Ukraine invasion.
The communique also addressed a list of China "concerns" related to Taiwan, Tibet, Xinjiang, Hong Kong, the South China Sea, political interference in democracies, climate change, environmental conservation, vulnerable countries' debts, global public health, and macroeconomic stability.
The statement hastened to reassure Beijing that the G-7 countries sought cooperation with China. But it implied that such cooperation was not forthcoming from the regime. The G-7 rejected economic "decoupling" from China but supported other closely-associated strategies, such as "de-risking" and "diversifying" supply chains.
Beijing was not pleased. Whether one calls it "decoupling" or "de-risking," the end result is the same: a gradual diversification of supply chains away from China to more friendly countries.
"We will seek to address the challenges posed by China's non-market policies and practices, which distort the global economy," read the communique. "We will counter malign practices, such as illegitimate technology transfer or data disclosure."
The G-7 countries made clear that they sought "resilience to economic coercion" by China and would protect "certain advanced technologies that could be used to threaten our national security without unduly limiting trade and investment."
On May 22, Prime Minister Rishi Sunak of the United Kingdom called China an "epoch-defining challenge" and said the West needed a robust approach to protecting sensitive technologies, including semiconductors, quantum computing, and dual-use equipment.
The G-7 communique categorically rejected Beijing's attempts to infringe on other countries' claims in the East and South China seas. "We strongly oppose any unilateral attempts to change the status quo by force or coercion," it stated. "There is no legal basis for China's expansive maritime claims in the South China Sea, and we oppose China's militarization activities in the region."
Human rights and democracy played an important part in the statement, which noted concerns over forced labor in Tibet and Xinjiang and Beijing's violation of its Hong Kong treaty.
"We call on China to honor its commitments under the Sino-British Joint Declaration and the Basic Law, which enshrine rights, freedoms and a high degree of autonomy for Hong Kong," read the communique.
In an apparent reference to a Chinese ambassador who rejected the sovereignty of former Soviet republics and potentially Beijing's recently revealed interference in Canada's democratic processes, the statement implied that China violated the most basic of international agreements on diplomacy and respect for democracy.
"We call on China to act in accordance with its obligations under the Vienna Convention on Diplomatic Relations and the Vienna Convention on Consular relations, and not to conduct interference activities aimed at undermining the security and safety of our communities, the integrity of our democratic institutions and our economic prosperity," it stated.
The G-7 countries were unequivocal in supporting Ukraine, whose president was present for some of the meetings. "We call on China to press Russia to stop its military aggression, and immediately, completely and unconditionally withdraw its troops from Ukraine," it said. "We encourage China to support a comprehensive, just and lasting peace based on territorial integrity and the principles and purposes of the UN Charter, including through its direct dialogue with Ukraine."
Beijing reacted to the statement with outrage, depicting the G-7 as an "anti-China workshop" and focusing its ire on Japan and the United Kingdom. China's foreign ministry summoned the Japanese ambassador in Beijing for censure.
The G-7 statement increased pressure on the Chinese Communist Party to abide by basic human rights and respect the territorial integrity of sovereign states in the international system. The world's most powerful democracies, which together have a far larger GDP than China, have now shown that they take a unified stand against the CCP's aggression and back it up with their considerable economic heft.
This G-7 achievement is a rarity in international politics and a testament to the importance of working closely with our nearest allies and partners, with whom we share not just trade or investment but democratic values and rights that all people deserve to enjoy.
Views expressed in this article are the opinions of the author and do not necessarily reflect the views of The Epoch Times.