Government Support to Cushion High Gas Prices Could Add to Inflation Pressures
News Analysis
Energy prices are soaring everywhere, prompting governments to consider support measures to mitigate the financial strain put on consumers' wallets. But these costly policy tools could add to inflationary pressures and hinder central banks' tightening efforts, says one market analyst.
Federal and state governments are still exploring various mechanisms that could be employed to cushion the blows from higher oil and gas prices.
The White House has reportedly considered multiple tools to alleviate the pain at the pump, including suspending the 18.3-cent gas tax and shipping gas cards to Americans to help offset $4-a-gallon gasoline. But the administration faced opposition from congressional committees.
President Joe Biden announced that he would release 1 million barrels of oil per day from the nation's strategic petroleum reserves for the next six months. But some disputed the efficacy of this initiative since the U.S. consumes about 17 million barrels per day.
In the House, three Democratic lawmakers have introduced the Gas Rebate Act of 2022, legislation that would give Americans an energy rebate of $100 per month and $100 for each dependent for the rest of 2022 in any month when the national average price of gas tops $4 per gallon.
Several states have also looked into similar relief efforts, like eliminating or suspending gas taxes. California could also give drivers with up to two cars per household $400 debit cards.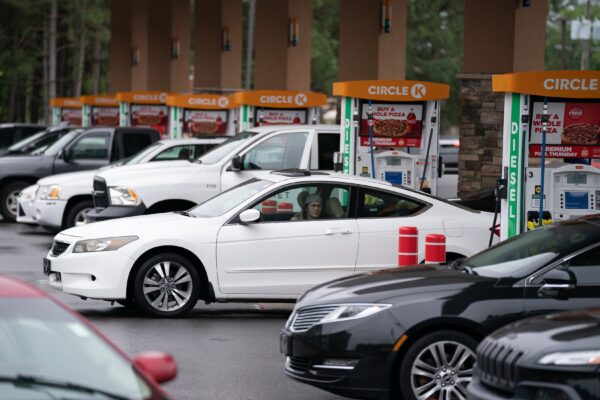 Across the world, many governments have introduced or mulled over fiscal support proposals.
In Canada, the Ontario government cut the gasoline tax, giving drivers roughly six cents per liter in savings. British Columbia officials approved extending motorists a one-time relief rebate of $110.
Mexico slashed taxes on gasoline sales to zero and maintained subsidies to keep prices from spiraling out of control. This has also sparked an unintended consequence of U.S. drivers crossing the border and filling up their tanks.
Overseas, French leaders introduced a cap on the price of natural gas, and they are studying a potential fuel-voucher program and a decrease in the electricity tax rate.
Earlier this year, the United Kingdom offered households approximately $400 in assistance to help pay for skyrocketing energy bills. The German government approved billions in aid to combat surging electricity prices.
Ireland recently trimmed the excise duty on petrol and diesel until August. Portugal reduced the special tax applied on fuels.
In Turkey, President Recep Tayyip Erdogan's government cut the value-added tax on electricity to 8 percent and on basic foods to 1 percent. Brazil is studying a new gasoline and diesel subsidy program for consumers.
Stopping Central Banks' Inflation-Busting Policies?
While these initiatives would ensure consumers experience some relief, they could continue to exacerbate the current inflationary environment, affecting central banks' tightening to fight inflation.
"Government support will help to offset the hit to consumers, who in many cases are still struggling to recover from the COVID-19 shock," said Vaibhav Tanon, an economist at the Global Risk Management division of Northern Trust, in a research note.
"On the other hand, subsidies are a form of economic stimulus, which are being inserted into economies that are already overheated. This could blunt central banks' fight against inflation. And subsidies will put a dent in public coffers at a time that countries are trying to reduce pandemic support and square their accounts."
Fiscal policies helped households at the height of the public health crisis, he added. But it is crucial that they "tread cautiously in trying to ameliorate post-pandemic price problems."
In a recent report that assesses gasoline prices worldwide, Kiplinger noted that it is more challenging for countries like the United States to subsidize domestic gas prices.
"Another general rule is that oil-producing countries can more easily subsidize domestic gasoline prices when oil prices are high," the study authors noted. "This doesn't happen in the U.S., however, because the government doesn't control the cost of oil or gasoline like countries that are members of OPEC (Organization of Oil Exporting Countries) countries do. The same holds true for several other large oil producers, including Canada and Norway."
That said, others have contended that these types of measures would lift consumer demand, further adding to higher prices. This would possibly negate some of what central banks are presently doing since government stimulus or relief would inject more money into the economy at a time when there is an abundance of cash.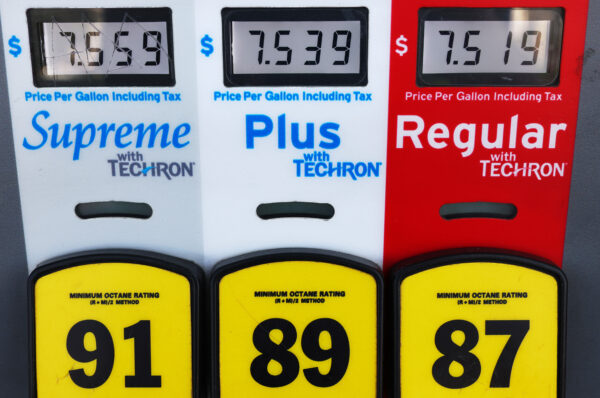 Last month, the Federal Reserve raised interest rates by 25 basis points for the first time since 2018. The Federal Open Market Committee is widely expected to pull the trigger on a 50-basis-point hike at next month's two-day policy meeting.
The national average price for a gallon of gasoline is $4.176, according to the American Automobile Association (AAA).
AAA noted that gasoline demand has declined, "defying seasonal trends for a third straight week." This, the group notes, could be the result of higher prices and consumers revising their driving behaviors.
Crude futures slumped on Tuesday as the May West Texas Intermediate contract fell below $103 a barrel on the New York Mercantile Exchange.
When crude prices increase or decrease 10 percent, the cost of gasoline will respond about 7 percent, notes Kiplinger.
Crude prices are forecast to hover around $100 to $130 a barrel through the third quarter this year, says Jarand Rystad, the CEO of Rystad Energy, in a report. This could leave the price of gas above $4 for much of the year.
Views expressed in this article are the opinions of the author and do not necessarily reflect the views of The Epoch Times.