The fight over academic freedom on campus increasingly comes down to a fight over three letters—DEI—which goes a long way to explaining the fissures now tearing higher education apart.
For progressives committed to social justice advocacy, academic freedom must shield the prevailing academic consensus on race and gender from outside political pressure. Nowhere is that academic consensus better represented in the modern university than in the campus Diversity, Equity, and Inclusion (DEI) bureaucracy, which exists to advocate for students and faculty who identify as brown or queer, often by monitoring the campus culture for "whiteness" and "cisheteropatriarchy"—the social dominance of white, heterosexual men.
Conservative reformers also see themselves as defending academic freedom by challenging the progressive campus orthodoxy that's enforced by DEI functionaries in the name of social justice. Critics of DEI say that these are overzealous bureaucrats who stifle the academic freedom of anyone who dares to dissent from their monocausal, moralistic metanarratives about race and gender.
These critics note numerous studies that show the climate of fear and self-censorship on campus today is worse than it was during the Cold War McCarthyism of the 1950s. The free speech advocacy group Foundation for Individual Rights and Expression (FIRE), for example, reported in February that about half of faculty reported being worried "about losing their jobs or reputation because someone misunderstands something they have said or done, takes it out of context, or posts something from their past online."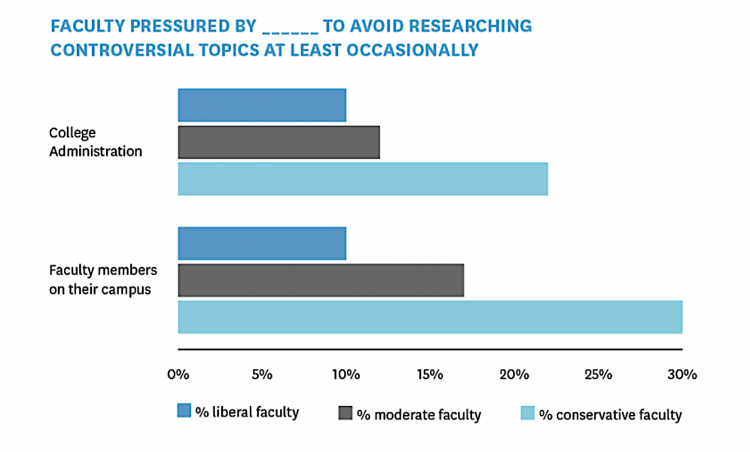 Conservatives link the rise of campus illiberalism and censoriousness to the expansion of DEI offices during the last decade, which they say politicizes the campus through a DEI apparatus that exerts its administrative power through bias hotlines, sensitivity workshops, and speech codes. They condemn DEI statements in admissions, hiring and promotions decisions as de facto "political litmus tests"; these diversity statements "have become a mainstay of application processes for faculty jobs," according to the Chronicle of Higher Education.
"We cannot live up to our mission as a university unless we attend to inequity, both past and present," said Mimi Chapman, the faculty chair at the University of North Carolina, at a recent board of trustees meeting.
Today, half of faculty support the practice of requiring job applicants to commit to DEI advocacy in their teaching and research, according to FIRE. And progressive faculty are not troubled about political homogeneity, as long as it aligns with their politics: 57 percent of liberal faculty say that advancing race and gender diversity is more important than promoting political viewpoint diversity. One such professor is Stacy Hawkins, vice dean and professor of law at Rutgers Law School, who wrote an opinion piece last month for The Chronicle of Higher Education, "Sometimes Diversity Trumps Academic Freedom." Hawkins contends that conservative opposition to CRT is not a legitimate exercise of academic freedom because "the opposition to CRT is designed to silence, further marginalize, and diminish the value of minority voices and experiences."
"Some people's right to express themselves cannot come at the expense of other people's right to dignity, safety, and equal participation in the academic community," Hawkins wrote. "Rather than willingly cede DEI wholesale to academic freedom, perhaps it is time to reshape our understanding of academic freedom."
High school seniors across the political spectrum are so aware of the ideological divides on campus that one in four has ruled out attending a higher education institution because of its political climate, according to a survey reported in The Chronicle of Higher Education.
The U.S. campus has been transformed in recent years by the explosion of diversity offices and diversity jobs, said Ilya Shapiro, the director of Constitutional Studies at the conservative Manhattan Institute, who is working on a book about the ideological capture of the nation's law schools through the bureaucratization of DEI initiatives.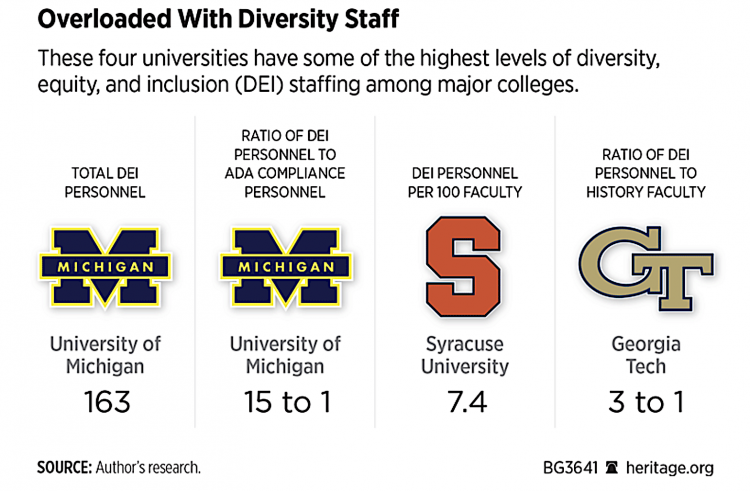 Shapiro is among those who say that university administrators are more politically radical than the professoriate, and that their ideological commitment corrupts the core mission of higher education. Based on his research, between 1987 and 2012, the nation's universities added more than a 500,000 administrators, so that around 2010, universities started employing more administrators than full-time instructors, and in some elite institutions the administrators now even outnumber the students. Most administrators are not DEI bureaucrats, but DEI is now the fastest-growing segment of the educational bureaucracy, Shapiro found, so that the average college has more people devoted to DEI—exceeding 45 per campus—than the number of professors teaching history.
"In any bureaucracy, bureaucrats are incentivized to justify their positions, grow their authority, increase their budgets," Shapiro said. "So in the DEI space, they have to search for dragons to destroy—cases of racism, sexism, transphobia—all of these -isms and -phobias."
The National Association of Diversity Officers in Higher Education's 35-page antiracism guide confirms this picture, stating that "Higher education systems are a complex web of practices, policies, and procedures steeped in White normativity."
The organization's brochure encourages "using critical race theory as a framework for making sense of racism in curricula, instruction, and assessment in education." And the DEI trade group warns: "DEI cost-cutting sends a powerful message that BIPOC [black, indigenous and people of color] students, faculty, and staff are expendable."
The explosion of DEI employment opportunities and growing budgets is leading to a proliferation of DEI certifications, DEI minors, and even DEI majors at the university level. One example is the DEI major launched in 2021 by Bentley University in Waltham, Mass., to train chief diversity officers and chief inclusion officers for in-demand careers in a growing field.
Bentley's course catalog is imbued with activist jargon and revolutionary rhetoric. In an introductory course, "Students will understand and critically analyze issues of oppression, power and privilege as they intersect with themselves as well as others." In a course about race relations, "Students will leave this class with a heightened awareness of the racism in all of your own everyday lives and how to resolve it." A course about the legal system "examines law as both an instrument of institutionalized oppression and a tool for liberation."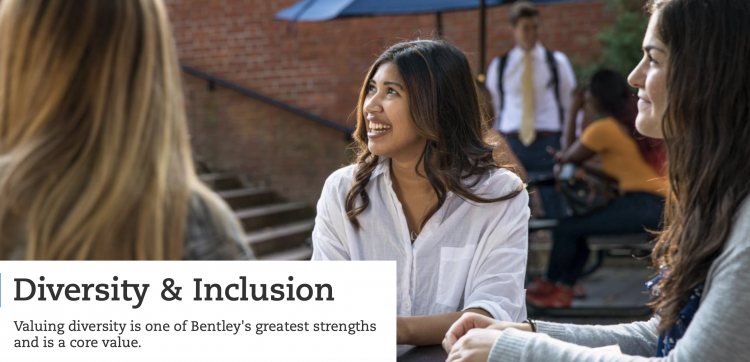 Bentley also offers a course linking the monstrosities of slavery to capitalism, a claim also made by the self-described "antiracist" advocate Ibram X. Kendi in his 2019 book, "How to Be an Antiracist," and "The 1619 Project" published in 2019 by The New York Times and reissued as a book last year. All of these claims and arguments have been advanced by critical race theorists for decades, "centering" racism, oppression, and violence as the defining features of the United States.
"A long history of scholarship in sociology ties U.S. slavery to the development of capitalism and modern business and finance," the course description states. "This course is designed to give students a framework for appreciating the centrality of the relationship between slavery and capitalism in the U.S., and translating that into new ways of understanding how tacit racism, hidden and unacknowledged, is structured into business and society today."
At the same time, grant funding from federal agencies is increasingly contingent on diversity and equity commitments. For instance, starting in FY2023, U.S. Department of Energy grant applications require applicants to describe how they'll incorporate diversity and equity into their research projects, and those strategies will be evaluated as part of the merit review process.
DEI is also becoming part of the accreditation process required by the U.S. Department of Education for universities to qualify for federal funding, including federal student loans and other forms of financial aid, such as Pell grants. Medical schools are now required to provide faculty training in DEI and cultural competency, according to a 2022 City Journal article, pressuring the schools to expand their DEI bureaucracies. And regional accreditors that certify undergraduate colleges and universities now endorse or mandate DEI training and DEI offices, according to a Heritage Foundation report issued in February.
However, universities are not limited to a single accreditor and can apply to multiple accrediting agencies if they run into conflicts.
Belle Wheelan, president of the Southern Association of Colleges and Schools Commission on Colleges, which currently accredits the universities in Florida that Gov. DeSantis is seeking to reform, said in an interview with RealClearInvestigations that of the seven regional accrediting agencies, her organization is the only one that doesn't require DEI to earn accreditation. But she said SACS is moving forward with adopting a DEI mandate that would be effective in January 2024. She said that SACS allows universities to define "diversity," so that it does not have to be based on race and gender and can be defined as "viewpoint diversity." Wheelan noted that SACS has issued accreditations to three private conservative Christian colleges: Patrick Henry College, Liberty University and Bob Jones University.
DEI practitioners say their jobs focus on making universities more representative and more welcoming to first-generation students, disabled students, and returning military veterans, not just advocating for people who identify as brown and queer.
Yoleidy Rosario-Hernandez, who headed the Office of Outreach and Inclusive Excellence at New College of Florida, granted an interview to The Washington Post after getting fired from her $135,000-a-year job by the newly constituted board of trustees. Rosario-Hernandez, who identifies as BIPOC and transgender and uses ze/zir pronouns, described the conservative critique of DEI mandates as coming from a position of "white supremacy."
Rosario-Hernandez categorically rejected the conservative accusation that DEI divides people into two groups—the "oppressors" and the "oppressed."
Instead, DEI promotes reconciliation between two groups—"people who are harmed" and "people who have harmed them."
Views expressed in this article are the opinions of the author and do not necessarily reflect the views of The Epoch Times.