Take the Advantage Away From China
News Analysis
Pharmaceutical drugs are one of the most crucial areas where the United States is too dependent on imports. China is the number one source of U.S. imported drugs, by volume.
President Joe Biden's State of the Union address on March 1 highlighted restoring U.S. manufacturing, while several White House initiatives specifically mentioned pharmaceuticals. But there is still much to be done.
A U.S. Department of Commerce study found that 87 percent of the generic drugs and 90 percent of all prescriptions sold in the United States come from China, including 97 percent of all antibiotics and 80 percent of all active pharmaceutical ingredients (APIs).
The severe supply chain disruptions that occurred during the pandemic, and the shortages of drugs, personal protective equipment (PPE), and medical equipment, reaffirmed how fragile U.S. supply chains are, and how dependent the United States is on China for essential materials and products, including pharmaceuticals and pharmaceutical inputs.
"The pandemic exposed the major risks in supply chains and the urgent need for manufacturing semiconductors, pharmaceuticals. … With the federal government's focus and potential funding, we can rebuild our manufacturing base in America," Rosemary Coates, founder and executive director of the Reshoring Institute, told Powder & Bulk Solids on March 2.
Even before the pandemic, the U.S.-China Economic and Security Review Commission warned the government that the United States was too dependent on China for imports, particularly medicine.
During trade deal negotiations, Chinese economists recommended that Beijing should decrease its exports of raw materials for vitamins and antibiotics in a bid to gain an advantage over the United States. The fact that the Chinese Communist Party (CCP) could weaponize drug exports is a clear threat to national security.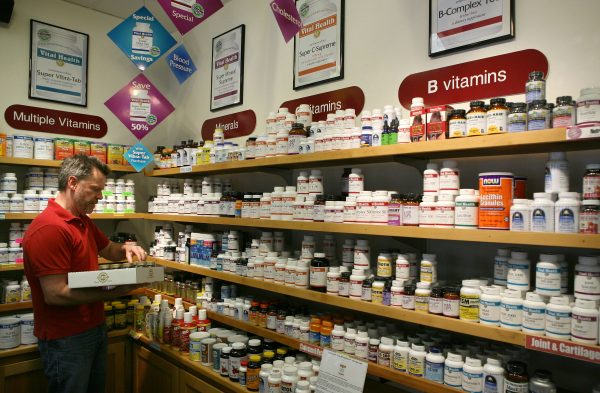 Apart from supply chain disruptions, manufacturing drugs in China poses a number of problems, including business risk, loss of competencies, knowledge loss, and brand damage, while it opens U.S. companies to intellectual property (IP) theft.
Another threat is low-quality products. Four years ago, one of China's largest domestic vaccine manufacturers distributed roughly 250,000 substandard doses of diphtheria, tetanus, and whooping cough vaccine. Last year, the FDA issued a warning letter about faulty medical devices produced by Foshan Biours Biosciences of China.
Fortunately, the Reshoring Institute reported that there has been a general trend of reshoring American manufacturing. BCI Global, a leading supply chain consulting firm, reported that over 60 percent of European and U.S. companies expect to reshore at least part of their manufacturing in the next three years, and one out of five companies expects to repatriate the majority of its China and Asia production.
Former President Donald Trump pioneered a number of initiatives to promote U.S. domestic production of medicines. In 2020, the Trump administration awarded $354 million to Virginia-based company Phlow, whose import supply chain was endangered, to produce drugs.
The Biden administration continued Trump's efforts with the "Buy American" executive order, which also applied to pharmaceuticals.
In 2021, the U.S. Department of Defense awarded a grant of $69.3 million to Continuus Pharmaceuticals, to construct a manufacturing plant in Massachusetts. Civica Rx received government funding to construct a plant in Virginia, to produce drugs that had formerly been imported.
Under the Defense Production Act, the White House designated the Department of Health & Human Services (HHS) to establish a public-private consortium to produce critical drugs in the United States, beginning with 50 to 100 drugs from the FDA's essential medicines list.
Another government program, the American Rescue Plan, allocated $60 million to the HHS to set up a platform for the production of APIs. The White House earmarked $2.7 billion for domestic COVID vaccine manufacturing. And in central Virginia, public and private partners pledged $2.5 million for the establishment of accelerators focused on pharmaceutical manufacturing and research and development.
On Feb. 24, 2022, Biden signed Executive Order 14017, "America's Supply Chains," launching a comprehensive interagency review of U.S. critical supply chains, including pharmaceuticals and APIs. The reviews are led by the Department of Commerce, the Department of Energy, the Department of Defense, and the Department of Health and Human Services, and are meant to complement the work of Executive Order 14001, "A Sustainable Public Health Supply Chain," which was issued on Jan. 21, 2021.
More recently, according to Biden's State of the Union address, the pandemic underlined the problems in the U.S. supply chain. The administration identified pharmaceuticals as one of a number of reshoring efforts that it will prioritize.
According to a report by the National Association of Manufacturers, the United States still leads the world in pharmaceutical innovation. The association recommends that in order to maintain this lead, the United States should protect IP rights, boost innovation through investment and tax incentives, and increase domestic production. This includes tax breaks and grants for drug research.
Reshoring would be another way of bolstering U.S. domestic production, while breaking U.S. dependence on China.
Views expressed in this article are the opinions of the author and do not necessarily reflect the views of The Epoch Times.