'The Irish in Us' From 1935: Three Irish Brothers
Commentary
St. Patrick's Day is a popular holiday for celebrating all things Irish, whether your ancestors come from the Emerald Isle or not. You can get in the festive spirit on March 17 by wearing green clothing, eating corned beef and cabbage, and decorating everything with shamrocks. My favorite way of celebrating St. Patrick's Day is watching classic movies with Irish American actors playing Hibernian (aka Irish) characters.
There is a plethora of such Irish-themed old movies, starring the fantastic actors who were collectively known as the Irish Mafia. They included the likes of Spencer Tracy, Pat O'Brien, Frank McHugh, and James Cagney, plus directors like John Ford and Leo McCarey. Of course, many of the movies created by these actors and directors were not overtly Irish in subject matter—but sometimes they hinted at the characters' nationality with names.
One movie which isn't subtle at all about its actors' nationality is "The Irish in Us" from 1935. This Warner Bros. comedy is a family film that stars three of Hollywood's foremost Irish actors, James Cagney, Pat O'Brien, and Frank McHugh, as brothers. It also stars 19-year-old Olivia de Havilland in one of her first screen appearances. With a charming story and a warm familial message, it celebrates this lovably nostalgic era of blarney!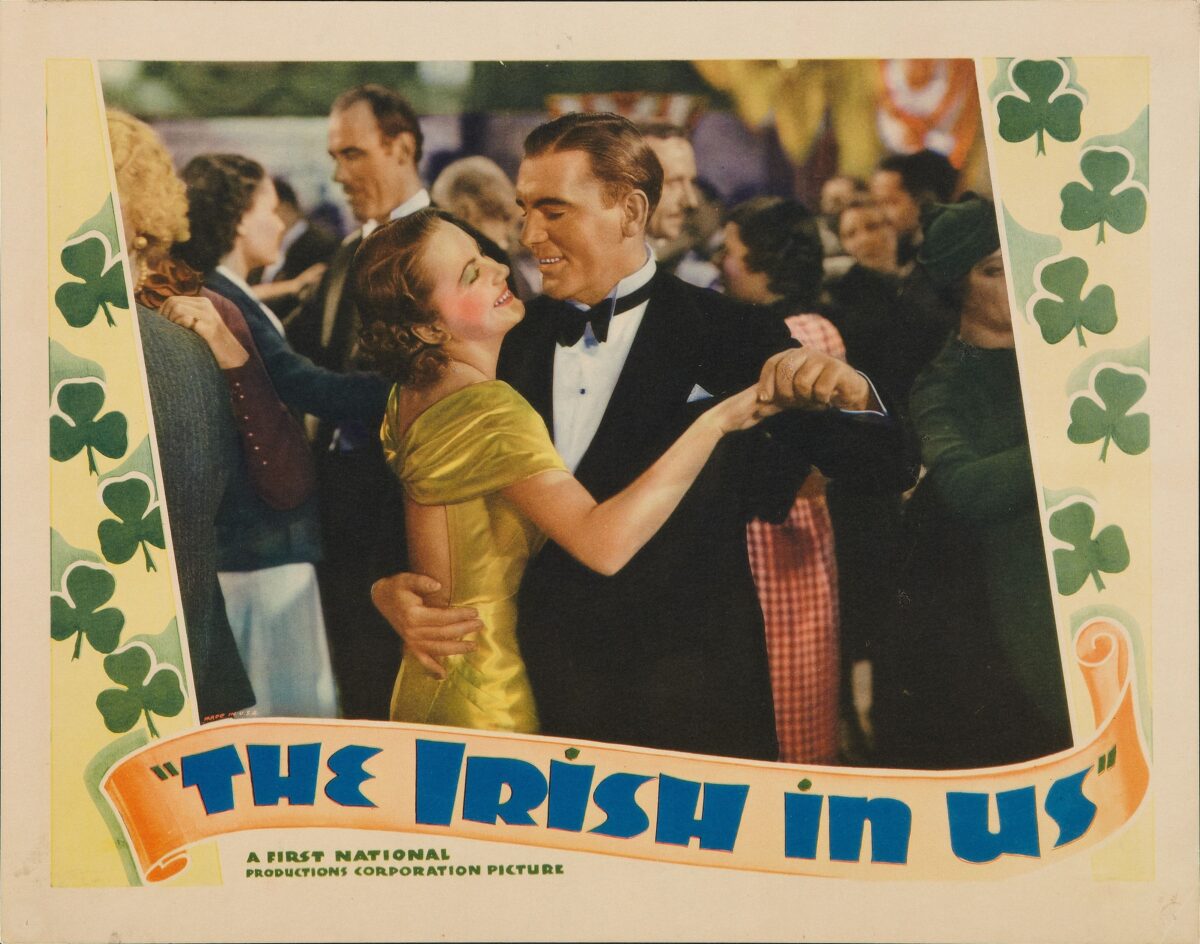 An Irish Story
This story centers around the O'Hara family, which includes a widowed mother (Mary Gordon) and her three grown sons. The brothers include Pat (O'Brien), a policeman, Mike (McHugh), a fireman, and Danny (Cagney), a boxing promoter. As the oldest, Pat feels responsible for supporting the family, especially since his youngest brother, Danny, won't get a steady job. He's promoted a series of unsuccessful boxers, whose ill-fated careers in the ring are usually funded by his mother, and Pat doubts that he'll ever have a champion. Danny's latest discovery is "Carbarn" Hammerschlog (Allen Jenkins), a punch-drunk former fighter who automatically punches the nearest person whenever he hears a bell. Danny struggles to keep the oaf in training long enough to make him a winner.
Pat is in love with his police captain's daughter, Lucille Jackson (de Havilland). He tells his family that he plans on marrying her, although they haven't talked about any such arrangement yet. He invites her over to dinner with his family one evening. On the day in question, she meets Danny by chance while he is making Carbarn do his roadwork. He helps her change a flat tire, and they have an immediate chemistry. Unfortunately, dinner that evening proves to be a disaster, starting with Pat's being unable to find his suit and ending with Carbarn going on a punching spree because of the doorbell! The only silver lining is that Ma and Lucille become good friends that evening.
Lucille is very fond of Pat, and she enjoys his company very much. However, she is shocked when Ma accidentally reveals his intention to marry her. She confesses that she doesn't return his feelings and has no intention of marrying him because she doesn't love him. At the fireman's ball, to which Pat escorts Lucille, Danny steals a moment alone with her on the terrace. Although they both try to deny their feelings out of affection for Pat, they finally have to confess their love for each other. When he finds them together, Pat is devastated. Will love for the same woman alienate these brothers and tear the O'Hara family apart?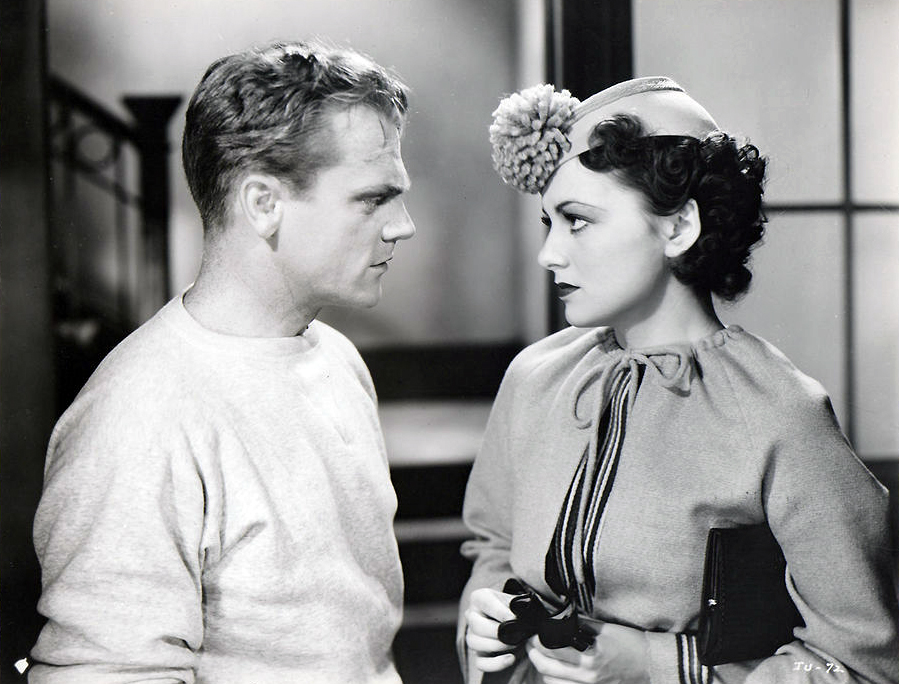 The Irish Mafia's Other Member
Look up "The Irish Mafia" on Wikipedia, and you won't find a page with this title. The page you will find useful is Pat O'Brien's entry, which includes a subheading entitled "The Irish Mafia." According to this section, which cites John McCabe's 1997 biography "Cagney" as its source, this social group started in the 1930s as a casual gathering of Irish actors who enjoyed sharing stories and ideas with their friends. They called their little clique "The Boys Club," but gossip columnist Sidney Skolsky gave them the more conspiratorial name. The original members were Pat O'Brien, Spencer Tracy, James Cagney, Frank McHugh, and Allen Jenkins, all of whom except Tracy were in "The Irish in Us." The Wikipedia article goes on to mention other Irish American actors who ended up joining the group, but I've also heard of Irish directors, producers, writers, and other Hollywood folks being in the club.
One member of the Irish Mafia who is never listed in its attendance roll is Joseph I. Breen. This second-generation Irishman is not one to omit, since he was largely responsible for the numerous movies celebrating people from the Emerald Isle the other members made. Joe Breen was the head of the Production Code Administration (PCA), a highly misunderstood and often overlooked branch of the filmmaking machinery during Hollywood's Golden Era. From 1934 to 1954, the years when Joe Breen was in charge of the PCA, every movie had to be carefully reviewed and assisted by the self-regulators to make sure that it met the standards of the Motion Picture Production Code. Although commonly called the Hays Code after Motion Picture Producers and Distributors Association president Will Hays, it was actually written by Irish publisher Martin J. Quigley and Catholic priest Daniel A. Lord. The Code was a detailed set of rules about film content, explaining what was acceptable for inclusion in movies and what was not. For instance, swearing, excessive violence, and nudity were forbidden, but stories with good morals and inspiring characters were encouraged. With proud Irishman and devout Catholic Joe Breen at the PCA's helm, filmmakers decided to show that they had reformed by making movies about pious Catholic priests and strong Irish families. "The Irish in Us" was released on August 3, 1935, just over a year after the PCA went into effect.
In a telephone interview a few years ago, Joseph Breen's grandson Dennis H. Richards told me that there were two close-knit groups in classic Hollywood, the Jews and the Irish. They were friendly with each other, but they enjoyed socializing with other people who shared their ethnic backgrounds and traditions. Richards explained that his grandfather and grandmother, the equally Irish Mary Breen, loved entertaining in their Beverly Hills mansion. Every weekend, he recalls, the house would be filled with A-list celebrities, the majority of whom were Irish and/or Catholic. Although most Hollywood historians depict Breen as a bluenose censor whom the film industry resented, the stories his grandchildren tell present a very different picture. On the contrary, he was a friend of basically everyone in Hollywood. They didn't make movies with Irish themes and characters because the PCA pressured them to do so—but because they wanted to show that they had truly reformed from their pre-Code mischief.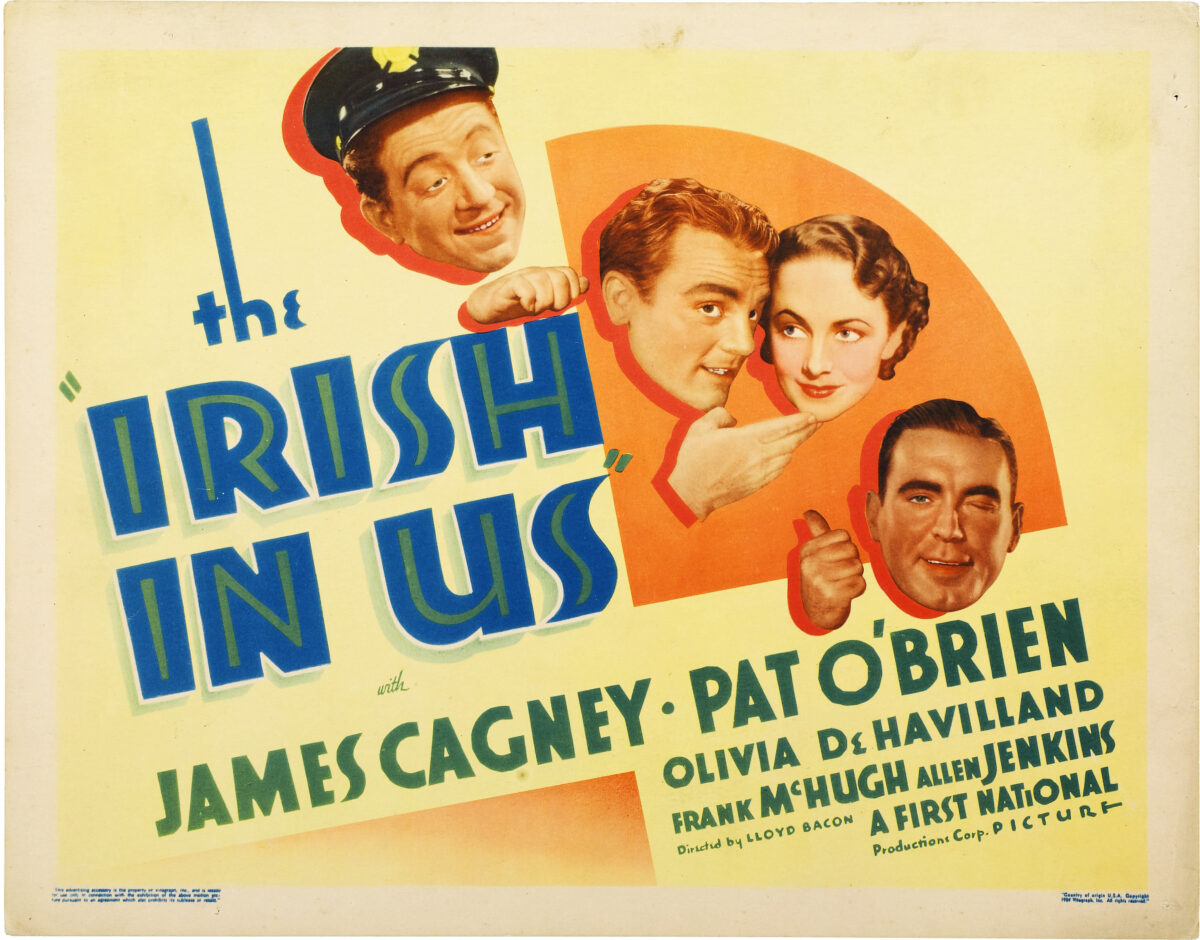 A Great Day for the Irish
"The Irish in Us" is a delightful movie for St. Patrick's Day or any other day of the year. If you're familiar with any of these primary actors, you'll enjoy seeing these early performances from their younger days. The three actors have a wonderful, believable rapport as the O'Hara brothers. Pat O'Brien is the serious older brother who loves his brothers but has to be firm with them at times, since he has taken on the patriarchal role since his father's death. O'Brien is a lot like Joseph Breen in this role, even bearing a physical resemblance to him, since he isn't afraid to be tough when the situation demands it. Frank McHugh is hilarious as middle son Mike, who is the lovable but goofy brother. He works hard at his job as a fireman, but his mother still has to scold him about his table manners.
Danny is the black sheep of the family, at least according to Pat, but he's his mother's pet, perhaps because he's her youngest. Unlike James Cagney's character in his breakout gangster film, "The Public Enemy" (1931), Danny is a good boy who sincerely loves his mother and never manipulates her. He isn't against working, as Pat thinks; he works tirelessly to train Carbarn. He just wants to follow his own dreams. In this short runtime, Cagney creates a deep, multi-faceted character, as do the other brothers. In addition to giving a great acting performance, Cagney shows off his pugilistic abilities by performing his own boxing stunts in an impressive but not too violent fight near the end of the film. Olivia de Havilland has great chemistry with James Cagney and a touching relationship with his mother.
The story's central character is Ma O'Hara, a wise Irish mother who holds her family together with love, humor, and wisdom. She is tenderly played by Mary Gordon, who is very sweet yet properly feisty in the part. The only complaint some Irish viewers may have had about this film is that Miss Gordon was born in Scotland, not Ireland, and thus has the wrong Celtic accent. Despite this, she is perfect in the role. If they could overlook Mary Gordon's nationality, I'm sure patriotic Irish Americans appreciated the favorable depiction of a Hibernian family. They are dignified, hard-working, fun-loving family people. Movies which celebrate the Irish American way of life, such as this, are proof that the film industry considered jovial Irishman Joe Breen not an outsider but a trusted friend.
Views expressed in this article are the opinions of the author and do not necessarily reflect the views of The Epoch Times.