Commentary
"Nobody can be uncheered with a balloon," or so the great writer A.A. Milne would have us believe. In Milne's defense, this line was written long before China got into the balloon-making business. Unless you happen to live under a rock on a distant planet, you are no doubt familiar with the infamous Chinese balloon that was recently spotted traveling across a number of U.S. states, including Alaska and Montana, before being shot down in South Carolina. The Chinese Communist Party (CCP) was quick to criticize the rapid-fire response, insisting that the balloon was merely a weather device that had been blown off course. It's now pretty clear that the balloon was not a weather device; it was a surveillance device. Although the balloon is gone, the threat from China still exists. In fact, the threat posed by the CCP has never been as potent as it is today.
Mira Ricardel, a geopolitical expert, told me that the CCP "is both an economic competitor and military adversary." Xi Jinping's policy of "civil-military fusion" now means the United States can no longer separate China's economic goals from its military and global ambitions. From a military perspective, Ms. Ricardel noted, China continues to build up the PLA presence in the South China Sea, as well as intimidating and threatening Taiwan. As U.S. General Mike Minihan recently warned, war with China over Taiwan appears rather inevitable. According to the decorated general, the United States and China could go to war within the next two years. To compound matters, as Ms. Ricardel, an employee of The Chertoff Group, a security and tech firm, noted, the CCP is also expanding its intercontinental ballistic missile inventory, as well as "deploying dual-use advanced technologies, and expanding its presence and capabilities in space." What about surveillance and data harvesting? The CCP is "actively engaging in surveillance and espionage, intrusive cyber activities, to include attacks, and intellectual property theft," she said. Beijing is also exerting more influence over supposedly private enterprises, like ByteDance, for example, the company behind TikTok, a dangerous Trojan horse designed to gather inordinate amounts of data.
Over the years, China has also purchased a lot of foreign companies and a lot of foreign land, including prime American farmland. All of these activities, Ms. Ricardel said, "are aimed at advancing China's military and economic capabilities and serve to threaten the security of the United States." Her colleague, Adam Isles, a security risk management expert, called the CCP "a highly capable cyber adversary" that continues to invest hundreds of millions into the development of highly skilled offensive cyber corporations "and a network of contract hackers who take taskings from the CCP and moonlight in for-profit cyber-criminal activity." "They have also co-opted insiders across numerous U.S. industries to steal from within." This might sound hyperbolic, even outlandish, to some readers. However, Mr. Isles's point is a valid one. Spies working on behalf of China are everywhere, including in the United States. CCP-backed actors "are successful at exploiting baseline weaknesses like unpatched software vulnerabilities and misconfigurations," he added. Again, he's right. Remember, the CCP has already stolen the data of 80 percent of Americans. The CCP, he said, "is quietly shaping the next generation of technology across the entire stack, from hardware and networking equipment manufacturing to software code development, drafting of technology standards and delivery of related services." If China continues down this particular path, "this will put the CCP in the catbird seat for the foreseeable future," by ensuring that acquired technologies "align with its strategic and tactical cyber offense goals – often in ways that are opaque or invisible to the purchasers and users of these technologies."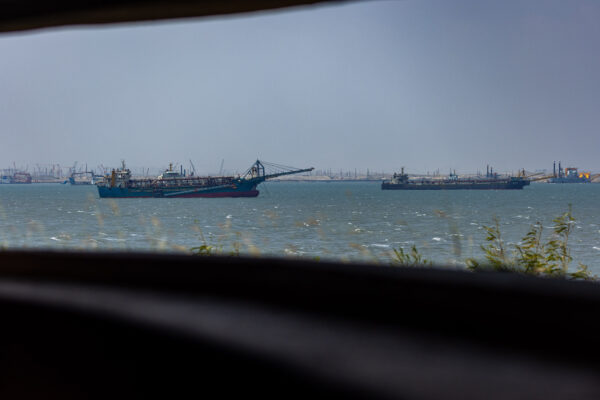 What, if anything, is being done to combat these threats?
Ms. Ricardel told me that the Department of Defense (D0D) is "developing advanced capabilities—many of them derived from dual-use technologies such as AI and quantum computing—and bolstering ties with key allies," like Australia, Japan, and South Korea. At the same time, she added, the U.S. government is also "using tools such as technology controls, foreign direct investment restrictions, and supply chain illumination to restrict China's access to key technologies, as well as inform and reduce supply chain risk—with the aim of maintaining America's economic and military advantage and preventing China from taking the global technology lead." That's the good news. What about the bad news?
Numerous gaps remain, she warned. The divisive nature of U.S. politics means that "a uniform view of the nature of China's threats among the United States, its allies, and friends" has created numerous gaps that have been (and continue to be) exploited by China.
To stop this exploitation, Ms. Ricardel insists that the United States "needs a comprehensive and integrated strategy and implementation plan to address the economic and military threats posed by China." What would such a plan look like? First, she said, such a plan would identify core American advantages. Second, a coherent plan would recognize current U.S. dependencies, such as on some critical minerals (copper, gold, zinc, etc.). Third, a decent place would consider whether or not certain policies, such as the push for electric vehicles, increase dependencies and cede even more ground to China. Finally, leaders would assess the risks of those dependencies, and start creating a clear plan "with clear milestones to reduce those dependencies and build U.S. capabilities and resilience." The United States, she noted, cannot do this alone. It must, actively and even aggressively, "involve its friends and allies." What if these allies and friends don't share the same concerns? Then, she said, "the United States will need to make a compelling case regarding the multi-faceted risks associated with China's access to advanced technology."
Views expressed in this article are the opinions of the author and do not necessarily reflect the views of The Epoch Times.