The World Economic Forum and the Loss of Sovereignty
Commentary
The World Economic Forum (WEF) 2023 was attended by the largest number of heads of state and global elites in history, pushing a globalist agenda.
"A new governance model is crucial for our world. … Global governance has an unresolved problem: both our institutions and our leaders are no longer fit for their purpose," reads the WEF's Jan. 17, 2022, statement on global governance.
The WEF wrapped up its annual meeting in Davos, Switzerland, on Jan. 20. Established by Klaus Schwab in 1971, WEF was meant to be a forum for policymakers and business leaders to discuss global issues. However, the forum has become an annual meeting of global elites with a globalist agenda, including the Great Reset.
The WEF website describes the goal of the Great Reset as offering insights to world leaders so they can redefine global relations, the direction of national economies, the priorities of societies, the nature of business models, and the management of a global commons. The WEF effectively recommends policies on everything, from creating digital identity systems and restructuring the global political system to the cessation of fossil fuel use, individual car ownership, and the banning of eating meat.
Even though it's a private organization with no global or political authority, the event was attended by a long and distinguished list of elected officials and political appointees. This year, 51 heads of state, including Germany's Chancellor Olaf Scholz, presidents of Spain, South Korea, Poland, and the Philippines, and China's Vice-Premier Liu He, in addition to 56 finance ministers, 19 central bank governors, 30 trade ministers, and 35 foreign ministers, were at the forum.
Also present were the heads of global organizations, such as IMF Managing Director Kristalina Georgieva, European Central Bank President Christine Lagarde, World Health Organization Director-General Tedros Adhanom Ghebreyesus, NATO Secretary General Jens Stoltenberg, and European Commission President Ursula von der Leyen.
A U.S. congressional delegation was also there, including Sens. Joe Manchin (D-W.Va.), Chris Coons (D-Del.), Kyrsten Sinema (D-Ariz.), and Gov. Brian Kemp (R-Ga.). On the industry side, there were more than 600 CEOs like JP Morgan's Jamie Dimon, Goldman Sachs' David Solomon, and Morgan Stanley's James Gorman.
This year's forum was titled "Cooperation in a Fragmented World," and the focus was on climate change and globalization—both issues the WEF feels are under attack. The elites at Davos were concerned that the $369 billion President Joe Biden has pledged for climate change would draw clean tech business to the United States and away from the rest of the world. They were also worried about the U.S. initiative of "friend-shoring" to encourage companies to leave China and set up manufacturing in countries aligned with U.S. interests. A representative from the World Trade Organization complained that the United States might favor Asia and ignore Latin America and Africa, which currently are not well integrated into global supply chains.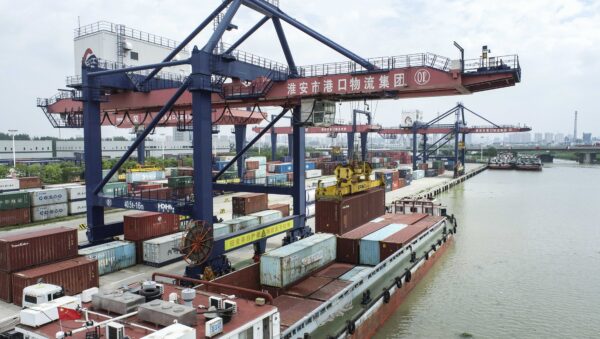 Middle-income countries were also upset that multinational companies like Apple and Amazon weren't paying enough taxes on local businesses despite a global revamp of tax rules in 2021 aimed at addressing this. U.S. Trade Representative Katherine Tai addressed many of these concerns when she led a panel discussion, saying: "The United States wanted to 'lead a conversation' on a new version of globalization. Many countries will want to ensure their voice is heard in that conversation."
One of the most alarming aspects of the WEF is the implied loss of sovereignty. As part of its globalist vision, countries would lose their independence even on matters such as taxation of domestic companies within their own borders or climate change budget allocations. Another concerning aspect of the WEF is its support from mainstream media.
The title of The Economist's story about the WEF reads, "The destructive new logic that threatens globalization." The New York Times said globalization was threatened by "ascendant nationalism and great power rivalry where the United States itself is waging a trade war." The Times has missed the point, though, that the United States is an independent and sovereign country. Furthermore, their criticism of the U.S. trade war does not address the real and irreconcilable issues that caused it, namely communist China's trade cheating, intellectual property theft, restriction of market access, human rights abuses, continued economic support of Russia, and increased aggression against Taiwan. Challenges to freedom of navigation in the South China Sea and Taiwan Strait have also contributed to tensions.
A prototype of the WEF's metaverse was launched at this year's forum. The Global Collaboration Village is the first global, purpose-driven metaverse platform created in partnership with Accenture and Microsoft. The Village promises to promote global interaction and collaboration free of the disinformation found on social media "as misinformation too often has run unchecked."
Ostensibly, the WEF metaverse would include censors to ensure that only "correct" views were being expressed. It is not enough for the WEF to control the real world; apparently, they want to create and control the virtual world as well.
The WEF is a globalist organization that wants to compromise the sovereignty of nations, rewrite the world order, and dictate how we live, eat, and think. And for some reason, our leaders and media support them.
Views expressed in this article are the opinions of the author and do not necessarily reflect the views of The Epoch Times.