The Year 2023 and 'the Most Dangerous Words in the English Language'
Commentary
I was on a Zoom meeting earlier in the week where I questioned a procedure the organization was following. Another member of the meeting group said, "But that's the way we've done it for 20 years."
I was reminded of a quote by the late, great, computer scientist, mathematician, and engineer, U.S. Navy Reserve Rear Admiral "Amazing" Grace Hopper (retired, deceased), a personal hero of mine.  She once said the phrase "but that's the way we've always done it" comprised the most dangerous words in the English language.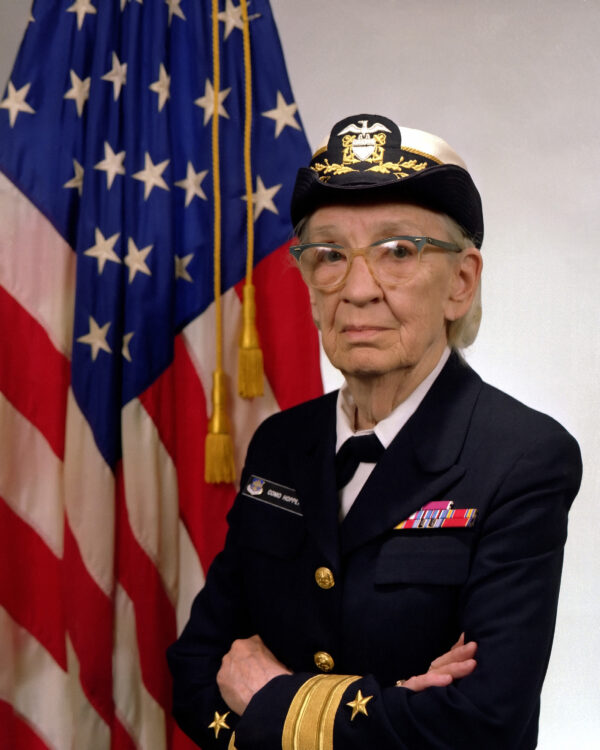 As we approach the year's end, it occurred to me now is an ideal time to review one's own (and one's business) "way we've always done it" to probe for shortcomings that could result in financial losses, health risks, loss of income, and loss of opportunities. It's also a chance to probe for opportunities by assessing performance, building on improvements and skills, and capitalizing on capabilities that may have escaped notice.
So here's a quick few notions that you might consider individually and for a business as we come to the close of 2022 and the start of 2023.
Personal
Schedule a checkup. There's a reason the cliché "Nothing is more important than your health" has been so long-lived; it's because it's true.   And go from head to toe—X-ray, blood work, stress test, urine and stool samples, mammogram,  prostate PSA, colonoscopy, etc., even if your insurance doesn't pay for it.  If they don't, tell that to the provider and then negotiate a price; you'd be surprised what you can do. Consider the costs an investment in yourself, because you will not be able to work—and could die—if you are struck by catastrophic disease. And make a note to do it every year, following your primary physician's advice, of course.
Look at your tax withholding if you are an employee or your estimated taxes if you're a contractor. If you had a big refund last year, you've made an interest-free loan to the government. IRS offers a free withholding calculator that covers most taxpayers. But if you need help, have your tax preparer or CPA help you.
Update your insurance. Make sure your life, homeowner/renter, and auto insurance covers what you think it does. Go through the contract with your carrier and ask him or her to cite the specific paragraphs of your contract that address specific points of coverage to ensure the contract covers things like windows, flooring, roof damage, gutter damage, unattached garages and their contents, major appliances, etc. Again, rates are negotiable, and if the rates your carrier offers are out of your budget, tell your carrier you're going to shop around. That alone may get you a better deal.
Do a security check of your home. Most police and fire departments will do this free or for a low cost and will help you a avoid burglaries, home invasions, and fires. They'll advise you to do things like upgrade your locks, secure remote garage door openers, trim back hedges, hand draperies or blinds, put your lights on a variable electric timer so your home looks occupied, etc.
Go over your savings, 401(k) or Keogh plan, and your brokerage accounts. Are your investments consistent with your risk tolerance? Are you optimizing returns given that tolerance? Are you invested in higher load (i.e., management fees) when a comparable fund could be had for no-load or low-load fee?
Update your resume. Take note of the things you accomplished or skills you acquired in 2022 and consider adding them as a point in your resume.
Business
If you're a business owner or a decision-making executive in a business, Grace Hopper's advice is especially relevant. Much of what you do personally you should do for your business, too, and year-end is, again, an ideal time. A review of Human Resources policies, banking relationships, and insurance should be done at least once a year.
Check your business's vulnerability for non-compliance or inadequate compliance with governmental regulations that could incur significant cost. I remember doing due diligence on an acquisition in my public accounting days where the target corporation was making payments to an affiliate subject to U.S. withholding tax. But the subsidiary was also making payments to the United States  The target company was withholding U.S. tax on the amount of the net payment (i.e., after subtracting payments they received from the subsidary) instead of the gross amount it had paid to the subsidiary. The target corporation had a huge, un-accrued liability for tax withholding that resulted in a material alteration (by like 15 percent!) of my client's purchase price. A simple review of withholding procedures at year-end could have disclosed the shortfall.
Re-bid your suppliers. Several years ago, veteran New York investigative reporter Marcia Kramer showed that foodstuff ordered for New York's schoolchildren was substandard and that chicken fingers—a frequent item on school lunch menus—even contained shards of metal.  The supplier was some no-name vendor that the city had used for years. Kramer's reporting resulting in re-bidding of the contract for chicken fingers, with Perdue winning the contract at a cost savings of $40 million!—with better quality and a lower price. Your business might find the same.  Even if you keep your current supplier, you may negotiate a lower price.
Measure what counts. Every business school in the country teaches this fundamental theorem: "What can't be measured can't be managed." Most companies have metrics, but year-end is a good time to make sure the things you measure and the metrics you derive are relevant to your business and of particular importance to your customers. These kinds of measurements are harder for a service business, but still achievable with management apps like Toggl (sic) and Monday. (If your company isn't using such apps, the start of the new year is a great time to implement them.)
Do a deep dive into your budget-to-actual numbers after you close your adjusted trial balance. If you're up or down significantly—and we're talking  variances of as little as +/- 3 percentage points with respect to any individual budget item (far less if the variance is more than 1/10 of 1 percent of the company's total budget in dollar terms)—it means either your budgeting process or your performance is flawed.  You should isolate the cause and address it. Some revenue and expenses might be attributable to the vagaries of the market, the industry, or the economy. But unless you can tie such items to such macro factors that are wholly out of your control, you should recognize you have a problem and get to the bottom of it ASAP. It could get worse. On the other hand, if the variance of favorable, you might want to find out what you're doing better or reach out to the department or employee who is outperforming expectations and commend them.
Assess your staff. High performers are hard to come by and efforts should be made to retain them with compensation and non-monetary compensation and perks, like office accouterments,  business lunches, house tickets to sporting events, and the like. On the other side of the scale, year-end is a good time to start to counsel and shift low-performers out of the business so that you part on friendly terms (and without lawsuits).
Consider the legal structure of your organization. There might be business or tax opportunities in creating (or liquidating) subsidiaries, making certain tax elections, or conducting business through a limited liability company (LLC). Corporate structures are often done "on the fly" and reacting to business exigencies. As someone who saved tens of millions of dollars in business entity restructurings, I can assure you "there's gold in them thar organization charts." Sit down with your CPA firm's state and international tax experts and start considering opportunities.
Think about how you do things and how you can do them better. Rear Admiral Hopper's admonition about the dangers of "doing things the way we've always done them" should be a rallying cry to examine procedures and processes. Why is the procedure done? Which stakeholder(s) benefit from it? Can it be done more quickly, at lesser cost, or bypassed altogether? (It might also be a  good time to consider hiring a consulting firm to do a formal study of such procedures.)
Summary
As 2022 yields to 2023, it's a great time to assess, safeguard, and improve. While millions of people make soon-to-be-forgotten New Year's resolutions, I hope these few suggestions will give you actionable notions to protect and improve your personal and business circumstances.
Happy New Year!
NOTE: Our commentaries most often tend to be event-driven. They are mostly written from a public policy, economic, or political/geopolitical perspective. Some are written from a management consulting perspective for companies that we believe to be underperforming and include strategies that we would recommend were the companies our clients. Others discuss new management strategies we believe will fail. This approach lends special value to contrarian investors to uncover potential opportunities in companies that are otherwise in a downturn. (Opinions with respect to such companies here, however, assume the company will not change.) Nothing in our commentaries should be construed as rendering legal, tax, or financial advice. You should consult competent professional advisors in those areas before undertaking any actions.
Views expressed in this article are the opinions of the author and do not necessarily reflect the views of The Epoch Times.