Unions Are Hurting the Finances of Orange County Cities: Sen. John Moorlach
Commentary
Orange County, Calif. is a metropolis of 34 unique cities which house more than 3 million residents.
There are unincorporated areas in Orange County, such as Rossmoor and Midway City, where residents rely on the Orange County Board of Supervisors to be their legislative body. When I served as a county supervisor, I worked hard to encourage unincorporated areas to merge into adjacent cities, as local control is a more efficient governance approach for property owners.
Orange County is roughly 800 square miles, making it the second most densely-populated county in California. It is also the sixth most populated county in the nation. There are some 20 states with lower populations than Orange County's.
Along with eight years on the board of supervisors, I had the privilege of serving as Orange County's Treasurer-Tax Collector for twelve years. I have an affection and concern for every city within our borders.
Property owners have a significant investment, especially now with home prices at record levels, thanks to lower interest rates and minimal inventories. If you own or are still looking to purchase new, shouldn't you know the fiscal status of the city you might select? Wouldn't it factor into the decision-making process? Allow me to assist.
Financial Reporting
Every city in the nation is required to have their financial statements audited by an independent certified public accounting firm. When the audit is completed, the city issues the audited financial statements through a Comprehensive Annual Financial Report (CAFR). One simple metric is to go to the basic financial statements for the statement of net position and find the unrestricted net assets (or deficit) for governmental activities and divide it by the city's population. This provides a per capita figure. It is the homeowner's asset when the number is positive, and it is the resident's liability if it is negative.
The last of the June 30, 2020 CAFRs have just been released, so we can review all 34 cities (see the chart below).
Where does your selected city fit within the range?
For the past four years, half of Orange County's cities have had positive unrestricted net positions. Let's look at a few of the cities. If you live in Costa Mesa, the worst fiscally-managed city in Orange County, then you have a potential debt of $2,190 to address. Married? Make that $4,380. (Disclosure: I am a resident of Costa Mesa.)
Costa Mesa has been on a financial free fall for more than four years. There are a number of factors, but the composition of its city council has become almost entirely progressive Democrat, having been brought into power by the city's public employee unions. It now has the lowest funding ratio of all 34 cities for its public employee defined benefit pension plans.
Having a union underwrite city council candidate campaigns is legal, but one of the largest conflicts of interest in our nation. After getting elected, the candidates then give the bargaining units which brought them there literally everything they ask for. This explains the poor fiscal status of a number of cities and, with this inappropriate taxpayer abuse also applying to California's counties and Capitol.
Fortunately, some cities have elected councilmembers who do try to improve the city's fiscal situation. Look at Newport Beach, which has been aggressively addressing its unfunded actuarial accrued pension liabilities. It was in 32nd place in June 2017. It has moved up to 26th place as of the end of 2020.
The City of Anaheim, a legacy city incorporated some 163 years ago, has its own police and fire department and significant unfunded liabilities. Its net deficit grew by 14 percent in the past year, thanks mostly to the California Go. Gavin Newsom's lockdown, which started in March 2020. We know that closing the Disney Resort, the Convention Center, Angel Stadium, and the Anaheim Duck's arena to visitors will wipe out the neighboring hotels and restaurants. It also severely impacted Anaheim's tax revenues. Its CAFR for June 30, 2021 will not be pretty and the city is already looking to borrow more than $200 million.
Fullerton's per capita deficit grew by nearly 11 percent. This shows how closing a California State University campus can impact a host city's economy.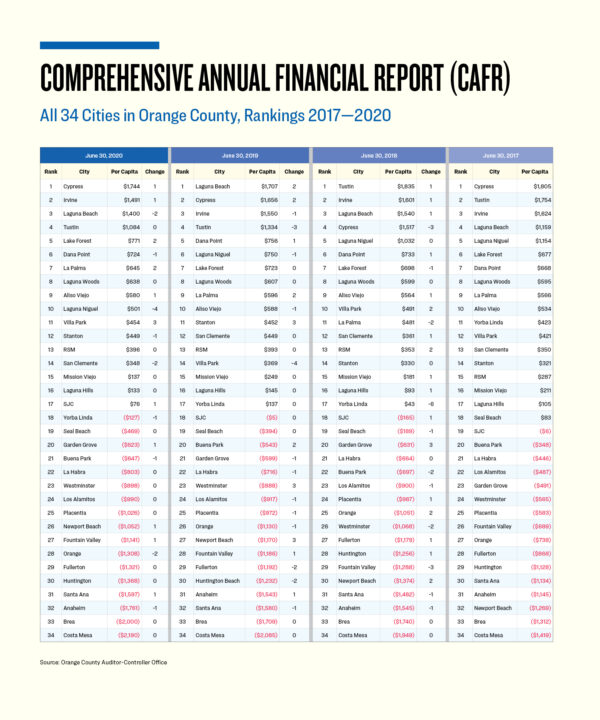 Up to the fiscal year ended June 30, 2017, the Government Accounting Standards Board (GASB) did not require reporting unfunded liabilities for other post-employment benefits, such as retiree medical lifetime benefits.
Adding them to the balance sheets for the fiscal year ending June 30, 2018 had a major impact on the per capitas for many cities. Costa Mesa's deficit grew by 37 percent; Brea's by 33 percent; Anaheim's by 35 percent; and Santa Ana's by 31 percent. These liabilities can be negotiated down, but probably not if the majority of the councilmembers are financially supported by the city's public employee unions.
Nine cities have done an admirable job of being in the top 10 for the past four years: Aliso Viejo, Cypress, Dana Point, Irvine, Laguna Beach, Laguna Niguel, Laguna Woods, Lake Forest, and Tustin. Meanwhile, the cities of Anaheim, Brea, Costa Mesa and Santa Ana have clung to the bottom five positions. Let's hope they can focus on fiscal essentials, like Newport Beach, and move up the rankings.
If you own a home in the top half of the rankings, then thank your past and current councilmembers. If not, then pay closer attention to the city council candidates, and who funds them, in the next election.
John Moorlach is a former Orange County Supervisor who most recently served as a state senator. He previously spent 12 years as Orange County's Treasurer-Tax Collector, and led the county out of bankruptcy.
Views expressed in this article are the opinions of the author and do not necessarily reflect the views of The Epoch Times.