US and EU Should Enhance Joint Economic Countermeasures Against China
News Analysis
The European Union is finally marshaling its massive economic force to hit back at Beijing. Meanwhile, America is waiting in the wings to join the Europeans in making their two massive economies—each of which rivals China alone—unbeatable in pressuring Beijing to improve its human rights, or even democratize.
A case in point is Lithuania's courageous backing of a "Taiwan" rather than "Taipei" de facto embassy in Vilnius, Lithuania's capital. In retaliation, Beijing blocked Lithuania's access to the massive Chinese market, and began pressuring companies around the world to stop doing business with the small Baltic nation.
Beijing even threatened the diplomatic immunity of Lithuanian officials in the country. To protect them, Lithuania had to pull its embassy staff from China on Dec. 15, leaving Lithuanian citizens and businesses in the country with little diplomatic recourse should the Chinese Communist Party (CCP) target them directly.
The EU—which is supposed to protect its member states, including Lithuania—did little to nothing in response. Lithuanian Foreign Minister Gabrielius Landsbergis criticized the EU on this, rightly demanding better protection by Brussels.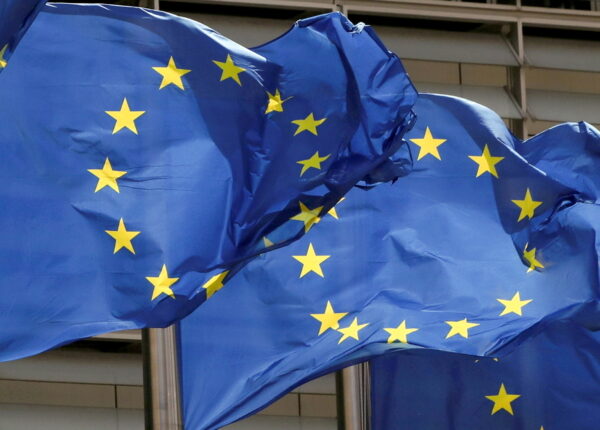 Philippe Le Corre, a senior research fellow at Harvard University's Kennedy School of Government, said that due to electoral pressures, "both France and Germany are not in a position to compromise" on the China issue.
Le Corre said that French President Emmanuel "Macron is seeking reelection in April," and he cannot afford to appear as weak. Meanwhile, Germany's new Chancellor Olaf Scholz will face similar pressures, according to Le Corre, due to the chancellor's junior status.
Le Corre said that "The Lithuania situation has deepened the anti-China sentiment in parts of Europe." In Lithuania itself, according to Le Corre, the overall attitude remains 50 percent in favor of confrontation with Beijing, and 50 percent in favor of engagement.
The Beijing-Vilnius dispute is raising public awareness of the CCP threat to Europe, and forcing the hand of the EU toward greater centralization of its trade power and coordination with the United States in order to defend its smaller nations. This was already in process in September, with the first meeting of a new U.S.-EU Trade and Technology Council.
The Council will help counter Beijing's economic coercion and non-market practices, such as extraterritorial sanctions on countries like Lithuania, and subsidies and dumping of cheap goods on foreign markets to destroy their industries. It will give economic muscle to joint U.S. and E.U. values like democracy, human rights, freedom, and privacy.
The U.S.-EU Council will cooperate on, and regulate, artificial intelligence (AI), semiconductors, and new industrial standards—all of which will have effect on the trans-Atlantic relationship with China.
The Council is aimed at strengthening and integrating U.S. and EU supply chains, research and development, export controls, investment screening, and leadership in emerging technologies generally. But it is also designed to use the combined weight of the U.S. and E.U. economies to counter Beijing.
In a joint September statement, the Council said that Washington and Brussels will "seek to strengthen their competitiveness and technological leadership by developing common strategies to mitigate the impact of non-market practices at home and in third countries."
Nonmarket practices are code for what communist economies, especially Beijing, do in terms of international economic bullying for illiberal political purposes.
Europe is not only depending on greater coordination with the United States, however. It is also strengthening internal EU coordination against Beijing. This will be done in part by following through on the EU goal of combining the continent's economic power to control foreign access to the bloc's 27 countries and nearly 450 million consumers.
Greater EU economic coordination against outside threats like Beijing was already in process in early December. Now, the EU's trade czar, Valdis Dombrovskis, is getting good press for his work on the issue.
Dombrovskis acknowledges that the EU sees China as a competitor in commerce and a systemic rival on social and economic matters.
The new laws he advocates, along with closer coordination with the United States, will help European nations defend themselves against Beijing's retaliatory and predatory trade practices.
Dombrovskis is a former Latvian prime minister, so he knows the threat of communism and dictatorship due to his country's border with Russia and proximity to Germany. In 1940, the former Soviet Union occupied Latvia, which was then conquered by Nazi Germany. The end of World War II did not mean freedom for Latvians, but rather, a return to the Soviet yoke in 1944.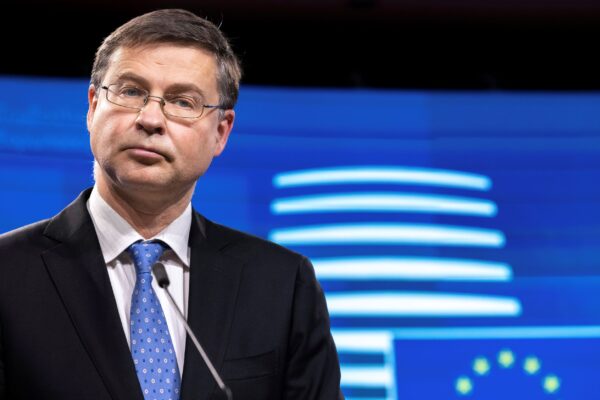 Today, Russia continues to threaten its neighbors—most seriously nearby Ukraine. A flight from the capital of Latvia to the capital of Ukraine, which is in an ongoing war with Russia over Crimea and its industrial and energy-rich eastern region, called the Donbass, is just 650 miles.
Greater American, European, and allied unity against Moscow and Beijing's predatory military and economic policies will be critical to defending democracies in the next decade. Dombrovskis supported this goal in June and October where he defused, along with U.S. Trade Representative Katherine Tai, U.S.-EU conflicts over airline and steel subsidies.
Dombrovskis is also in frequent talks with Tai to reform the World Trade Organization (WTO), which is currently being manipulated by Beijing's unexpectedly persistent hybrid of "capitalism" and state control.
The Wall Street Journal quoted Dombrovskis on Jan. 5 as saying that "There's no doubt the WTO is in crisis." The EU and the United States share concerns that "the WTO rulebook is out of date" on the issue of China's economy, according to Dombrovskis.
The EU is also exploring tougher rules against China because Beijing excludes European companies from government contracting, and uses tariffs and export blocks against countries like China that use border checks, boycotts, and safety inspections coercively and for illiberal purposes.
Dombrovskis told the Journal that the EU measures "allow us to act in a more autonomous way, if needed," by using access to the bloc's economy as an incentive or disincentive to illiberal behavior or those which are against European interests. "We are committed to multilateralism but we are ready to act autonomously," he said.
To be effective against Beijing, the 27 EU countries must delegate more of their foreign trade decision-making power to the EU in Brussels, which will be yet another step in thousands of years of history toward a concentration of power. But to defend themselves from an even worse concentration–that of Beijing—European countries will need to remove the ability of just a few relatively pro-Beijing EU nations, like Hungary, to veto EU decisions.
While the concentration of trade power in Brussels is in some ways regrettable for economic and political diversity in Europe, it is at the same time necessary for the defense of the continent from the CCP's authoritarianism.
To ensure that diversity is protected and can return after the threat from Beijing has been removed, Brussels should consider implementation of grandfather clauses so that trade power reverts to the national level. This would encourage the return of small businesses that tend not to survive in competition with large multinational corporations that have an advantage under global free trade.
Views expressed in this article are the opinions of the author and do not necessarily reflect the views of The Epoch Times.