Xi Jinping's Crackdown on Private Tech Is Endangering Military Modernization
Commentary
Is Xi Jinping killing the goose that laid the golden eggs? The head of the Chinese Communist Party (CCP) wants to harness the innovative potential of domestic high-tech, but his assaults on private tech companies could prove the law of unintended consequences.
In recent months, the CCP has cracked down hard on China's private-sector tech companies. Last October, Jack Ma criticized the CCP for stifling innovation. In response, the communist regime fined his Alibaba e-commerce firm $2.8 billion for violating arbitrary anti-trust laws, while an Alibaba subsidiary, Ant Group, had its IPO squashed. Other private high-tech companies, including Tencent, Didi, and Pinduoduo, have similarly had their wings clipped.
The message is clear: serve the Party. It is no longer about making money or advancing the domestic technology base, it is about operating according to the dictates of the CCP, whatever they may be.
This is a stark reversal of economic development policies under previous CCP leaders. Deng Xiaoping, Jiang Zemin, and Hu Jintao all encouraged foreign direct investment (FDI), private companies, and innovation. As a result, by the turn of the century the private sphere had grown larger than the traditional state-owned sector.
Xi is now trying to put the genie back in the bottle, at least partially. According to The Economist, the aim is to have "a thriving tech scene producing world-beating innovations under the thumb of the Communist Party."
At the same time, Xi-as-control-freak is coming through in these policies. Xi wants to reduce the power of private-sector founder-billionaires, like Ma, whom he sees as competitors. Basically, he wants to make it clear what people can and cannot do.
This approach is fraught with danger. The idea of a top-down, state-centric model of innovation—think Huawei or ZTE—promises to be scarily restrictive. This is the opposite of the U.S. model, which is based on seed monies for small, high-tech firms, support for university research, and public-private partnerships. And only rarely—for example, in recent efforts to reinvigorate the country's semiconductor manufacturing industry—does Washington get seriously involved.
The CCP thinks that the "gravitational pull" of China's economy will continue to bring in FDI and technology. It could be wishful thinking.
Nowhere is the risk greater than for Xi's corresponding efforts to encourage "military-civil fusion" (MCF). Xi and the CCP are anxious to harness China's growing technological prowess to support the creation of a high-tech People's Liberation Army (PLA). The PLA is not only to be quantitatively strong but qualitatively as well, equipped with the most advanced of all possible armaments. This includes state-of-the-art command and control systems, fifth-generation fighter jets, armed drones, hypersonic weapons, and the like. This, in turn, requires tapping into innovations in the private high-tech sector, particularly in such areas as artificial intelligence (AI), microelectronics, autonomous systems, and 5G networking.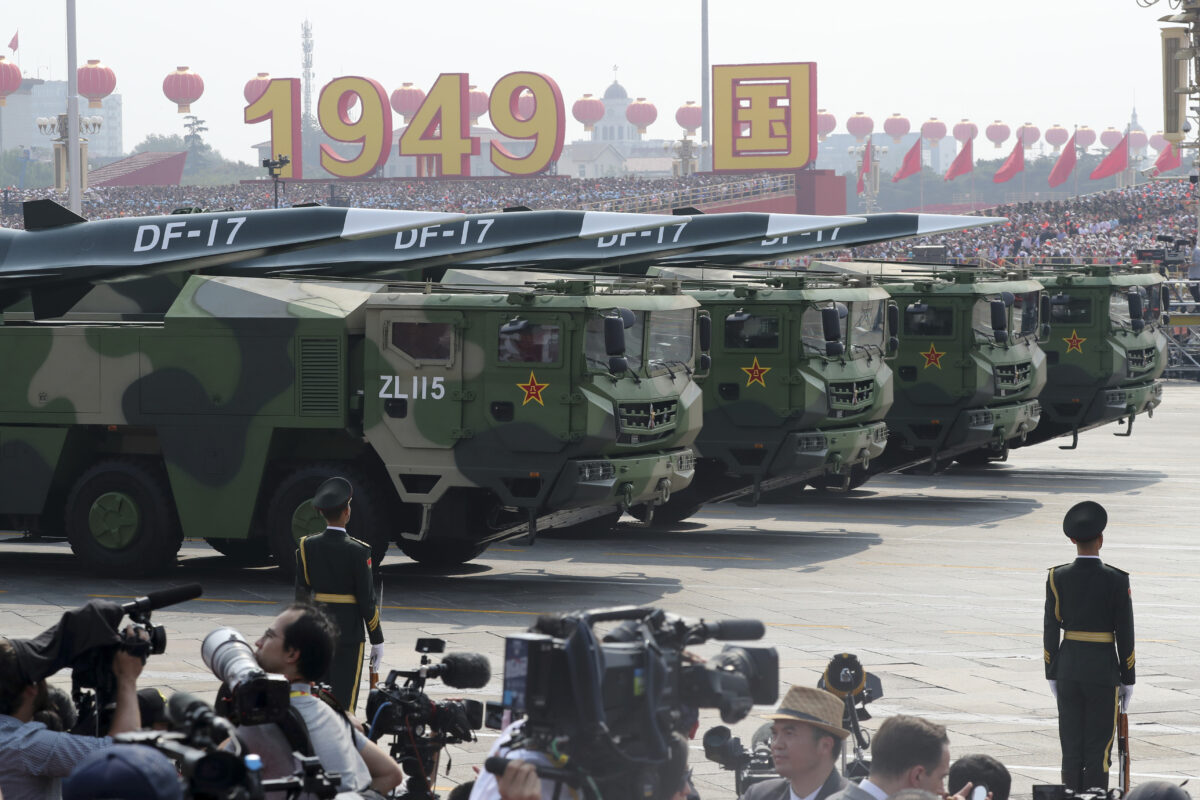 Since Xi has come to power, "civil-military fusion has been part of nearly every major strategic initiative." Xi's personal engagement has been instrumental in overcoming earlier reluctance to embrace MCF. In 2015, Xi enunciated the aligning of civil and defense technology development as a national priority.
At the 19th Party Congress in October 2017, Xi declared that China will "deepen reform of defense-related science, technology, and industry, achieve greater military-civilian integration, and build integrated national strategies and strategic capabilities," according to a report by China watchers Lucie Béraud-Sudreau and Meia Nouwens. Also in 2017, China issued its 13th "Five-Year Special Plan for Science and Technology MCF Development."
As Béraud-Sudreau and Nouwens put it, MCF "has become an integral part of Xi's strategy to complete the modernization of China's armed forces by 2035 and turn them into a world-class army by midcentury."
In particular, Xi and the CCP have prioritized artificial intelligence. AI is regarded as a critical technology that could prove consequential to China's strategic competition with the United States, especially when it comes to surpassing the U.S. military as the world's most advanced armed force. Consequently, in 2017 Beijing laid out its ambitious "New Generation Artificial Intelligence Development Plan," aimed at turning China into a world leader in AI by 2030.
Finally, and perhaps most importantly, MCF is part of a long-term and broad-based strategic effort by Beijing to position China as a "technological superpower," by pursuing guns and butter, and having them mutually support each other. Chinese leaders are using MCF to position the country "to compete militarily and economically in an emerging technological revolution," according to a report by Greg Levesque, published in The Jamestown Foundation.
It should come as no surprise to see that MCF has intertwined military modernization with civilian technological innovation in a number of critical dual-use technology sectors, just AI, but also semiconductors, aerospace, advanced manufacturing, and alternative energy sources. At the same time, MCF also "involves greater integration of military and civilian administration at all levels of government: in national defense mobilization, airspace management and civil air defense, reserve and militia forces, and border and coastal defense," the report said.
In his crackdown on the country's private-sector high-tech industry, Xi could be trying to square the circle. On the one hand, he wants a vibrant, innovative-friendly, risk-taking economic culture. On the other hand, he is cracking down on the risk-takers and innovators, in the cause of tightening up societal and political controls.
Xi is trying to have innovation and strict control. However, as Sonja Opper, a professor at Bocconi University in Italy, recently put it in a CNN article: "China's government may well feel, that more restrictive policies can be introduced … but it is highly unlikely that the entrepreneurial spirit—so successfully unleashed by leaders preceding Xi Jinping—survives under a highly restrictive, regulatory regime."
It is important to understand just how much of  Xi's own personal reputation is tied up in the success or failure of MCF. Any move to "de-intensify" MCF would come at a great cost to Xi's authority. Nevertheless, he is risking his own military modernization plans by clamping down on China's big tech.
Views expressed in this article are the opinions of the author and do not necessarily reflect the views of The Epoch Times.