Xi Jinping's True Intentions Behind the Redistribution of Wealth
News Analysis
In recent years, Chinese leader Xi Jinping has gradually tightened control over private capital. State-owned enterprises took over countless private businesses amid a wave of bankruptcies and in a bid to redistribute wealth.
During a conference with Chinese Communist Party (CCP) officials on Aug. 17, Xi called for "common prosperity" and redistribution of wealth of the private sector, which targets certain wealthy individuals and groups in China.
On July 1, Xi delivered a speech at the centennial of the founding of the CCP. It's noteworthy that Xi was dressed in a Mao suit, a style worn by former leader Mao Zedong.
This made the outside world wonder if Xi is taking China back to the Mao's era.
The Chinese regime has also been stressing an open and reform policy, and support for the private sector.
Chinese Premier Li Keqiang, for example, paid a visit to China's southwestern Guangxi region from Sept. 16 to 18. He said that the private sector is an "an important force" in the creation of employment and wealth.
During a forum in the southern city of Guangzhou on Sept. 16, Chinese Vice Premier Liu He said that Beijing "firmly supports the healthy development of the private sector economy."
So what does Xi really want?
Xi Wants to Reset the Rules
Chinese dissident Wang Juntao, co-chair of the China Democracy Party, believes that Xi wants to rebuild a communist society, but not to replicate Mao's model.
"Xi's true intention is to maintain a communist society, but in a seemingly more civilized, market-oriented way," Wang told the Chinese-language edition of The Epoch Times.
"Mao's revolution is a complete elimination of wealthy landlords and entrepreneurs."
According to Wang, Xi is different from Mao because he needs the private sector, which accounts for more than half of the Chinese economy.
"Xi paid various visits to private enterprises during the pandemic to show his support."
But Xi doesn't want the private sector to become too wealthy and powerful. So he set up his own rules in order to maintain control over them, Wang said.
Wang analyzed that Xi is promoting a five-tier wealth distribution model. "The first tier distribution is through the market. In the market, some people make money, while some others lose money."
Then the regime uses the second-tier distribution—taxation. On top of the existing multiple taxes, the CCP plans to introduce new taxes on inheritance and property, Wang said.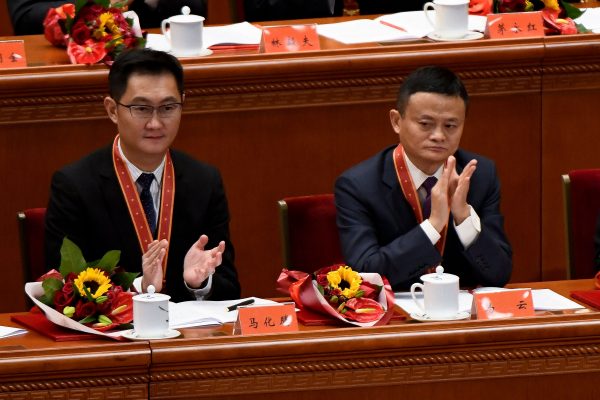 The third-tier distribution involves asking the rich to donate their wealth or give back to society, Wang said. If they don't comply, then the CCP uses the fourth-tier distribution method—to bankrupt the rich. Then state-owned companies or local governments take over those bankrupt private companies, he said.
"The fifth-tier distribution involves arresting the rich people," Wang said. He named two prominent Chinese businessmen who were taken down—Xiao Jianhua, founder of Tomorrow Group, and Wu Xiaohui, ex-chairman of Anbang Insurance Group.
Xi Is Being 'Pragmatic'
Li Linyi, a current affairs commentator, told the Chinese-language edition of The Epoch Times that Xi is just being pragmatic, and tries to appease his opponents and other Party members.
"Turning left is a very convenient choice, as the CCP's ideology is leftist. If Xi turns right, he will face tremendous resistance from the CCP. So he turns left, which enables him to control the majority of people within the CCP," Li said.
"Turning left" is generally regarded as going back to Mao's era and the regime's centralized/planned economy.
Xi's 'Left Turn' Serves to Cover Up China's Problems
Hu Ping, a U.S.-based scholar and chief editor of pro-democracy online publication Beijing Spring, said that Xi is only pretending to go back to Mao's era—a move that would distract the public from their growing discontent over the huge disparity between the rich and the poor.
"The CCP took over power by violent armed revolutions," said Hu. "It won the support of the Chinese people by claiming to fight against capitalism and build socialism for the good of the people, which is the legitimacy of its rule."
However, what the CCP has done since it came to power has been completely different from what it had promised, Hu said.
Former CCP leader Deng Xiaoping encouraged a small number of people to become rich in the late 1970s. Hu pointed out that these people have close ties to influential CCP members, and these red families have become the new elite class in China.
"They [CCP members] killed Chinese landlords and capitalists, now their families have become landlords and capitalists," Hu said. "This is extremely bad, which has never been seen in Chinese history."
A December 2012 Bloomberg report revealed that the three sons of powerful political figures controlled "state-owned companies with combined assets of about $1.6 trillion in 2011," which accounted for "more than a fifth of China's annual economic output," and that their families benefited from their control and have accumulated huge private wealth.
Hu pointed out that the red elite families are led by two factions—Deng's faction, which represents the veteran CCP members; and the Jiang Zemin and Zeng Qinghong faction, which represents the nouveau riche.
Hu added that Xi is aware of the rising resentment among the Chinese people, which is why he waves the red flag of socialism. However, Xi also knows he is not able to go back to the economy that Mao had set up—a lesson Xi has learned during the Cultural Revolution.
"Xi must keep claiming that he is a socialist; otherwise, the CCP has no ruling legitimacy." Hu said that socialism is only Xi's cover and "to show people that he is different from Deng and Jiang."
The CCP Has Never Given Up Socialism
Current affairs commentator Tang Jingyuan analyzed the differences of the three eras of Mao, Deng, and Xi.
According to Tang, Mao insisted on the basic fundamentals of socialism, while Deng used very tricky strategies to fool the West in the past decades, pretending that China was moving toward an open, market-oriented economy. By cheating the West, the CCP has attracted foreign investment and technology into China, thus accumulating its wealth and strength. Xi now feels ready to use the strength to take over the world with the CCP's communist rule.
"No matter what strategy or method they use, their goal is the same: to rule the world with authoritarianism," Tang told The Epoch Times.
Views expressed in this article are the opinions of the author and do not necessarily reflect the views of The Epoch Times.