Study Finds That Vaping Decreases Sperm Count and Libido, Speaking to Testicle Shrinkage
Men who use e-cigarettes could end up seeing lower sperm counts and experience negative impacts on testicles and sex drive, according to a new Turkish study.
The research looked at how e-cigarette smoke could affect the male urogenital system that is responsible for tasks related to urine and reproductive activity. Conducted by researchers from the Sivas Cumhuriyet University, the study exposed one group of male rats to regular cigarette smoke and a second group to vapor from e-cigarettes (EC), while a third group was kept away. The rats were exposed to the smoke two times a day for one hour each time.
Researchers found that rats exposed to e-cigarette vapor had a lower sperm count compared to those not exposed.
Sperm count is a critical factor in fertility, as a higher count typically translates into a greater possibility of getting the female partner pregnant. Unexposed rats had a sperm count of 98.5 million sperm per millimeter, higher than the 95.1 million for the e-cigarette group, and 89 million for the traditional cigarette group.
Microscopic examination revealed that the testes of five out of eight rats exposed to e-cigarette smoke displayed structural changes. Among the vaping group, 62 percent experienced a negative physical impact on testicles. E-cigarette smoke was also associated with decreased libido.
"It should be considered that although EC liquid has been introduced as harmless in smoking cessation studies, it could increase oxidative stress and cause morphological changes in the testicle," the study said.
"To be a safe option in smoking cessation studies, its effect on people needs to be enlightened."
The Turkish study mirrors findings from a 2020 Danish study which looked at the effects of e-cigarette smoking in over 2,000 men.
Female Fertility, Impacts on Offspring
Vaping can also impact female fertility negatively. A September 2019 study published in the Journal of the Endocrine Society, which looked at the impact of e-cigarette smoke on pregnant mice, found there was a "significant delay in the onset of the first litter."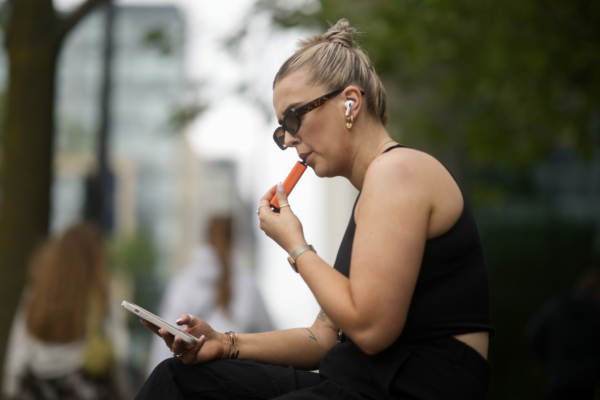 "E-cigarette exposure in mice impairs pregnancy initiation and fetal health, suggesting that e-cigarette use by reproductive-aged women or during pregnancy should be considered with caution."
In July 2023, researchers from the University of Colorado Anschutz Medical Campus reported that vaping by pregnant women can negatively affect fetus growth due to the presence of nicotine. Researchers had used an animal model for the study.
"Nicotine passes through the placenta to fetal circulation where it can accumulate to reach higher levels than in the maternal plasma. This disrupts the development of multiple organs and systems," said Emily Bates, an associate professor of pediatrics at the university.
"Those that were exposed to vaping ended up with smaller and shorter bones during their development. Additionally, we found that the nicotine impacts which genes are turned on in the fetal lung."
In addition to impacts on fertility, vaping has been shown to contribute to other medical complications.
Research presented at the 2019 American Stroke Association's International Stroke Conference showed that those who use e-cigarettes have a higher chance of suffering a heart attack or stroke.
Another study published in the European Heart Journal linked vaping with damage to lung function and brain damage.
Children at Risk
Studies about e-cigarettes affecting the body's health are of particular concern in the United States due to a large number of children using these products—many regularly.
A study published in October last year by the U.S. Centers for Disease Control and Prevention (CDC) revealed that 2.55 million U.S. middle and high school students reported using e-cigarettes within the previous 30 days.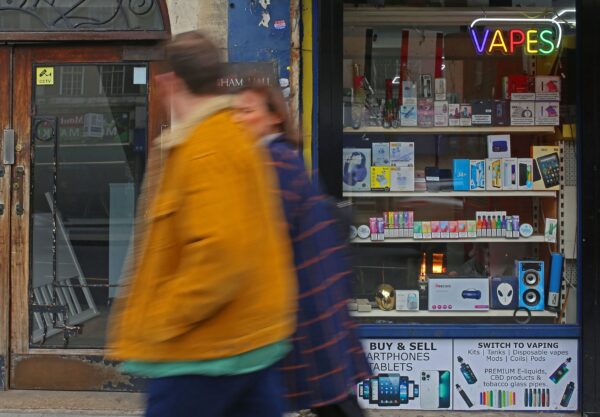 This included 14.1 percent of high school students and 3.3 percent of middle school kids. Almost 85 percent of them used flavored e-cigarettes.
"This study shows that our nation's youth continue to be enticed and hooked by an expanding variety of e-cigarette brands delivering flavored nicotine," said Deirdre Lawrence Kittner, Ph.D., M.P.H., director of the CDC's Office on Smoking and Health.
"Our work is far from over. It's critical that we work together to prevent youth from starting to use any tobacco product—including e-cigarettes—and help all youth who do use them to quit."
A recent CDC study found that 11 percent of young adults aged 18-24 were current e-cigarette users. Vaping among this demographic is a concern "because nicotine adversely impacts brain development, which continues into the early to mid-20s," it said.
Young adults were the most likely to use e-cigarettes among all adults. Young adults were also found to be more likely to be dual users of e-cigarettes and cigarettes when compared to adults aged 45 and above.
According to the CDC, most vapes contain nicotine. Vapes that do not disclose whether they contain nicotine have been found to carry the substance. This is even true for vape liquids being marketed as zero percent nicotine.
During adolescence, nicotine use can end up harming the regions of the brain that control learning, impulse control, mood, and attention.