Burmese Americans Protest Military Coup With California Rally
STANTON, Calif.—Stanton is home to the largest Burmese American community in Orange County, California. Over 500 people gathered at Stanton City Hall on March 20 to raise awareness about the military coup in Burma, also known as Myanmar.
More than 250 have been killed and thousands arrested amid protests against the coup, which began Feb. 1, according to the Assistance Association for Political Prisoners.
Many officials worldwide, including U.N. Secretary-General Antonio Guterres, have called on the military junta to halt its increasingly harsh tactics in suppressing protest since its overthrow of the elected government of Aung San Suu Kyi.
Stanton Mayor David Shawver was among the local officials who stood with activists at the March 20 rally to voice his concern.
"The goal for today is for each person who attended to take the message and spread it," Mayor Shawver told The Epoch Times. "So that we have people reaching out to their elected officials, so we have one voice asking for help."
"I know we're all concerned about getting help from our government, but we at the local level will send a message up the line," Shawver said.
The U.S. House of Representatives has passed a resolution condemning the coup. The House also passed the Protect Democracy in Burma Act of 2021, which would have the United States engage with the United Nations and the Association of Southeast Asian Nations to restore democracy and hold accountable those responsible for the coup.
Many in Burma believe the coup is supported by the Chinese Communist Party, according to the Associated Press.
Banny Hong, owner of the only Burmese restaurant in Orange County, helped coordinate the rally. He told The Epoch Times: "This is very important because democracy is no different between Burma and the United States, and we believe in democracy, justice, freedom."
"Burmese people are very peaceful. We always look at the United States as a symbol of freedom, democracy," he said. "I can't stand by and just look at this situation. The military have become terrorists."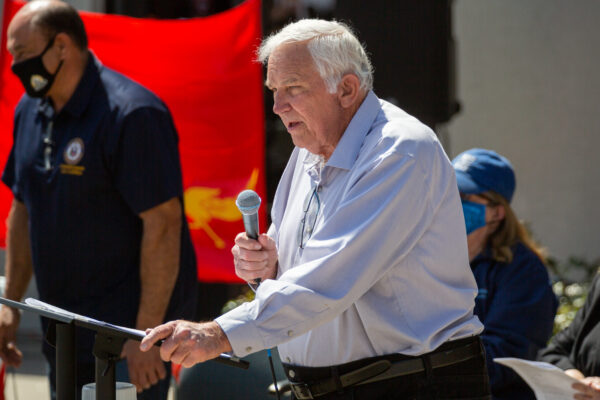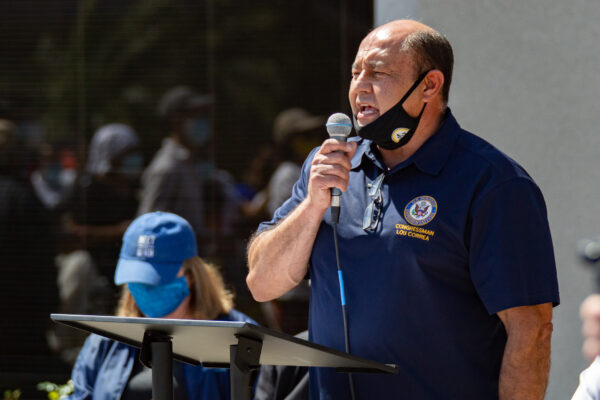 Congressman Lou Correa (D-Calif.) was also in attendance and condemned the military coup. "Myanmar, what is happening? We gather in Stanton to learn about this military takeover, and of the ensuing human rights abuses," he tweeted.
Rallygoers chanted "We want democracy," and "Free Aung San Suu Kyi," who was detained by the junta. They also sang Burmese songs.
Many in the crowd raised three fingers in support of democracy, a symbolic gesture inspired by "The Hunger Games" and taken up by the pro-democracy movement of Southeast Asia.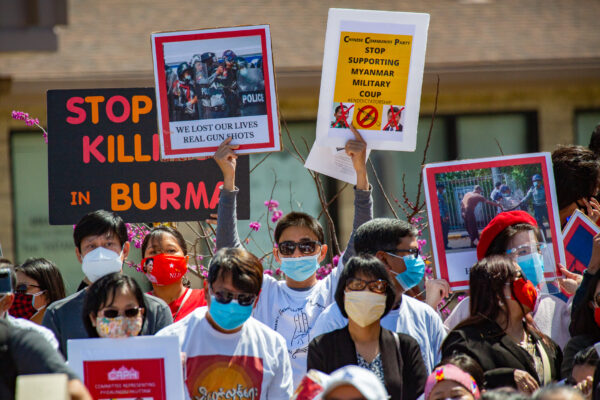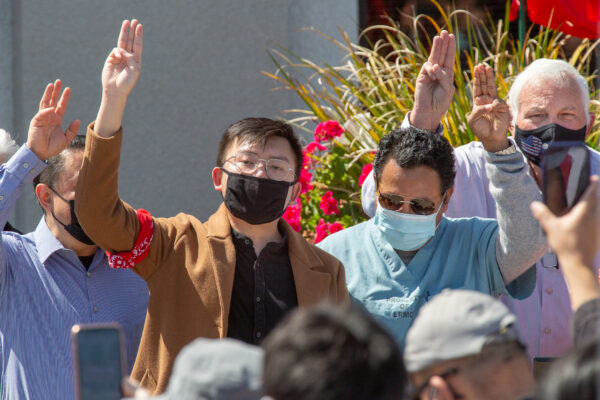 Thet Lin Tun, president of the Burmese Student Association, told The Epoch Times that people in Burma "are really suffering, and they're really tired."
Lin Tun was one of the keynote speakers. "Everyone in the United States, especially the Burmese community, we're doing everything that we can do to help them and to make sure that they know they're not alone in the world in their quest for democracy," he said.
"We made slow democratic reforms, and it's just unacceptable what is happening," he said. "I have the privilege of speaking here without the fear of consequences. … It's very important for people like me here to speak out as much as I can."
He compared his freedom to speak out to those in Burma: "When they speak up, they can easily just get killed the next day. They will be kidnapped."
Lin Tun said the junta has made it difficult for information to get out of Burma, so people abroad only see what little footage and few photos may get through via private messaging platforms or social media.
"It's just getting worse and worse. The military has cut down communications. They've shut down the internet, and they're doing everything that they can to stop the protesters, but we're never gonna give up," he said.