2 Dead, About 8 Shot After Separate Shootings at Virginia Beach: Police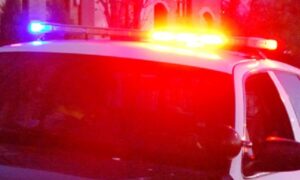 Two people have died and about eight more people were shot after multiple separate incidents of shooting late Friday in Virginia Beach, Virginia, according to police.
The Virginia Beach Police Department announced on Twitter at around 1:15 a.m local time on Saturday that it was investigating "a shooting involving several victims with possibly life-threatening injuries."
"Large police presence at the oceanfront between 17th and 22nd St. Please avoid the area at this time," the department advised at the time.
Virginia Beach EMS confirmed to local media WAVY News 10 that multiple people were injured and taken to the hospital in connection to the incidents at the Oceanfront.
Virginia Beach Police Chief Paul Neudigate at a press conference around 1:35 a.m. local time told reporters that authorities believe there were multiple separate incidents taking place near each other that first began about 11 p.m. local time.
At the first scene, near the area of 2oth Street and Atlantic Avenue, "numerous shots were fired" that injured about eight victims, according to Neudigate. While officers were actively working the crime scene, there were "additional shots" fired near the intersection of 20th Street and Pacific Avenue, he said.
"That resulted in an individual being confronted by a uniformed Virginia beach police officer resulting in a police intervention shooting. That individual is deceased," Neudigate said of the second shooting scene.
Neudigate said there was a second person who died who was "not part of the police intervention shooting," and p0lice do not believe that they were part of the first shooting incident either. Neudigate said the second death appeared to be from "a separate shooting incident that we're still trying to piece together."
"What you can see is we have a very chaotic incident. A very chaotic night in the beach. Many different crime scenes," he said.
He added that another officer was hit by a car and was sent to the hospital for non-life-threatening injuries, described as "some bumps and scrapes." It is unclear whether the officer played any role in the first or the second shooting events.
The first reports to police about the incident was around 11:20 p.m., reported 13News Now. There was a large police presence shortly following the incidents, according to local news stations.
There were several people who were taken into custody following the incident, Neudigate told reporters. "What their involvement in the incidents is, we don't know yet," he said.
This story is developing. Please check back for updates.