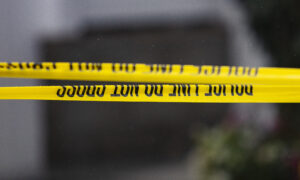 DIAMOND BAR, Calif.—The coroner's office June 25 released the names of two women found dead in a Diamond Bar care home, with a live-in caretaker arrested.
Hee Sook Park was 83 years old and Monica Lee was 75 years old, the coroner's office said. The cause of their deaths was not yet released.
The deaths occurred about 8 a.m. Saturday in the 23800 block of Sapphire Canyon Road, slightly east of the Orange (57) Freeway, according to the Los Angeles County Sheriff's Department.
The victims were pronounced dead at the scene.
"Foul play is suspected," the Sheriff's Information Bureau reported, adding that there were no community safety concerns.
ABC7 reported the deaths occurred at an assisted living facility for the elderly.
Jianchun Li was arrested in connection with the deaths. He was employed as a live-in caretaker at the facility, sheriff's officials said.
The sheriff's Homicide Bureau urged anyone with information about the deaths to call them at 323-890-5500. Tipsters can also contact Crime Stoppers at 800-222-8477 or through the website.