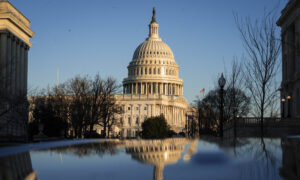 Twenty-two attorneys general, led by South Carolina AG Alan Wilson and Alabama AG Steve Marshall, are urging Congress to pass legislation to allow states to jam contraband cell phones being used in prison, "and quickly."
Prisoners are using contraband cell phones to conduct illegal activity "with no way to block them, and are posing an active threat to public safety," including to "organize murders, riots, drug deals, fraud," the attorneys general argue in a letter sent to the leaders of the U.S. House and Senate on Wednesday.
"In South Carolina, this is a recurring problem despite our diligent efforts to stop it," Wilson said. Over the past five years, there have been four major drug trafficking cases in South Carolina that were orchestrated behind prison walls using contraband cell phones, the most recent of which involved a Mexican drug cartel.
"If inmates were blocked from using contraband cell phones, we could prevent serious levels of drug trafficking, deadly riots and other crimes from happening," he added.
Last October, Florida law enforcement thwarted a major drug bust orchestrated by incarcerated SUR-13 (Sureños) gang members inside Florida prisons working with cartel affiliated gang members in California, Florida and Mexico. Authorities seized over 50 pounds of fentanyl—enough to kill half of Florida's population, as well as other drugs, in the operation. They subsequently thwarted other cartel-related drug trafficking operations in a few months time, seizing enough fentanyl to kill Florida's entire population.
In Oklahoma, one prison gang used contraband cell phones to direct gang members outside prison to commit murders, assaults and robberies statewide, according to the letter. And in Tennessee, a Memphis inmate used a contraband cell phone to orchestrate drug conspiracy deals using FedEx packages.
Georgia inmates used contraband cell phones to make scam calls demanding payments with threats and an incarcerated gang enforcer from inside an Indiana prison ordered a double homicide hit on the outside using a contraband cell phone.
In previous legislative sessions, Rep. David Kustoff (R-Tenn.) introduced bills to enable states to jam contraband cell phones in prison, including HR 1 954 in the 116th Congress and HR 8645 in the 117th, with congressmen from South Carolina, William Timmons, Jeff Duncan and Ralph Norman, cosponsoring. Sens. Tom Cotton (R-Ark.) and Lindsey Graham (R-S.C.) co-sponsored a similar bill, S. 4699, in the 117th Congress. None of the bills ever made it to the floor to even get a vote.
"We understand that what works for one state may not work for another, and that as long as there are prisons there will always be contraband," the AGs argue. "But in the case of jamming contraband use of cell phones, however, this is an urgent issue that affects" all states, they said.
Attorneys general joining Wilson and Marshall include those representing Alaska, Arkansas, Georgia, Idaho, Indiana, Iowa, Kentucky, Louisiana, Mississippi, Montana, Nebraska, New Hampshire, Ohio, Oklahoma, South Dakota, Tennessee, Texas, Utah, and Virginia.
By Bethany Blankley