As Tennessee dominated headlines last week for becoming the first U.S. state to ban drag shows and adult cabaret performances in public places, the state Legislature is taking up another piece of legislation that could impact adult performances in private.
The latest bill (pdf) would require a person to "obtain a valid entertainer permit from the adult-oriented establishment board, in those jurisdictions with a board, prior to performing adult cabaret entertainment for compensation."
Not every county in Tennessee has a local board to govern adult entertainment, but larger cities. such as Nashville and Memphis, do.
Nashville's Sexually Oriented Business Licensing Board "has jurisdiction over the licensing, regulating and controlling of all sexually oriented establishments in Metropolitan Nashville."
The legislation passed the Tennessee House on Monday and will be debated in the state Senate next week.
The bill's sponsor in the House, Republican state Rep. Clay Doggett, said the bill is another effort to protect children from obscenity.
"All we're doing here is stating if you are performing in a manner that is harmful to minors and receiving compensation, you will need a permit," he said on the House floor amid a line of questioning.
A Democrat in the House said the Legislature's focus on drag performances amounts to a "circus" and that legislators should instead focus on things such as "mass shootings."
The measure passed easily with a Republican supermajority in the House and along party lines, with all 23 Democrats voting no and all 75 Republicans voting to send the bill to the state Senate.
Drag Permits and Under 18 Bans
The legislation would amend an already existing law regarding adult-oriented establishments such as adult bookstores, massage parlors, and more.
The other part of the bill requires public, private, and commercial establishments to ban those younger than 18 from attending adult cabaret entertainment.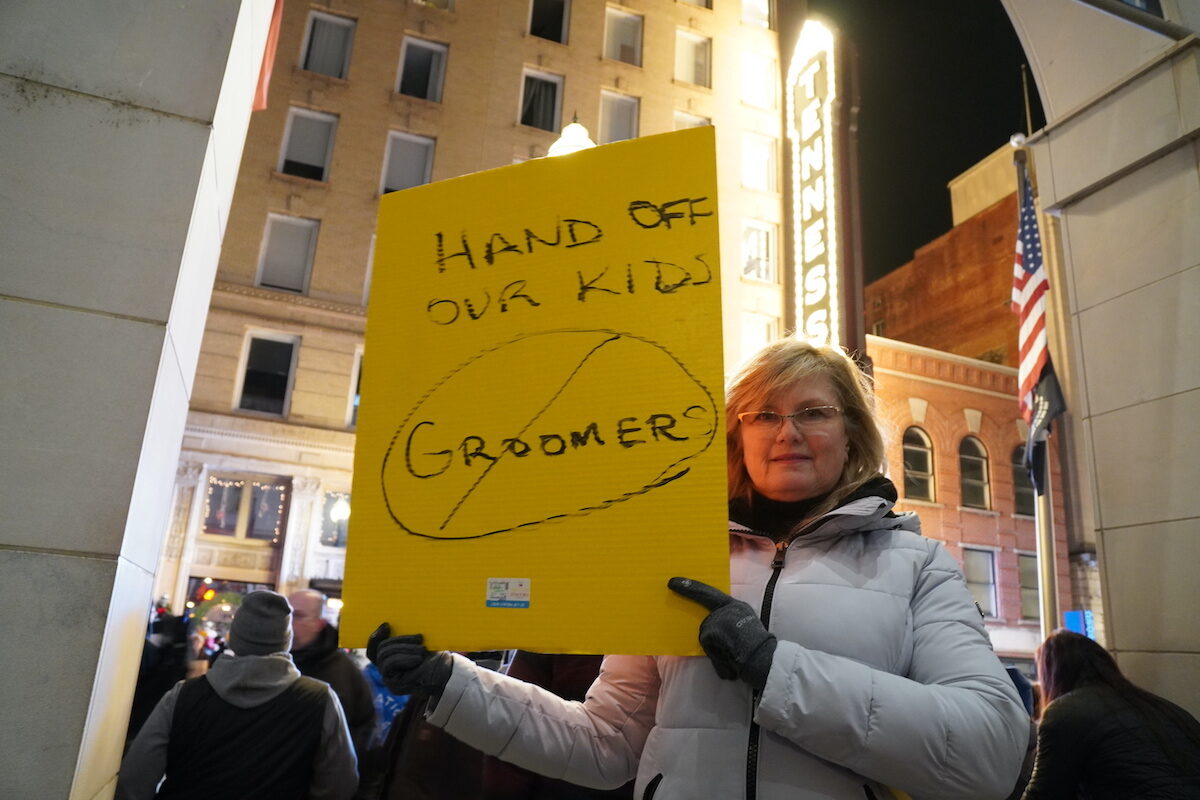 Adult cabaret entertainment is defined by the bill to include "entertainment suitable for mature audiences, including entertainment erotic in nature, and featuring go-go dancers, exotic dancers, topless dancers, male or female impersonators, or similar entertainers."
Specific penalties or enforcement mechanisms are not mentioned in the bill, nor were they discussed in hearings in the House.
Democrats Say Bill Is Hypocritical
Democrats in the chamber heavily criticized the bill targeting drag entertainers both in committees and on the House floor.
Rep. Sam McKenzie, a Democrat from Knoxville, questioned in the first committee hearing of the Cities and Counties Subcommittee whether the bill was too broad. He questioned whether, for instance, wrestlers would be subject to the law, particularly those who wear tight or exposing clothing.
Doggett said wrestling would be considered a theatrical production and would fall within the realm of art, as long as wrestlers were "not doing anything harmful to minors."
Sen. McKenzie pushed back, stating many minors who attend wrestling events are exposed to performers wearing revealing and tight clothing. He said he cautioned the committee against tying itself into what could become a "slippery slope," and that there are other means and mechanisms if the Legislature wants to protect children.
Rep. Harold Love Jr., a Democrat from Nashville, also questioned in the Local Government Committee why simulated violence in wrestling wouldn't fall under the bill, based on the fact that "excessive violence" is listed in the statute that defines content that would be "harmful to minors."
Doggett said the violence in wrestling is considered "artistic expression" and is "not real," to which other members at the hearing shouted disapprovingly in response.
Some Democrats on the House floor called the measure an "absurd" attack on the LGBT community.
"I just want to point our attention to some hypocrisy that's happening in this building right now," said Rep. Justin Jones, a Democrat from Nashville. "We just voted to not have any type of regulation or any type of safety precautions around the Second Amendment, but now we have a bill to regulate drag shows. Drag shows are not a threat to our community—mass shootings are. I hope that we pay attention to the ridiculousness, the circus that is this body, where we're now passing a bill to create a regulatory board of drag shows."
Jones went on to criticize his Republican colleagues for passing bills to protect the Second Amendment while in his view also passing bills to limit the First Amendment rights of freedom of speech of some Tennesseans.
He further lambasted the permit portion of the legislation because it would, in his opinion, amount to a state registry where drag performers could be targeted "even further."
"This bill is bullying on bullying, and I believe that the Constitution is their permit to exercise the First Amendment," Jones said.
Doggett responded with a brief statement.
"All I can say to that is a person who is not performing in a manner that is harmful to minors would not require license in this instance," Doggett said.