3 in Custody After 50 Illegal Immigrants Found Dead in Trailer in San Antonio, Texas
Authorities announced Tuesday that three people are in custody after 50 illegal immigrants were found dead inside a tractor-trailer near San Antonio, Texas, on Monday night.
On Tuesday morning, Mexican President Andres Manuel Lopez Obrador and Mexican Foreign Minister Marcelo Ebrard confirmed the death toll had risen to 50, saying that 22 of those who died were Mexican citizens, seven were from Guatemala, and two were from Honduras. It's not yet clear where the other 19 were from.
San Antonio Police Chief William McManus told local media that three people who weren't identified were in custody over the incident. It's now being treated as a federal investigation, and the Department of Homeland Security is leading it, he said.
McManus said he's not exactly sure how the three people are connected to the case. They are now in federal custody, he added in a news conference.
The initial discovery was made when a worker heard cries for help and saw the doors of the tractor-trailer partially open. When the worker entered, he found "deceased individuals inside," said the police chief.
The illegal immigrants most likely died due to heat stroke and heat exhaustion because they were trapped inside a tractor-trailer in 100-degree Fahrenheit weather, San Antonio Fire Chief Charles Hood told local media. Officials said the victims were mostly teens and young adults.
"The patients that we saw were hot to the touch. They were suffering from heat stroke, heat exhaustion," Hood told reporters. There were no signs of water inside the trailer, and there was also no air-conditioning unit in the vehicle, he added.
The National Weather Service said that the high on Monday in San Antonio reached 103 degrees.
Illegal Immigration in Focus
"This speaks to the desperation of migrants who would put their lives in the hands of callous human smugglers who show no regard for human life," U.S. Customs and Border Protection Commissioner Chris Magnus said in a statement on Monday. "We will be working with our federal, state, and local partners to assist in every way possible with this investigation."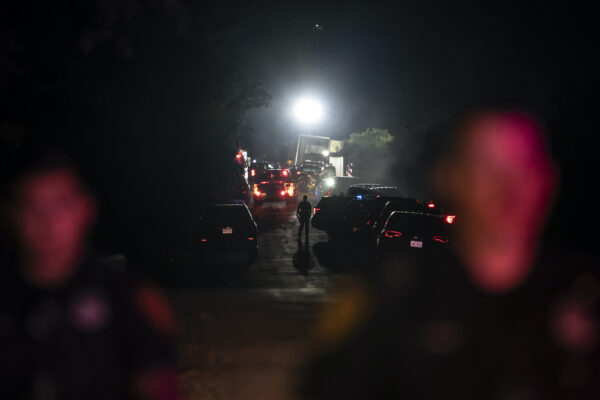 Last year, more than 2 million illegal immigrants were stopped as they tried to enter the United States along the southern border, according to data provided by the U.S. Customs and Border Protection several months ago. In October 2021, the agency said that border arrests rose to an all-time high for the 2021 fiscal year.
Republican Texas Gov. Greg Abbott said the deaths were, in part, "a result of" President Joe Biden's "deadly open border policies" and  "show the deadly consequences of his refusal to enforce the law."
It's among the deadliest of the tragedies that have claimed thousands of lives in recent decades as people attempt to cross the U.S. border from Mexico. Ten illegal immigrants died in 2017 after being trapped inside a truck parked at a Walmart in San Antonio. In 2003, the bodies of 19 aliens were found in a sweltering truck southeast of San Antonio.
"Our prayers are with those who tragically lost their lives, their loved ones as well as those still fighting for their lives. We're also grateful for the swift work of federal, state, and local first responders," White House press secretary Karine Jean-Pierre said Tuesday.
The Associated Press contributed to this report.