3 With Trump Ties Lead Crowded New Hampshire GOP House Primary Slate
A large field of 10 New Hampshire Republicans is seeking their party's nod in the primary on Sept. 13 for the state's 1st Congressional District. The three frontrunners all have ties to the administration of former President Donald Trump.
Matt Mowers, who narrowly leads the tightening race, was the Trump White House liaison to the State Department. Karoline Leavitt worked in the Trump White House press office under press secretary Kayleigh McEnany. Gail Huff Brown is married to Scott Brown, Trump's ambassador to New Zealand.
They seek to challenge Democratic incumbent Chris Pappas, who has held the seat since being elected in 2018. Mowers, the former New Hampshire Republican chairman, was the GOP nominee in 2020 and lost to Pappas.
Pappas has held the seat since 2018 and won 51 percent of the vote last time. The district has shown a pattern: Republicans flipped the seat during each of the two midterm elections during Barack Obama's presidency. Political forecasters rate the seat a toss-up and one to watch nationally as the Republicans seek to gain control of the House of Representatives.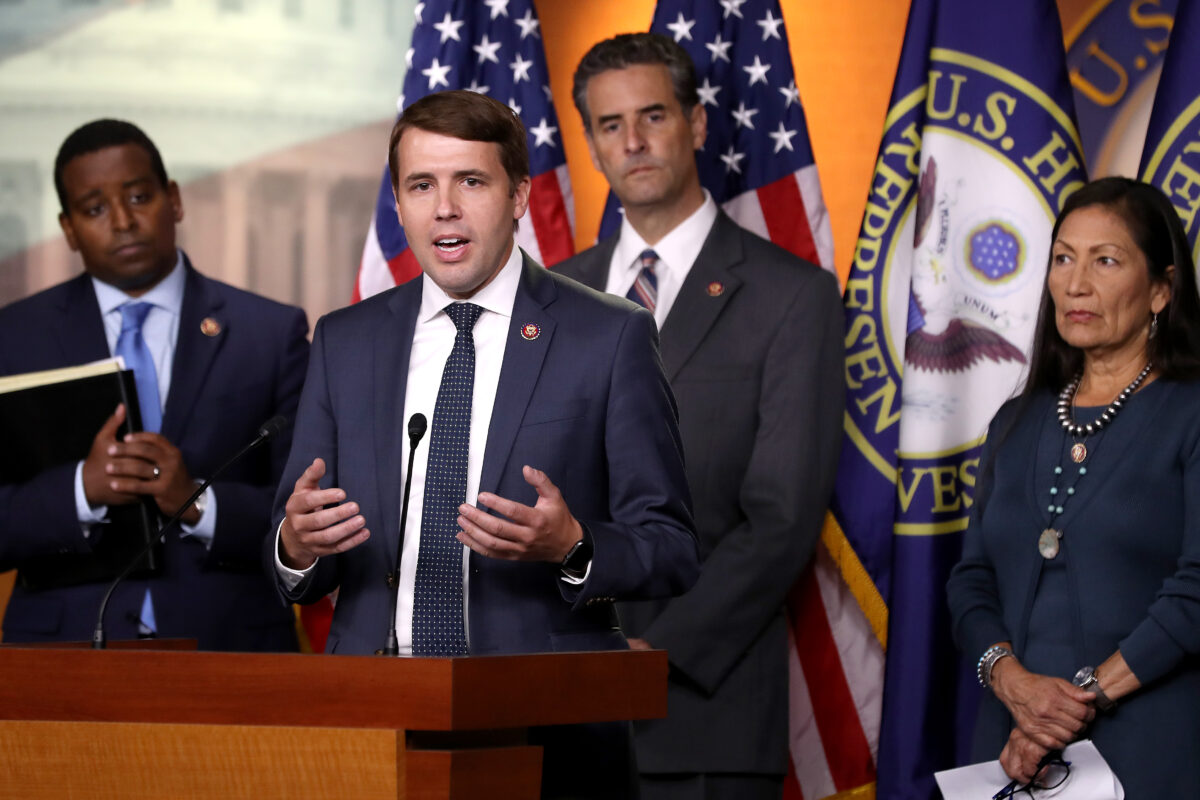 The three lead the others both in the polls and in fundraising. According to federal campaign spending records, Mowers has raised $1.7 million, Leavitt $1.5 million, and Huff Brown $1.1 million as of June 30. The three were the only candidates in double digits in a University of New Hampshire poll conducted during the last week of August. That poll showed Mowers with 26 percent, Leavitt with 24 percent, and Huff Brown with 16 percent.
"This race is a hot one!" Wendy Richardson, Republican chair for New Hampshire's Carroll County, said in an email to The Epoch Times. Leavitt and Mowers are "neck and neck."
"Karoline Leavitt is a New Hampshire native whose family owns a small automobile dealership in southern New Hampshire," Richardson said. "Karoline worked for Rep. Elise Stefanik (R-N.Y.) … and worked alongside many great people during the Trump administration. She is fierce, and I feel would be a great person to represent New Hampshire."
The race so far hasn't lacked drama. Several candidates went after Mowers, 33, in a recent debate for his ties to Big Pharma. Leavitt called Mowers, who's from New Jersey, a "carpetbagger." Mowers was part of Chris Christie's team when Christie was governor of New Jersey and came to New Hampshire as the manager there for Christie's 2016 presidential campaign. Leavitt is a New Hampshire native.
The New Hampshire Union Leader, influential in state politics, doesn't think much of either of them and prefers Brown, according to a Sept. 4 editorial:
"If New Hampshire 1st District Republicans and independents hope to have a chance of unseating Democrat Chris Pappas, they aren't likely to do it with either Matt Mowers or Karoline Leavitt. The former appears to be the very model of a modern man on the political make. The latter, barely legally old enough to serve, presumes to tell Granite Staters that she has all the 'experience' needed for the job."
"Gail Huff Brown of Rye is neither of those things," the editorial continued. "She has been quietly meeting and impressing voters, both in person and on numerous candidate forums, that she is a serious, level-headed woman who uses her knowledge of the issues rather than brashness to convince voters."
Leavitt, currently 24, will, if she wins the primary and the November election, be 25 years old by the time she's sworn in, according to the New York Post. She has been endorsed by Rep. Elise Stefanik, (R-N.Y.), House Republican Conference chair, for whom she staffed after her White House stint, and Sen.Ted Cruz (R-Texas).
Brown, 60, is a familiar face to New Hampshire residents. She was a longtime television news reporter and anchor for the ABC news affiliate WCVB-TV in nearby Boston, has worked for the WWJE-DT station in Derry, New Hampshire, and reported for a Washington, D.C., station as well. Her husband, Scott Brown, is a former Massachusetts senator. He won a surprise victory over Martha Coakley in a 2010 special election to fill the seat left vacant by the death of Teddy Kennedy but lost the seat to Elizabeth Warren in 2012. He ran for New Hampshire Senate in 2014, losing to Jeanne Shaheen.
New Hampshire has become a bluer state in recent years. Its U.S. senators and congressional representatives—the state has two—are Democrats. Governor Chris Sununu is a Republican.