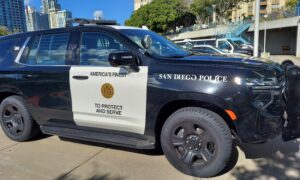 SAN DIEGO—Six Romanian citizens have been charged with allegedly taking part in robberies and thefts of elderly San Diego County residents, as well as laundering $1.4 million in proceeds from the crimes, the U.S. Attorney's Office announced March 14.
Married couple Eduard Ghiocel, 47, and Floarea Ghiocel, 48, are in custody, while four other associates of the "Valcea Romanian Transnational Crime Group" remain at large, said prosecutors. Those defendants are the Ghiocels' two sons, a daughter-in-law, and a girlfriend of one of the sons, according to a criminal complaint.
The defendants allegedly took part in 17 jewelry thefts between March 2020 and September 2022 in "elderly communities" in San Diego, while the Valcea Crime Group is suspected in "dozens" of similar crimes throughout the county, according to prosecutors.
The complaint states that the crimes typically target senior citizens in shopping center parking lots or residential areas. Victims are often distracted by the suspects while their jewelry or other valuables are taken through sleight-of-hand techniques.
Prosecutors allege the Ghiocels pawned the stolen items at Los Angeles-area jewelry stores, then laundered the cash they received by sending wire transfers to Romania, as well as by buying gold bars, gold coins, and vehicles, then shipping those items to Romania.
Additionally, the defendants allegedly took over $32,000 in state unemployment benefits by filing false unemployment claims and laundered that money as well.
"We have alleged that an organized crime group targeted and robbed members of San Diego's senior community, many of whom lost items of great personal significance," said U.S. Attorney Randy Grossman.
A San Diego Police Department news release from January notes the arrests of Eduard and Floarea Ghiocel for the 2021 theft involving an elderly victim in San Diego County. The department's news release said the couple were among 13 people arrested locally in connection with jewelry thefts and robberies occurring countywide.
The U.S. Attorney's Office also said search warrants served in Romania this week resulted in the seizures of high-end luxury vehicles, gold coins, and cash totaling over $600,000.
"This international organized crime ring targeted some of the most vulnerable of our population," San Diego Police Chief David Nisleit said in a statement. "It's important that we send a message to criminals that the safety of everyone in our community matters."