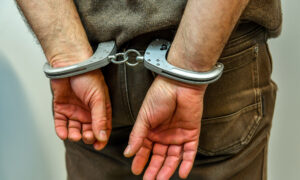 LOS ANGELES—A 28-year-old man was arrested March 4 after he allegedly stabbed six people during an early morning melee in downtown Los Angeles.
Paramedics dispatched at 2:12 a.m. to a reported stabbing in the 200 block of West Seventh Street rushed six people to hospitals, said Nicholas Prange of the Los Angeles Fire Department. Their conditions were not immediately known.
Officers from the Los Angeles Police Department were called to the scene at approximately 2:13 a.m., where they learned that during a confrontation with two groups of people, the suspect began stabbing multiple victims, a police department's spokeswoman told City News Service.
Police arrested the suspect shortly after the incident. No further details were immediately available.