70,000 Russian Troops (and Growing) at Ukraine Border; What's to Stop Putin From Invading Ukraine?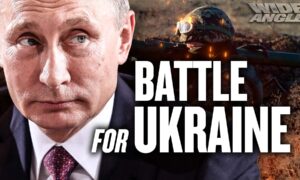 Recently, the world's focus has been directed heavily towards the U.S. hosted "Summit for Democracy." However, the phone call between U.S. President Joe Biden and Russian President Vladimir Putin on the eve of the Summit warrants as much, if not more, attention.
Russia presently has at least 70,000 troops stationed at its border with Ukraine, and that number is steadily growing. How much sway does the United States and NATO really have to deter a Russian invasion of Ukraine?
I look at three key motives for "taking Ukraine" that may just compel Putin to go to war. But, is that really what he has in mind? I look at the history, the economic drivers, and the political machinations, which may well determine what happens next.
Follow EpochTV on social media:
Facebook: https://www.facebook.com/EpochTVus
Twitter: https://twitter.com/EpochTVus
Rumble: https://rumble.com/c/EpochTV
Gettr: https://gettr.com/user/epochtv
Gab: https://gab.com/EpochTV
Telegram: https://t.me/EpochTV
Parler: https://parler.com/#/user/EpochTV