800,000 Non-Citizens Are Now Allowed to Vote in NYC Elections, New Law Passes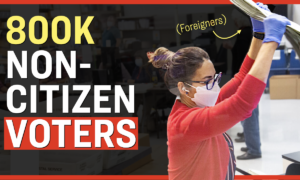 The New York City council just passed a new law that officially allows non-citizens to vote in the city's elections.
This means that the approximately 800,000 non-citizens who are currently living in New York City will be allowed to vote for the mayor, the attorney general, the comptroller, borough presidents, as well as for city council members.
Meanwhile, with Christmas right around the corner, I'm sure that many of you are waiting for the government to give you guidelines on how to interact with your family.
Well, a few days ago the surgeon general came out and said that even people who have gotten three shots of the vaccine should still be wearing a mask indoors while they're with their families at Christmas.
And then furthermore, Dr. Anthony Fauci came out and suggested that Americans should require all of their holiday guests to prove that they are vaccinated as a prerequisite to entering your home.
Resources:
Sekur (promo code: Roman)
New York City:
NYC Immigrant Report:
Surgeon General:
Dr. Fauci:
Israel Health Minister:
---
Stay tuned for our newsletter so you won't miss out on our exclusive videos and private events.
Facts Matter is an Epoch Times show available on YouTube.
Follow Roman on Instagram: @epoch.times.roman
Listen to Podcasts: https://blubrry.com/factsmatterwithromanbalmakov/
Follow EpochTV on social media:
Facebook: https://www.facebook.com/EpochTVus
Twitter: https://twitter.com/EpochTVus
Rumble: https://rumble.com/c/EpochTV
Gettr: https://gettr.com/user/epochtv
Gab: https://gab.com/EpochTV
Telegram: https://t.me/EpochTV
Parler: https://parler.com/#/user/EpochTV