90 Days in Jail for Wine-Chugging Book Thief at US Capitol on Jan. 6, 2021
A New Hampshire man who "chugged" from a bottle of wine in the Office of the Senate Parliamentarian and stole a leather-bound book from the U.S. Capitol on Jan. 6 was sentenced Monday to 90 days in jail followed by three years of probation.
Jason Daniel Riddle, 39, of Keene, New Hampshire, was also ordered by U.S. District Judge Dabney L. Friedrich to pay $754 in restitution. The 90-day jail sentence matched the recommendation made by federal prosecutors, although the three years of probation was triple what the U.S. Department of Justice recommended.
In a November 2021 deal with prosecutors, Riddle pleaded guilty to one count of theft of government property and one count of parading, demonstrating, or picketing in a Capitol building.
Riddle was arrested in February 2021 after he was interviewed by the NBC television affiliate in Boston and mentioned chugging a glass of wine inside the Capitol. Based on evidence on his phone, the FBI found Riddle also stole a gold-embossed hardcover book and sold it outside the Capitol for $40.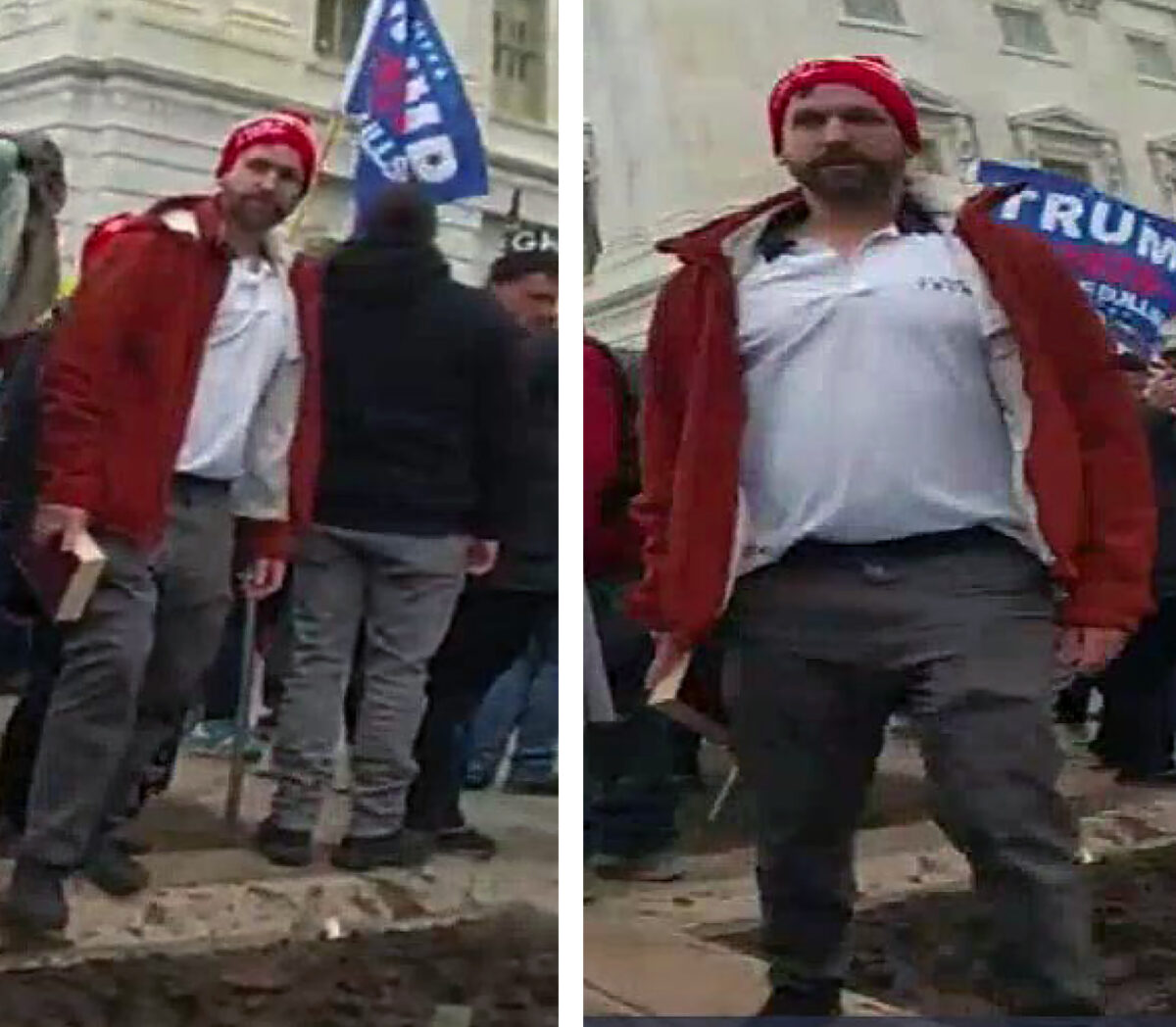 According to court records, Riddle walked to the U.S. Capitol after President Donald Trump's speech at the Ellipse on Jan. 6, 2021. Once on Capitol grounds, he heard an individual perched atop the scaffolding set up for the inauguration shouting instructions to the crowd, such as "move forward" and "keep moving."
At one point he observed police lob concussion grenades into the crowd, which he said "fired people up."
Riddle followed the crowd into the Capitol and observed chaos. "He saw papers everywhere, people breaking things, and he saw a man smashing printers and computers with what appeared to be a fence pole from the barriers outside," according to a statement of facts that Riddle signed.
Riddle entered the Office of the Senate Parliamentarian, where he found a refrigerator containing a bottle of wine and poured himself a glass. He told the Boston television station he "chugged" the wine before leaving the office.
He also purloined a leather-bound book on Senate parliamentary procedure, which he sold outside to an unknown individual for $40, according to court records. The book was valued at $254.
Riddle "photographed the destruction in and around the Capitol and treated the chaos and disorder around him as an entertaining spectacle, even posing for selfie-style photographs in the middle of the riot," read the government's 31-page sentencing memorandum written by prosecutor George Eliopoulos.
Months after his arrest, Riddle gave another interview to NBC in Boston, "during which he expressed no contrition, but instead announced he was running for Congress and that his involvement in the riot and the resulting criminal case would be good for him, giving him valuable publicity for his run for elected office," Eliopoulos wrote. "'Any attention is good attention, so I think it will help me.'"
Riddle's attorney, Eric Wolpin, told the court that since his arrest, Riddle has "addressed a long-standing issue with alcohol."
"Jason acted impulsively, but not violently," Wolpin wrote in his 12-page sentencing memorandum. "He violated the law and has pled guilty to two misdemeanors that will forever remain upon his criminal record.
"In the year that has followed, Jason has been law-abiding and done nothing to suggest that he intends to steal, harm others, or unlawfully disrupt government administration," Wolpin wrote.
Wolpin asked the court not to sentence Riddle to jail time, but instead impose 30 months of probation and $754 in restitution.