Anaheim Council Looks to Fill Vacancy Following Councilor's Resignation
The Anaheim City Council voted unanimously Aug. 24 to open the application process to fill former Councilmember Jordan Brandman's seat.
Brandman resigned Aug. 5 citing "career and personal" reasons, following the publicization of inappropriate texts he sent to former Councilmember Denise Barnes in Feb. 2020.
"Like for most, there are periods in our lives when we are faced with competing career and personal priorities. For that reason, I have decided it is in the best interest of me and my family to focus on them at this time," Brandman said in his resignation letter.
Barnes confronted Brandman during public comments at the July 20 council meeting; however, Brandman was not present during the public comments section of the meeting.
She described the text as "the most violent and vile words ever spoken by a politician to her in Anaheim."
"We hold you to a higher standard," Barnes said to the council. "There's a lot of people here with a lot of influence, a lot of money, but this is the standard we've come to."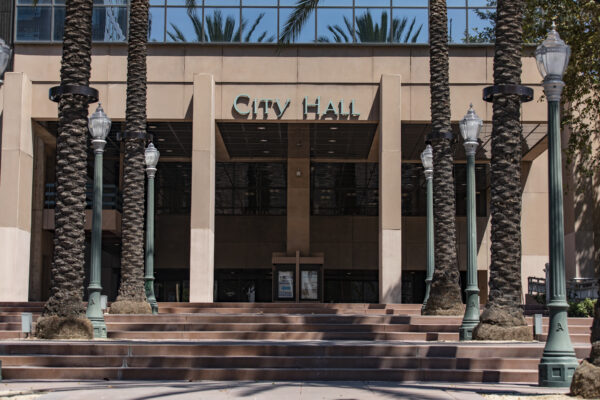 Councilmember Jose Moreno repeatedly called for an investigation, censure, and for Bradman to take a leave of absence on multiple occasions during separate council meetings.
During a July 20 meeting, Moreno called on his colleagues to agendize a censure of Brandman "for the texts that he wrote, and the misogynistic hate that that promoted towards a council colleague."
However, none of his council colleagues supported the motion.
Brandman's resignation came ahead of a censure action and resignation request directed by Mayor Harry Sidhu, according to an Aug. 5 press release.
"Like so many, I became aware of the texts when they were made public," Sidhu said in a statement. "I was shocked and appalled. I immediately had concerns about the former council member's ability to effectively serve going forward."
Brandman previously led the effort to remove former sister cities commissioner Larry Larsen in April for comments Larsen made after refusing to partner with a Chinese city.
The commission considered partnering with Pudong, China, on Feb. 22. Pudong is a district within Shanghai where the Shanghai Disney Resort is located.
Larsen said he was shocked by the commission's consideration of a Chinese city, given how the CCP had lied for weeks about having the virus before informing the World Health Organization.
"It's called the China virus. The city of Anaheim is in the tank, and we're going to invite them into our house?" Larsen said during a Feb. 22 commission meeting.
Larsen said that every industry in China is tied to the Chinese Communist Party (CCP), and that Anaheim should not even consider doing business there, especially after the CCP virus pandemic.
"I believe that what was said at the February and March meeting by the commissioner in question does not represent what Anaheim stands for," Brandman said during an April 27 meeting.
"He was given the opportunity to resign. He chose not to do so. It is incumbent upon us as an example, to do what we think, within the commission."
Larsen addressed the council during the April 27 meeting; Brandman didn't attend the public comments and arrived late to the city council meeting.
"Jordan Brandman has accused me of the most vile thing a person can be accused of, and that's being a racist," Larsen said.
"He raked me through the mud in trying to destroy my stellar reputation that I've worked my entire life in this city to develop. And then he doesn't have the nerve to show up."
Brandman served on the city council from 2012 to 2016. His current term, which began in 2018, ends in Dec. 2022.
"I am disheartened to learn that a private conversation of mutual distaste from February 2020 is making the rounds on social media due to recent votes I cast regarding a housing project and removal of a city commissioner," Brandman told the Liberal OC in a June 18 statement.
"While I would ask for grace and patience, as the screenshots released do not represent the conversation's full context, I want to sincerely apologize. My language in the heat of the moment over a year ago was beyond inappropriate and should never be uttered about any human being. To those who respect me and have been impacted – I am sorry. l look forward to working to build back that confidence and trust in my leadership."
The application process is currently open until Sept. 8, after which the council will vote on a replacement during its Sept. 14 meeting. If the council chooses an applicant, the representative will be sworn in and take the seat during the Sept. 28 meeting.
The appointed representative will serve the remainder of the term until Nov. 2022 when the seat us up for election. The appointee will be able to run for election through 2026.
If the council does not agree on a candidate by Oct. 4, a special election will be held in April 2022. The estimated cost of such an election is up to $220,000, according to the Orange County Registrar of Voters.