Another Lawsuit Filed Against Biden's Student Debt Relief Plan Arguing Move Is 'Inflationary'
President Joe Biden's student loan forgiveness plan is facing yet another lawsuit, this time by a small-business advocacy group calling for the "counterproductive, inflationary, and unfair action" to be blocked from going ahead.
The Job Creators Network Foundation (JCNF) Legal Action Fund (LAF) filed the lawsuit in the District Court for the Northern District of Texas, Fort Worth Division, on Monday.
According to its official website, JCNF is a "nonpartisan organization founded by entrepreneurs who believe that many government policies are getting in the way of the economic freedom that helped make this country prosperous."
Monday's lawsuit (pdf) argues that Biden's move to cancel billions in student loan debt violates the Administrative Procedure Act's (APA's) notice-and-comment procedures through which the administration should have sought the public's input or comment on the program.
"The Department of Education has flagrantly violated the APA's notice-and-comment requirements. Behind closed doors, the Department promulgated a new Debt Forgiveness Program that will affect tens of millions of Americans and cost more than 400 billion dollars," lawyers for the plaintiffs wrote.
"Instead of providing notice and seeking comment from the public, the Department hammered out the critical details of the Program in secret and with an eye toward securing debt forgiveness in time for the November election," the lawsuit states.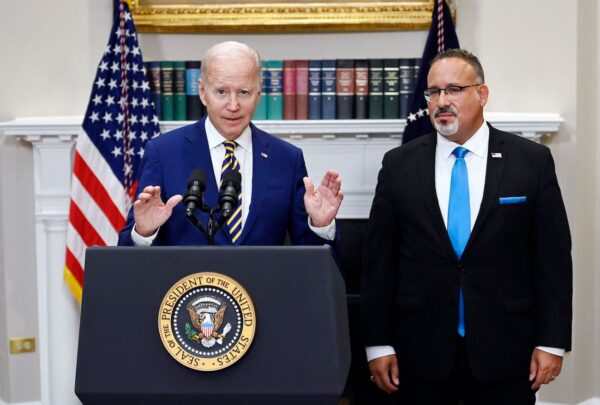 'Unprecedented Executive Power Grab'
The lawsuit names the U.S. Department of Education and Miguel Cardona, in his official capacity as the secretary of education as defendants, and Myra Brown and Alexander Taylor, two individuals who have been "harmed by this arbitrary executive overreach," as plaintiffs.
In a statement on Oct. 10, Elaine Parker, president of Job Creators Network Foundation, called Biden's student loan bailout an "unprecedented executive power grab," that "does nothing to address the root cause of unaffordable tuition: greedy and bloated colleges that raise tuition far more than inflation year after year while sitting on $700 billion in endowments."
"Colleges need to be held accountable for their outrageous tuition prices," Parker said. "College endowments, not taxpayers, should be responsible for helping students drowning in debt."
The Biden administration announced in August it would cancel up to $20,000 in debt to Federal Pell Grant recipients and up to $10,000 in debt relief to non-Pell Grant recipients.
Borrowers with loans held by the Education Department are also eligible for debt relief as long as they are making less than $125,000 per year. The same applies to married couples who earn less than $250,000 per year.
The administration noted that borrowers with student loans owned by private entities would qualify for relief of up to $10,000 or $20,000 in loan forgiveness, as long as the borrower consolidated his or her debt into the federal Direct Loan program.
However, Biden updated the program on Sept. 29, drastically scaling back eligibility and as of now, borrowers who have federal student loans that are owned by private entities and not by the Department of Education will no longer qualify for the relief program.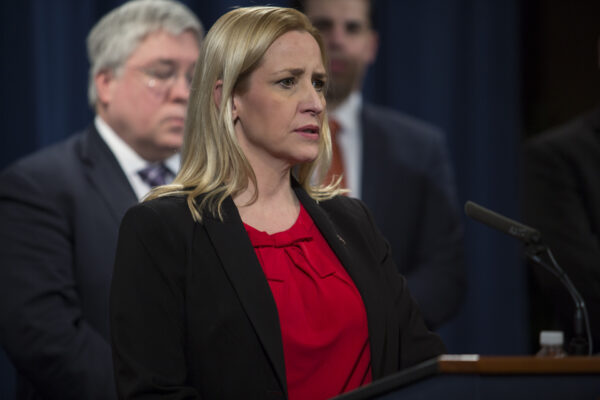 Legal Battles Mounting
The lawsuit is the latest blow to Biden's student loan forgiveness plan which is currently facing a number of legal challenges from Republican lawmakers and business groups who argue the move is illegal.
Officials from the states of Arizona, Arkansas, Iowa, Kansas, Missouri, Nebraska, and South Carolina, have filed lawsuits against the move.
White House officials say that the Higher Education Relief Opportunities for Students (HEROES) Act of 2003, grants the Department of Education the authority to cancel so much debt for so many people during a "war or other military operation or national emergency," which in this case is the COVID-19 pandemic.
"By shifting the burden to taxpayers, including those who didn't go to college or paid their student loans back, colleges escape responsibility for their actions creating the student loan crisis," Parker said in her statement on Monday.
"They are given carte blanche to continue their ridiculous pricing. Bailing out this debt only kicks this problem down the road. By blocking this inflationary taxpayer bailout, JCN's lawsuit can lay the groundwork to actually solve the student debt crisis by holding its college perpetrators accountable."