The accident record of Norfolk Southern Railway grew longer after another of its trains derailed outside of Springfield, Ohio, on March 4.
Norfolk Southern confirmed in a statement that 20 cars of a 212-car train veered off the tracks around 5 p.m. near the Clark County Fairgrounds.
Residents within 1,000 feet of the crash were asked to shelter in place out of an "abundance of caution," according to the Clark County Emergency Management Agency.
The Clark County Sheriff's Office reported that emergency personnel and hazmat crews responded to derailment.
No hazardous materials were aboard the train, and no injuries were reported, Norfolk Southern said.
Springfield is around 200 miles southwest of East Palestine, and located between Columbus and Dayton.
The Springfield area derailment happened a little more than a month after a Norfolk Southern train derailed in East Palestine, Ohio on Feb. 3.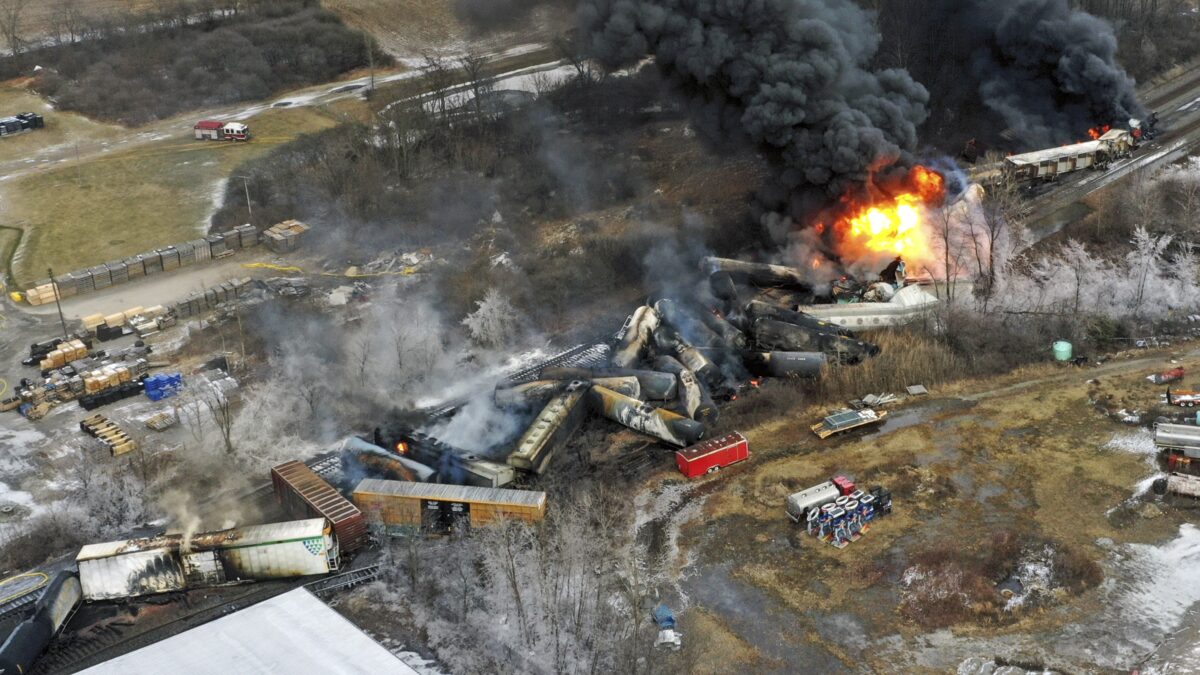 On Feb. 3, a 151-car Norfolk Southern Railway freight train derailed in East Palestine.
When the train crashed, 38 rail cars derailed, and a fire ensued, damaging an additional 12 cars.
Of the 20 cars carrying hazardous materials, 11 derailed, according to the National Transportation Safety Board.
Fears escalated in the immediate aftermath of the wreck. Seeking to avoid an explosion that officials claimed would send shrapnel into the air, vinyl chloride was intentionally released and burned on Feb. 6, sending a massive cloud of black smoke into the sky that could be seen for miles around and was likened to a mushroom cloud caused by a nuclear weapon.
Situated in eastern Ohio a mile from the Pennsylvania border, East Palestine is a village of 4,761 residents. People in East Palestine and surrounding communities in eastern Ohio and western Pennsylvania continue to recover as questions remain over the short-term and long-term safety of air, soil, and water.
Secretary of Transportation Pete Buttigieg has received ongoing criticism for not publicly commenting about the East Palestine derailment until 10 days after it happened, and not visiting the site until Feb. 23, one day after former President Donald Trump arrived in the town.
Closely Monitoring
After learning of the derailment near Springfield on March 4, Buttigieg wrote in a tweet that he was briefed by the Federal Railroad Administration and had also talked to Ohio Gov. Mike DeWine, another figure who is facing widespread complaints about his response to the East Palestine disaster.
"No hazardous material release has been reported, but we will continue to monitor closely and FRA personnel are en route," Buttigieg said.
DeWine said in his own tweet, "Late this afternoon, an @nscorp train derailed in Clark County. We don't believe hazardous materials were involved."
The Ohio Environmental Protection Agency, the Ohio Emergency Management Agency, and the Ohio Stte Highway Patrol arrived to support first responders, DeWine reported.
"President Biden and Secretary Buttigieg called me to offer help from the federal government," DeWine added.
Safety Needs
The most recent accident involving Norfolk Southern will likely focus more attention on railroad safety measures.
Mikal Watts is a Texas-based attorney who has partnered with environment activist Erin Brockovich and water expert Robert W. Bowcock to spearhead East Palestine Justice; an organization of lawyers, environmental activists, and scientific and medical professionals providing assistance to eastern Ohio and western Pennsylvania residents affected by the derailment.
At a recent town hall in East Palestine that featured the three figures, Watts shared Norfolk Southern's history of train derailments, including a 2012 crash in Paulsboro, New Jersey, where trains spilled 23,000 gallons of vinyl chloride. In East Palestine, 1.1 million pounds of the carcinogen were released into the environment.
"We live in a society that chooses to ship its most dangerous chemicals ever made by man in rail cars right through populated cities," Watts said. "Whether that is a good choice is not for me to say, but if you are going to ship them, you [expletive] sure have an obligation to make sure you don't jump the tracks."
History of Railroad Incidents
Norfolk Southern has reported 3,397 events that could be classified as a derailment over the past 20 years, he explained.
Last year, Norfolk Southern had 770 train car derailments involving hazardous materials, Watts noted, compared to 79 incidents in 2012.
A 10-year safety summary from the Federal Railroad Administration showed that Norfolk Southern had a per-year average of 163.6 derailments and 2.9 hazardous material releases.
Norfolk Southern has a recent history of derailments in Ohio before East Palestine and Springfield.
Last October in Sandusky, a town along Lake Erie in northwest Ohio, 21 cars from a Norfolk Southern jumped the tracks and spilled 10,000 gallons of paraffin wax.
On Feb. 3, 2018—five years to the day before the East Palestine disaster—a Norfolk Southern train derailed in Loudonville. That incident sent 16 cars off the tracks. One car spilled more than 30,000 gallons of liquified petroleum gas, and another car released 200 pounds of solid environmentally hazardous substances.
Bipartisan Action
On March 1, Ohio U.S. Sens. J.D. Vance (R) and Sherrod Brown (D) teamed up with Pennsylvania U.S. Sens. Bob Casey (D) and John Fetterman (D), as well as Sen. Josh Hawley (R-Mo.) and Sen. Marco Rubio (R-Fla.) to announce that they will introduce The Railway Safety Act of 2023 "to prevent future train disasters like the derailment that devastated East Palestine."
The bill takes steps to improve rail safety protocols, such as enhancing safety procedures for trains carrying hazardous materials, establishing requirements for wayside defect detectors, creating a permanent requirement for railroads to operate with at least two-person crews, and increasing fines for wrongdoing committed by rail carriers.
"Through this legislation, Congress has a real opportunity to ensure what happened in East Palestine will never happen again," Vance said. "We owe every American the peace of mind that their community is protected from a catastrophe of this kind.
"Action to prevent future disasters is critical, but we must never lose sight of the needs of Ohioans living in East Palestine and surrounding communities," Vance added. "One day, the TV cameras will leave, and the news cycle will move on, but the needs of these Ohioans will remain."
Brown chastised railway company Norfolk Southern in his remarks.
"It shouldn't take a massive railroad disaster for elected officials to put partisanship aside and work together for the people we serve—not corporations like Norfolk Southern," Brown said. "Rail lobbyists have fought for years to protect their profits at the expense of communities like East Palestine and Steubenville and Sandusky. These commonsense bipartisan safety measures will finally hold big railroad companies accountable, make our railroads and the towns along them safer, and prevent future tragedies, so no community has to suffer like East Palestine again."
Hearings
The Ohio Senate held its first hearing about the East Palestine derailment on March 1, and will continue to investigate the derailment and its aftermath.
"This is not an easy fix, and Americans love easy fixes," said State Sen. Michael Rulli, whose district includes East Palestine. "That is not going to happen here. We need years of monitoring the soil and testing. We need to build a foundation for the beautiful city of East Palestine, and we need to make ourselves whole again."
On March 9, Norfolk Southern CEO Alan Shaw will appear at a hearing conducted by the U.S. Senate's Environment and Public Works Committee.
A Norfolk Southern statement explained that Shaw "will appear voluntarily."
"We continue to engage in discussions with Members of Congress and other committees about additional requests to testify, while balancing his commitments to the remediation process and the community," the company said.
"Alan will share what he knows about the incident. As the NTSB has noted, there are also industry-wide issues, and we would expect that other industry participants will also be involved in future hearings. The rail industry needs to learn as much as it can from East Palestine, as can the owners of the rail cars."
Senate Majority Leader Chuck Schumer (D-N.Y.) on Feb. 27 requested that Shaw address the committee.
"The American people should hear from Norfolk Southern CEO precisely why they thought it was a good idea to spend years lobbying to loosen regulations designed to prevent accidents like this," Schumer said.
"And I especially want to hear why Norfolk Southern, after seeing a record $3.3 billion in profits last year, prioritized billions in stock buybacks instead of putting that money towards safety and towards their workers."