Antifa Threatens Illinois Dad Who Opposes Sexually Explicit Books at Schools
About a month ago, Terry Newsome, a father of two high school freshmen in a Democratic-leaning Chicago suburb, started to speak out against a local public schools' decision to carry a book that contains sexual scenes.
He spoke out at school board meetings of the Downers Grove public school district. He also voiced his opinions to several local and national media outlets, including The Epoch Times.
Two days after the publication of the Epoch Times article, Newsome found threatening messages against him on a locally run Twitter account called Antifascist Rumor Mill.
One of the messages put out by that Twitter account says, "Action items announced soon in regard to Terry Newsome—time to Drop Pops and his hateful agenda."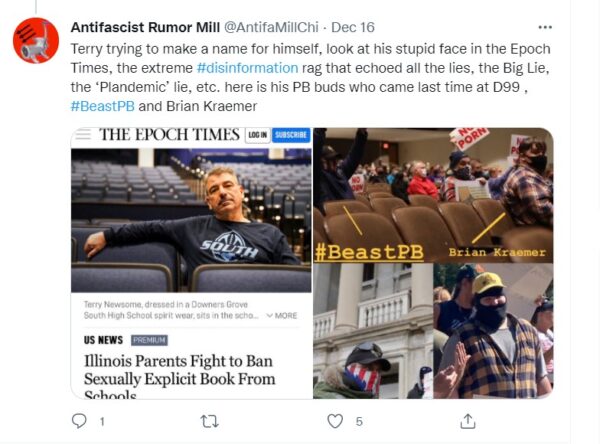 The book Newsome has concerns with is called "Gender Queer: A Memoir." Authored by Maia Kobabe, it chronicles Kobabe's journey growing up as a nonbinary, asexual person.
On several pages, Kobabe illustrated graphic sex scenes between two people. Some captions also contain sexual messages.
Kobabe said the book speaks to a unique group and is fit for high school students. Her opinion is backed up by national publications such as School Library Journal.
However, her book's sexual scenes do not sit well with many parents, including Newsome, and they have fought to ban it from high school libraries in many parts of the country.
"Just read the book. If the graphics in there are not child pornography, I don't know what is!" Newsome told The Epoch Times.
After Newsome found the threatening messages against him on the Antifascist Rumor Mill's Twitter account, he reported it to Downers Grove Police Department.
He told Sergeant Jeremy Thayer that he is not anti-Trans, anti-gay, or homophobic, as the Antifascist Rumor Mill's Twitter account alleged; rather, he just doesn't like the book's sexual content, according to email correspondence obtained by The Epoch Times.
Newsome told Thayer, "I'm concerned that they may start to focus on my house or my family. I'm sure they will try to get me fired too!"
The Epoch Times reached out to Antifascist Rumor Mill's Twitter account but did not receive a reply.
Last month, Jim Devitt, another parent, found a picture of his being posted on the same Twitter account after he voiced his concerns about Kobabe's book at Downers Grove school district's November school board meeting.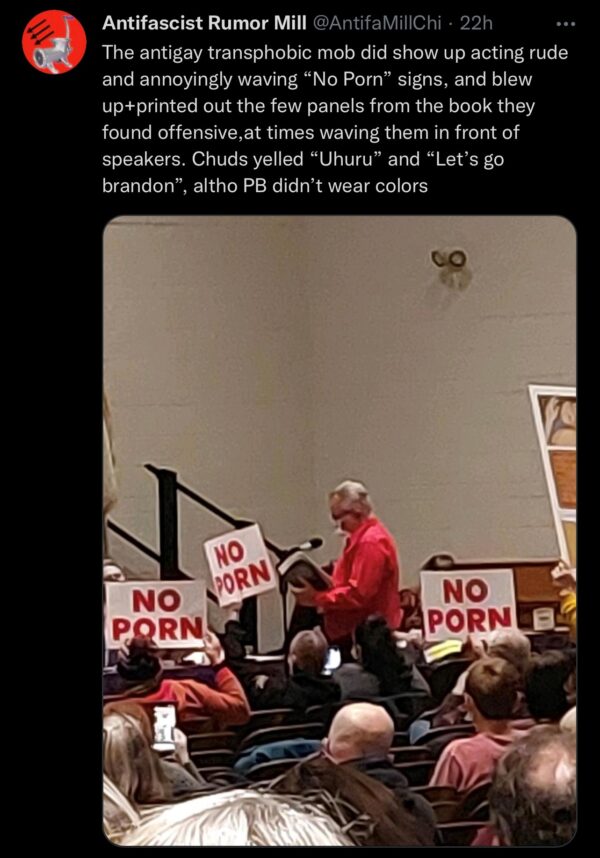 Days after, Devitt received a threatening phone call from an unknown person.
That makes several parents that he knows of afraid of coming forward and speaking out their minds about the book, Devitt told The Epoch Times.
"While the left preaches inclusion and free speech, they are stifling those rights of others who they do not believe with," Devitt said.
Newsome and Devitt told The Epoch Times they won't back down on the fight for what they think is right.