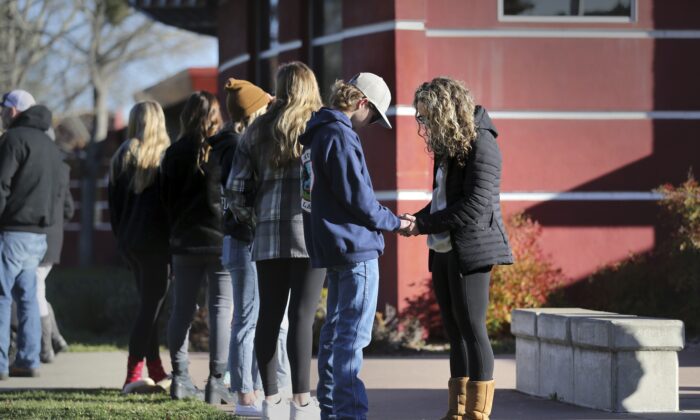 Natalie Goodrich, a member of New Vintage Church, prays with Montgomery High student Cameron Gonzalez, 15, near the flag pole at the school in Santa Rosa, Calif., on March 2, 2023. (Beth Schlanker/The Press Democrat via AP)
SANTA ROSA, Calif.—Detectives said Saturday that a fight involving three students at a Northern California high school began with an argument outside art class and culminated in a fatal stabbing.
Two groups of students were arguing Wednesday outside art class at Montgomery High School in Santa Rosa, and once inside, a 16-year-old junior from one of the groups confronted a 15-year-old freshman in the other group, Santa Rosa police said in a statement. A fight broke out and the 15-year-old stabbed the 16-year-old with a knife at least three times—once in the chest and twice in the back, authorities said.
School officials broke up that fight, but the 15-year-old got into another fight with a different 16-year-old and stabbed him, authorities said. The stabbing victims were taken to a hospital, where one died.
The 15-year-old fled and was later arrested for investigation of homicide, attempted homicide and other charges. Police have not released his name, and it was not immediately clear if he had an attorney.
More than two dozen students were inside the classroom during the fight, as well as a teacher and teacher's aides. Police said they are still investigating what the argument was about.
The attack shocked Santa Rosa—a community best known for its wineries about 50 miles (80.5 kilometers) north of San Francisco—and prompted lockdowns of several nearby schools as officers searched for the teenage suspect. The school was closed for the rest of the week.