Arizona County Approves Plan to Hand Count Ballots
A Republican-controlled county in Arizona will hand count some ballots cast at polls in November's midterm congressional elections after voting to approve the measure on Oct. 24.
The Cochise County Board of Supervisors in southeastern Arizona voted 2–1 on Monday to count ballots in next month's elections by hand.
Republican Supervisors Peggy Judd and Tom Crosby supported the move while the board's lone Democrat, Chairwoman Ann English, opposed the move on the basis that it could open up the county to an increasing number of lawsuits.
The proposal (pdf) for the hand count states that "it is widely known that many voters lack confidence in the voting system," noting that a county-wide hand count of audit of the 2022 General Election will "enhance voter confidence."
"It will provide proof of concept for emergency back-up," the proposal states. "Such audit will be completed prior to final certification of 2022 general election canvass by the Board of Supervisors."
Specifically, the approved measure will see an expanded hand count audit of the votes. The Board of Supervisors said promised Secretary of State Katie Hobbs that they will ensure the vote-counting process does not violate the law in any way.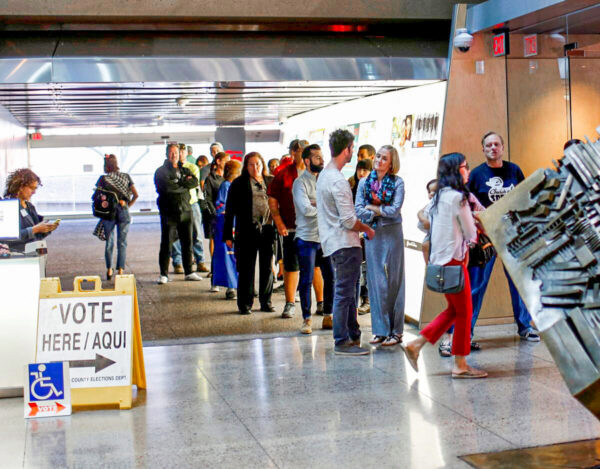 Hand Count Must Comply With Law
However, Arizona Secretary of State Katie Hobbs, a Democrat, initially threatened legal action over the move if the board failed to provide assurances that they would proceed with the hand count of ballots cast at the polls in compliance with the law by 5 p.m. on Wednesday.
Hobbs, who is running for governor, later said on Twitter that the board had clarified such assurances and had also promised not to attempt to hand count every vote cast in the race, which she said would be unlawful.
"They also committed to certify their election results on time," Hobbs said. "The Secretary's Office will stay in contact with Cochise County to ensure the process complies with the law."
"Hand-counting ballots is a conspiracy theory-driven tactic used to disrupt and delay the election," said Alex Gulotta, Arizona state director of All Voting is Local, in a statement on Tuesday. "Supporters of hand-counting want to grab power rather than follow the will of the people. Instead of shutting down the false claim that the 2020 election was stolen, Cochise County officials have chosen to give it new life and further undermine the legitimacy of our elections."
Arizona's decision this week to hand count ballots cast at polls comes as neighboring Nevada on Wednesday forged ahead with its own plans to hand count its midterm ballots.
Nye County began counting mail-in ballots after getting the green light from the state supreme court last week.
The Associated Press contributed to this report.