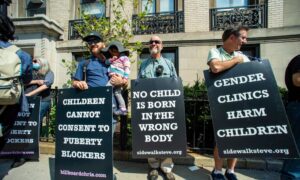 A bill seeking to empower minors to sue health care professionals who conduct "gender transition procedures" on them passed the Arkansas House on Wednesday, and is now awaiting approval from the governor.
The Protecting Minors from Medical Malpractice Act of 2023 (pdf) gives minors a window of time to sue doctors who performed "gender affirming" medical procedures on them.
Minors would have a legal right to sue for a period of 15 years after they turn 18, at which point they would be 33 years old.
The bill states that a health care professional who performs a procedure on a minor "is liable to the minor if the minor is injured, including without limitation any physical, psychological, emotional, or physiological injury, by the gender transition procedure, related treatment, or the after effects of the gender transition procedure or related treatment."
The procedures include instilling or creating "physiological or anatomical characteristics that resemble a sex different from the individual's biological sex" and "medical services that provide puberty-blocking drugs, cross-sex hormones, or other mechanisms to promote the development of feminizing or masculinizing features in the opposite biological sex, or genital or nongenital gender reassignment surgery performed for the purpose of assisting an individual with a gender transition."
The Arkansas House passed the bill by a vote of 76–17.
The 76 votes in favor were all Republicans. There was also one Republican who voted "present" and four who abstained. Rep. Jeff Wardlaw was the only Republican to vote against the bill.
The bill has now reached the desk of Gov. Sarah Huckabee Sanders.
"The governor has said that she supports bills that protect our kids and will support legislation like this that does just that," spokeswoman Alexa Henning said in an email to The Associated Press. "Only in the far-left's woke vision of America is it not appropriate to protect children."
The bill was approved by the House Judiciary Committee after over two hours of testimony. House Minority Leader Tippi McCullough, a Democrat, insisted that the bill will force transgender kids to leave the state if they want to access "gender transition" procedures.
Protecting Children Against Harm
The bill defines a "gender transition procedure" as any medical or surgical service seeking to "alter or remove" the anatomical features of an individual that is typical of the person's biological sex.
An injured minor or the minor's representative can bring a civil action against the health care professional who performed the "gender transition procedure" that resulted in the injury.
The suit can seek declaratory or injunctive relief, punitive damages, and compensatory damages, as well as attorney's fees and costs.
The Republican sponsors of the bill, state Rep. Mary Bentley and state Sen. Gary Stubblefield, said the bill aims to prevent children from suffering irreversible harm as a result of gender transition procedures. They pointed out that some minors regret such procedures once they grow up.
'Lifelong Need' for Medical Care
Medical associations have warned against allowing gender transition procedures for children.
In a Feb. 20 statement, the Association of American Physicians and Surgeons (AAPS) admitted that there are "unknown and unknowable long-term risks" inherent to gender procedures targeting minors.
Such procedures are "generally irreversible and have a high probability of causing sterilization." They also commit a patient to a "lifelong need for medical, surgical, and psychological care."
"Physicians and medical professionals should refuse to be mandated or coerced to participate in procedures to which they have ethical or scientific objections or which they believe would harm a patient," AAPS said.
In February, the Gender Dysphoria Alliance (GDA), a transgender advocacy group, wrote an open letter to over 30 medical organizations, calling out these groups for allowing ideology, rather than science, to determine care for individuals with gender identity issues.
GDA is especially worried about "unnecessary harm" suffered by children.
"It's institutionalized medical negligence. … We are asking for quality, honesty, and safety," it said.