AstraZeneca's Revised COVID-19 Vaccine Data Shows Slight Dip in Efficacy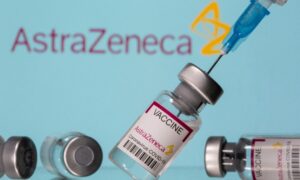 AstraZeneca on Wednesday released an updated estimate showing a slight dip in the efficacy of its COVID-19 vaccine, days after American officials accused the drugmaker of using "outdated information" in a prior report.
The Data Safety Monitoring Board (DSMB), which monitors trials and reviews data collected at regular intervals, had criticized British drugmaker AstraZeneca for not using the most up-to-date information when it published an interim analysis on Monday that said its COVID-19 vaccine was 79 percent effective.
AstraZeneca now says its vaccine is 76 percent effective against symptomatic COVID-19 infection.The latest report used data based on 190 infections among more than 32,400 participants in the United States, Chile, and Peru. The vaccine's efficacy in those 65 years and older rose by five percent, from 80 to 85 percent, based on the latest report.
The company's initial report data was based on 141 infections through Feb. 17, prompting a rare rebuke from the independent group after its release.
The board "expressed concern that AstraZeneca may have included outdated information from that trial, which may have provided an incomplete view of the efficacy data," according to the National Institute of Allergy and Infectious Diseases (NIAID).
"The issue that the DSMB had is straightforward and very simple: The DSMB had data that they know the company had. When they saw the press release, they said, 'wait a minute—the data in the press release do not reflect the most recent data that we know you have,'" NIAID Director Dr. Anthony Fauci said earlier this week.
It urged AstraZeneca at the time to work with the board to review the data and ensure the release of the most accurate, up-to-date information as quickly as possible.
"The primary analysis is consistent with our previously released interim analysis, and confirms that our COVID-19 vaccine is highly effective in adults," Mene Pangalos, executive vice president of BioPharmaceuticals R&D at AstraZeneca said in a statement Wednesday.
AstraZeneca said Wednesday that the latest data has been presented to the board, and that it plans to seek U.S. emergency use authorization in the coming weeks.
It will also submit the primary analysis for peer-reviewed publication in the coming weeks, a statement said.
The drugmaker reiterated Wednesday that its COVID-19 vaccine, developed with Oxford University, is 100 percent effective at preventing hospitalization and severe symptoms.
The updated 76 percent efficacy rate compares with rates of about 95 percent for vaccines from Pfizer/BioNTech and Moderna, both of which are cleared for use in the United States. Johnson & Johnson's vaccine was also granted emergency authorization on Feb. 27.
This month, over a dozen countries suspended use of AstraZeneca's jab after patients died after being injected, and some experienced blood clots.
The European Union's drug regulator said last week the vaccine is "safe and effective," finding that there wasn't a link between AstraZeneca's COVID-19 shot and an increase in overall risk in developing blood clots. It said the jab's benefits outweigh potential risks.
Zachary Stieber and Reuters contributed to this report.