Atlanta Mayor Andre Dickens on Sunday disputed claims that anti-police riots and protests on Saturday night weren't violent, saying that charges against six who were arrested will include "domestic terrorism."
In an interview with CBS News, the Democrat mayor said that Atlanta's police department "took swift action within two blocks and brought that situation under control" during the unrest.
"The violence stopped, and those six individuals were arrested," Dickens said. "And it should be noted that these individuals were not Atlanta or Georgia residents. Most of them traveled into our city to wreak havoc. And so, we love to support people when they're doing right, peaceful protest is a part of the American—our freedoms, but when you are violent, we will make sure that you get held accountable."
Masked activists dressed in all black threw rocks and lit fireworks in front of a skyscraper that houses the Atlanta Police Foundation, shattering large glass windows. They then lit a police cruiser on fire, smashed more windows, and vandalized walls with anti-police graffiti as stunned tourists scattered.
The riot came after the death of an environmental activist who was killed by authorities this week after officials said the 26-year-old shot a state trooper. Word of Saturday's protest had been widely circulated ahead of time on social media and among leftist activists, with some passing out flyers that read, "Police killed a protester. Stand up. Fight back."
The initial hour of the demonstration appeared to have been peaceful as a few activists shared their memories of Manuel "Tortuguita" Paez, describing him as a member of the left-wing "Stop Cop City" community. The speakers said he had undergone a 20-hour medic course in order to serve as a medic for fellow "forest defenders" who had found their home in the DeKalb County woods just outside Atlanta city limits.
Opponents of the training center have been protesting for over a year by building platforms in surrounding trees and camping out at the site. The Georgia Bureau of Investigation said about 25 campsites were located and removed in Wednesday's raid, and mortar-style fireworks, edged weapons, pellet rifles, gas masks, and a blow torch were recovered.
Authorities said that Paez refused to exit a tent on the wooded property, and he then shot a Georgia State Patrol trooper with a 9mm handgun, prompting other troopers to open fire. According to The Associated Press, Paez described himself as a "nonbinary person" who used "they/it pronouns."
The Georgia Department of Public Safety stated that it will not disclose the name of the injured trooper because "disclosure would compromise security against criminal or terroristic acts due to retaliation."
'Domestic Terrorism'
During the interview, Dickens elaborated on the arrests and said the charges will range from "domestic terrorism" to assault. "It is violent when someone turns to burn down a police car or breakout windows or have explosives on them," he added. "I don't get into the names. I don't know all the organizations. I'll let y'all decide who did it. I just know they're arrested."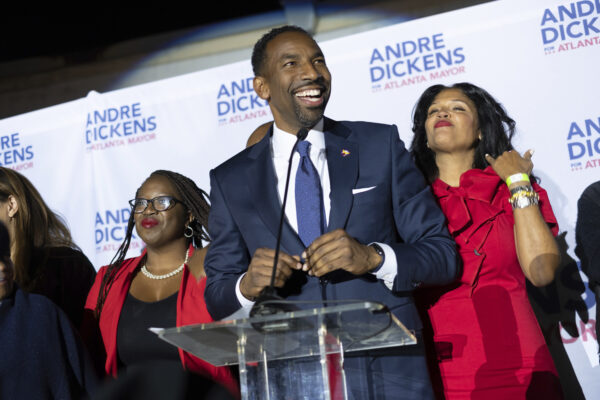 "And if they come into Atlanta, again, to wreak havoc, they will be arrested again," he continued to say.
Dickens appeared to be pushing back against reports from ABC and CNN on Saturday and Sunday, which received backlash online. CNN guest David Peisner, without providing evidence, claimed that the violence that took place was being instigated by police, while ABC News issued a Twitter post describing the unrest as a "peaceful protest" while sharing a video of a police car that was on fire.
"Yes, those individuals that are protesting against 'Cop City,' as they call it, it's really a public safety training center," Dickens told CBS. "They don't want to see the very things that they asked for more police training, we can't train imaginary, we have to do it in a facility that allows for police firefighters in the community to train together."
Georgia Gov. Brian Kemp denounced the violence and thanked the responding officers.
"Violence and unlawful destruction of property are not acts of protest," the Republican governor wrote. "They are crimes that will not be tolerated in Georgia and will be prosecuted fully."
On Saturday, Dickens confirmed that explosives were used during the riots. "You heard that correctly, explosives," he told reporters
The Associated Press contributed to this report.