Atlanta Police Arrest Man Who Carried 6 Guns, Body Armor Into Grocery Store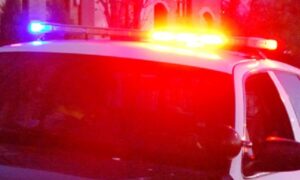 Police in Atlanta, Georgia, on Wednesday arrested a man who carried six guns and body armor into a grocery store in Atlantic Station. The arrest comes just two days after a mass shooting took place in Boulder, Colorado, that killed 10 people.
Police officers were called in around 1:30 p.m. to the Atlantic Station Publix grocery store. The store manager told police that a man was seen entering the store and going straight to the restroom, according to police.
"A witness observed the male and alerted store management, who then notified police," the Atlanta Police Department said in a statement.
The call to police was made by Charles Russell, who said he went into the restroom and saw the man with a rifle inside a stall. Russell told Channel 2 Action News that upon seeing what appeared to be AR-15, it "startled" him and made him recall the recent shooting in Boulder. He said he wanted to stop a potential mass shooting.
"To be able to stop it, if it were going to be something, that's what I cared about as it progressed," Russell told the outlet.
After the man left the restroom, police arrested him and held him for questioning. They found he was carrying two long guns and four pistols, although the initial police statement said it was two long guns and three pistols. He was later identified as 22-year-old Rico Marley. Police charged him with reckless conduct.
It remains unclear why he was carrying multiple guns. Police officers interviewed Marley and paramedics carried out a mental evaluation, authorities said. Marley was set to be moved to the Fulton County Jail for further processing.
According to Channel 2 Action News, a background check found that Marley has a criminal record out of DeKalb County from 2018 for a simple assault charge. It was later dismissed on a technicality. The outlet reported that Marley held a weapons carry license on him on Wednesday.
A Publix spokesperson said in a statement to media outlets, "We are thankful that there were no injuries, and all were able to exit the store safely."
Separately, police were alerted about a suspicious package found in the parking deck. Atlantic Station's management shut down the parking deck and several interior streets at the request of police on the same afternoon.
"At the request of the APD, we have shut down the interior shopping district streets at Atlantic Station and the parking deck to ensure the safety of the community as authorities investigate the suspicious package found onsite," Atlantic Station announced on Twitter Wednesday afternoon.
Atlantic Drive, the main street running in front of the store, was closed to traffic on Wednesday afternoon. Shoppers were being turned away as they approached the grocery store, but there were still plenty of people walking around the open-air mall.
The mass shooting in Boulder came just days after a mass shooting in Atlanta, in which eight people were killed at three separate massage parlors.
The Associated Press contributed to this report.