Attorney After Removal of Box Covering Philadelphia Statue
PHILADELPHIA—Attorney George Bochetto was "very gratified and satisfied" after a box covering a Christopher Columbus statue in Philadelphia was removed following a court ruling.
"I am very delighted that we have prevailed in the legal challenges and that the city has chosen to obey the court order and has removed the box."
George Bochetto, who is of Italian descent and the attorney representing Friends of Marconi Plaza, told The Epoch Times that he was "very gratified and satisfied" with the Commonwealth Court of Pennsylvania's Friday ruling.
Bochetto came to the Columbus statue in Marconi Plaza in South Philadelphia Monday morning. The plywood box placed over the statue was removed the night before.
"We feel delighted and terrific. And we're so proud that we can finally now display the statue again," he said in front of the 146-year-old Columbus statue with the box removed after a two-and-half-year fight.
Bochetto thinks the Columbus statue is "a very, very important symbol for the Italian Americans."
"This is a symbol of their accomplishments and their hard work. Don't forget many of these Italian Americans as they were working very difficult jobs and hard, long years," Bochetto said.
"They were contributing to having statutes and monuments erected so they could celebrate their heritage and so that they could remind their children and grandchildren of the wonderful things that Italian Americans have done in this country."
Bochetto believes this case has a positive influence nationally.
"We hope this is a model for the entire country and we think that when it comes to ethnic monuments and documents, the governments have to learn how to be tolerant of all ethnic groups," Bochetto said.
"This is not just a victory for the Italians. This is a victory for every ethnic group that has their own monuments, their own holidays, their own traditions, their own heritages. These are all being protected by this ruling."
Kevin Lessard, director of communications for the office of Mayor Jim Kenney, told The Epoch Times through email that they were "very disappointed in the Court's ruling."
"While we will respect this decision, we will also continue to explore our options for a way forward that allows Philadelphians to celebrate their heritage and culture while respecting the histories and circumstances of everyone's different backgrounds," Lessard said.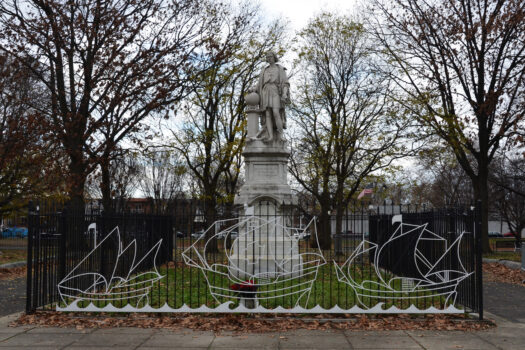 Bochetto said that this statue is not the first to win a case of its kind.
Columbus obelisk at Penn's Landing, Philadelphia, was preserved. "There's a statue in Pittsburgh, Pennsylvania, in Schenley Park, and we're working on saving that as well," Bochetto said.
He also noted that on March 11, the New York state Supreme Court ruled Syracuse and its mayor cannot remove the statue of Christopher Columbus in downtown Syracuse.
Bochetto believes that the tide of cancel culture has turned.
"I think all over the country, the tide is turning and people are realizing that you don't just come in and try to cancel an entire ethnic group's tradition and heritage and accomplishments because you have a protest in a day or two," he said.
The court ruling said that, in 2017, Philadelphia's Historical Commission designated the Columbus statue a "historic object" because the statue was found to have "significant character, interest, or value as part of the development, heritage, or cultural characteristics of the City, Commonwealth, or nation."
'A Long, Hard Battle'
With about 40 years of experience as a lawyer, Bochetto said this case was still very challenging.
"It's very difficult to mount a case against the city of Philadelphia. They, of course, have unlimited resources. At one time, the city had 10 lawyers assigned to this case. So we fought them tooth and nail for two and a half years. We not only had to win at the trial level—the city took an appeal and we had to win the appeal as well," Bochetto said.
This case was one of the many cases caused by the national wave of cancel culture initiated by the death of George Floyd in Minneapolis on May 25, 2020, when civil unrest developed in Philadelphia and nationally.
In the summer of 2020, the Christopher Columbus statue in South Philadelphia was encased in a wooden box after it became a focal point for protesters. On Oct. 8, 2021, Common Pleas Court Judge Paula Patrick ruled that the City of Philadelphia must remove the box around the statue. However, the city filed an emergency petition in Commonwealth Court. Patrick's ruling was reversed and the box covering the statue was ordered to remain in place. The box remained until the night of Dec. 11.
Bochetto said: "It's been a long, hard battle. But we were determined to stay with it. We were determined to prevail. We knew we were right. And we finally got to the courts to agree with us."
Statues of Columbus were removed in nearby cities—Camden, New Jersey, and Wilmington, Delaware—in June 2020. The statue of former Delaware Gov. Caesar Rodney, one of the signers of the Declaration of Independence, was removed too.