Bay Area Residents Left Without Power After Severe Storms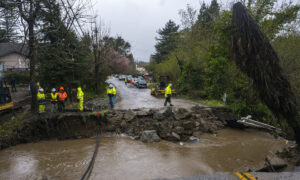 PG&E customers in the Bay area were left in the dark after a new wave of winter storms knocked out the power throughout the area on Tuesday evening.
The widespread damages and outages spread throughout the Bay Area, Central Coast, South Bay, Monterey County, and Central Valley. A total of 137,954 customers were affected.
The highest impacted counties were reported to be Santa Clara County, with 63, 443 customers still out of service, followed by San Mateo County, with 25,069 customers out of service, according to the latest updates from the PGE restoration update system on Wednesday 5 pm local time. PGE said they expected over 60 percent of these two counties would have power restored later in the evening.
The rain storm landed on Monday and took out trees and power lines across California.
"The outages are due to the storm, in particular the gusty winds which can send debris and vegetation flying into our power lines and equipment," PG&E said in a statement. "The wind and saturated soil can also lead to otherwise healthy trees uprooting and falling into our equipment."
As of 5 p.m., PG&E crews restored electric service to 288,000 customers in affected regions. Work is ongoing by crews.
"We anticipate access to damaged areas may still be difficult, which could add to the time it takes to restore power. Flooding, downed trees, and unstable soil contributing to falling rock and debris flows are all likely to occur and pose hazards for crews seeking access," PG&E said in a statement.
13th Storm
This was the area's 13th storm in the past 75 days, and it's the most impactful one as tornado-force winds blew through the region with gusts up to 95 mph, according to the national weather service.
PG&E said in a press conference broadcast on YouTube Wednesday afternoon that crew members will continue to put safety first. It may take longer to restore service, but PG&E said they were working around the clock to restore service as quickly and safely as possible.
This has caused a slowdown in assessments and repairs. Crews are prioritizing the most critical customers, such as schools and customers enrolled in medical baseline programs, during these restoration efforts.
Looking ahead, the weather is expected to become more clear and will help crews in their recovery efforts around the Bay area.
The utility company said that customers will have a timeline for restoration soon.