Biden Admin Calls for Federal Volunteers to Help With Border Crisis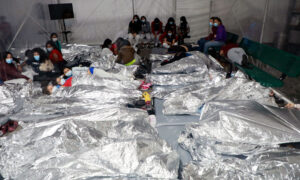 The Biden administration is asking federal government employees to volunteer for up to 120 days to assist border officials deal with the surge of unaccompanied minors who have crossed the U.S. southern border illegally.
The U.S. Office of Personnel Management (OPM) issued a memo last Thursday to the heads of executive departments and agencies seeking temporary assistance to bolster staff resources at the border. This comes as a significant influx of illegal immigrants in recent weeks, in particular unaccompanied minors, have overwhelmed border facilities and resources.
While families and single adults are being expelled at the border, the administration is still accepting unaccompanied minors who arrive illegally, Homeland Security Secretary Alejandro Mayorkas said last week.
As of March 23, over 16,500 unaccompanied migrant children were in the custody of either Customs and Border Protection (CBP) or the Department of Health and Human Services (HHS), according to the HHS Administration for Children and Families.
The OPM request is looking for volunteers who could assist at facilities in southwest U.S. border areas such as Dallas, San Diego, San Antonio, and Fort Bliss, the memo states. The volunteers will make contact with migrant children and various government and non-government stakeholders, including U.S. Customs and Border Protection (CBP), American Red Cross, and the Federal Emergency Management Agency (FEMA). Travel and lodging will be provided to volunteers.
"We are actively working to screen, process, and deploy these volunteers while continuing our recruitment efforts and exploration of other avenues to bolster staff resources at the border," an OPM spokesperson told The Epoch Times in an emailed statement.
"The Biden-Harris Administration will use all available resources to ensure that unaccompanied migrant children (UC) are safe and unified with family members or other suitable sponsors as quickly and safely as possible."
The volunteer applicants will go through child checks to ensure their suitability for the role.
Recent photos of the detention facilities provided by CBP, lawmakers, and non-profits show children sleeping in crowded conditions on floor mats, and in some cases on the floor. Other photos show very young children sleeping on mats or playing in a playpen.
A border patrol agent who spoke to The Epoch Times on the condition of anonymity described the conditions as being unhygienic and conducive to diseases, including COVID-19.
"Any diseases that are in there, it's being kept in there like a petri dish. The smell is overwhelming," the agent said, describing the conditions in a facility in south Texas.
Similarly, lawmakers from both sides of the aisle have also expressed concern over the administration's handling of the situation.
Rep. Henry Cuellar (D-Texas), whose congressional district lies along the southern border, shared a new batch of photos of the harrowing situation at the border.
"Border Patrol does not want to keep people there longer than 72 hours," Cuellar told CBS News on Sunday morning. "But there's two issues, two factors coming into play. One, there are so many—there's a large number of people coming across every single day, groups of over 100 individuals coming into Border Patrol custody, number one. Number two, the flow through, that is through [Health and Human Services], they're moving and they're trying to get more shelters open."
Meanwhile, Republican senators who visited the border on Friday called the situation a "heartbreaking" humanitarian crisis that was "preventable."
"All of us today witnessed the Biden cages. What is occurring here on the border is heartbreaking and it is a tragedy," Sen. Ted Cruz (R-Texas) told reporters on Friday.
President Joe Biden, who vowed to reverse his predecessor's immigration policies during his campaign, recently pleaded to Central American migrants to stay put in their "town or city or community" instead of making the dangerous trip to illegally cross into the United States. Asylum seekers are able to apply for refuge in the United States from their country of origin.
Upon taking office, Biden reversed several Trump-era immigration policies, including his predecessor's cornerstone Migrant Protection Protocol, which effectively ended the problematic "catch and release" policy, significantly stemming the surge of illegal immigrants that were seen at the southern border in 2019.
In a return to the Obama-era policies that facilitate "catch-and-release," the Biden administration is again releasing unaccompanied minors into the country.
The president on March 24 delegated the main responsibility of attempting to address the border crisis to Vice President Kamala Harris, saying that she is the "most qualified" person to handle the situation.