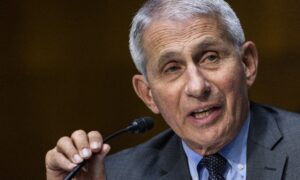 Dr. Anthony Fauci, one of the White House COVID-19 advisors, on Tuesday shifted the goalposts on herd immunity and said that he wants to see as many as 90 percent of American adults vaccinated against the virus in the near future.
About 70 percent of U.S. adults have received at least one shot, according to federal data. But Fauci suggested that when the Food and Drug Administration (FDA) grants its final approval to COVID-19 vaccines, there will be more pressure to get people vaccinated.
Speaking during a news conference at the Center for Strategic and International Studies, Fauci said that he would "settle for 70 percent or 80 percent, but I'd love to see 90 percent," describing the likely FDA approval as a "game-changer." Currently, the COVID-19 vaccines are being distributed and administered under the agency's emergency use authorization.
Later in the news conference, Fauci said that the Biden administration will need to rely on vaccine mandates at the local level.
"To get to the 93 million unvaccinated people," he said, "we are going to need local mandates."
Fauci said that some "enterprises" are going to "[feel] much more confident in local mandates for the vaccines."
When the FDA authorization is handed down, he said, "You're going to see more universities … places of businesses, once they get the cover of the mandate … you'll start seeing more vaccines. Because if you get the majority of the people vaccinated, we wouldn't be having this conversation now."
Over the past week or so, the administration has ramped up its rhetoric around vaccines, including a mandate that federal workers either get the shot or be tested regularly for COVID-19. Disney, Facebook, Google, and Walmart's corporate office also said that employees need to receive them.
New York City, meanwhile, became the first city in the United States to announce a vaccine passport-type system for restaurants, gyms, and theaters. Starting in mid-September, those businesses will have to require that customers show whether they've been vaccinated against COVID-19 by either using their Centers for Disease Control and Prevention (CDC) card or a New York state or New York City app on their phones to show their vaccination status.
Vaccine mandates or passports have been criticized by civil liberties groups and some conservatives as a potential invasion of privacy, and may potentially create a segregated society of vaccinated and unvaccinated people.
Various officials and corporate executives said the vaccine requirements are due to the Delta COVID-19 variant, which researchers say is fast spreading.
COVID-19 is the illness caused by the CCP (Chinese Communist Party) virus.