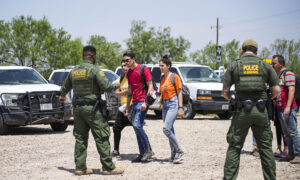 President Joe Biden's administration released over 1,300 criminal illegal aliens in a single month, according to recently disclosed statistics.
Immigration officials released 521 convicted criminal aliens and 795 with pending criminal charges in December 2022, per data released by U.S. Immigration and Customs Enforcement (ICE).
The number of convicted criminal aliens and those with pending charges released was up from 58 percent from the month prior and 48 percent from October 2022.
Convicted criminals are defined as people who violate immigration law and have a criminal conviction at the time they're taken into custody by ICE. The exact convictions are not detailed.
Other immigrants have pending criminal charges at the time of arrest.
Most of the releases stemmed from orders of recognizance, or an interim determination that the alien in question is "not a detention priority."
Others were under orders of supervision, were released due to a field office being "unable to obtain a travel document," or put on parole. The latter is a case-by-case determination for "urgent humanitarian reasons or significant public benefit" enabled by federal law.
"The law explicitly requires that those who cross the border illegally be detained, but the Biden administration clearly doesn't want to detain or deport anyone. So it isn't surprising that they are releasing criminal aliens as well," Ron Kovach, press secretary at the Federation for American Immigration Reform, told The Epoch Times via email. "Public safety and the rule of law are under attack to advance their radical open borders agenda."
Immigration officers told The Washington Times, which first reported on the data, that the releases stemmed from wanting to clear out room in preparation for the end of Title 42, a public health order that gives authorities the ability to quickly expel some illegal immigrants due to concerns they may have COVID-19.
ICE did not dispute the report but declined to comment.
Authorities also released in December 2022 more than 28,000 immigrants who violated immigration law but did not have a criminal conviction or any pending charges beyond the immigration law violation.
Another 203 convicted criminals were bonded out, or given bond by a judge or a DHS official after a court hearing. Another 91 were bonded out with pending criminal charges. And another 1,414 were bounded out with no convictions or pending charges.
Early statistics from January indicated the numbers might decline from the December levels.
The numbers come after the termination of enforcement proceedings against tens of thousands of illegal immigrants because authorities failed to provide documents telling the immigrants to appear in court.
"What caused this substantial spike in incidences of DHS officials not filing an NTA after you took office and, consequently, tens of thousands of immigration cases against illegal aliens being dismissed because of DHS's failure to file paperwork?" a group of senators wrote (pdf) to Homeland Security Secretary Alejandro Mayorkas, a Biden appointee.
Illegal immigrant apprehensions and releases have skyrocketed since President Joe Biden took office and dramatically remade the U.S. immigration system to make it easier for illegal immigrants to enter and remain in the country.
Under federal law, U.S. authorities are supposed to hold illegal immigrants until their cases are resolved—many illegal aliens claim asylum, but the claims are ultimately rejected after several years—but authorities have said they don't have enough space to hold all of those whose cases are awaiting resolution. Federal officials have been using a program called alternatives to detention to release hundreds of thousands of aliens, but have lost track of many of them.
One power authorities have increasingly turned to is called parole, which gives an immigrant authorization to remain in the country without needing to claim asylum.
The Biden administration introduced mass parole for Venezuelan natives in the fall of 2022 and just recently expanded the program to nationals of three other countries as part of what Biden said was an effort that would bolster border security and slow illegal immigration.
The program is an abuse of the parole powers, according to a lawsuit brought by Texas and 19 other states on Jan. 24.