Biden Administration to Keep Higher Medicare Premiums Despite Ruling on Key Drug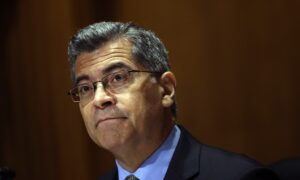 Higher Medicare premiums will remain in place at least until the end of the year, President Joe Biden administration has announced.
The premiums were increased for 2022 because of uncertainty surrounding the Alzheimer's drug Aduhelm. The Medicare Part B monthly rate was hiked 14.5 percent to $170.10.
The assumed costs for the drug, though, are lower than projected, partially due to the drugmaker Biogen slashing the annual cost by about half to $28,200, the Centers for Medicare and Medicaid Services (CMS) said in a new analysis (pdf).
Based on the developments, the premium should be lower each month, but adjusting the price in the middle of the year is not "operationally possible," according to Jonathan Blum, the chief operating officer for CMS.
Blum said the only feasible option is to take the extra funds CMS will take in this year and apply the excess to the determination for 2023, which could mean the premium next year does not increase.
Health Secretary Xavier Becerra, a Biden appointee who ordered the analysis, accepted the recommendation.
"After receiving CMS's report reevaluating the 2022 Medicare Part B premiums, we have determined that we can put cost-savings directly back into the pockets of people enrolled in Medicare in 2023," Becerra said in a May 27 statement.
"We had hoped to achieve this sooner, but CMS explains that the options to accomplish this would not be feasible. CMS and HHS are committed to lowering health care costs—so we look forward to seeing this Medicare premium adjustment across the finish line to ensure seniors get their cost-savings in 2023," he added.
CMS is an office inside the Department of Health and Human Services, or HHS.
Aduhelm was originally slated to cost an average of $56,000 per year. The change in price prompted Becerra to say there was a "compelling basis" for CMS to reexamine its premium increases.
At the time the premiums were set, it was unclear which Medicare recipients could get the drug. CMS in April formally limited coverage for Aduhelm to patients in clinical trials.
The determination meant that just "a small fraction" of those on Medicare would use the drug, but virtually all recipients would have to pay the higher premium, the Kaiser Family Foundation said. It said a midyear change in price would possibly be warranted because of the price change and coverage limitation
Aduhelm is the first drug for Alzheimer's, a brain degeneration disease, approved or authorized by U.S. drug regulators. The Food and Drug Administration approved the drug in June 2021. Approximately 6 million Americans have Alzheimer's, according to the Alzheimer's Association.