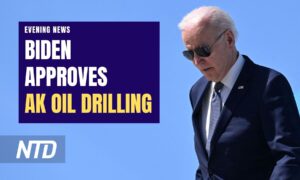 The Biden administration on March 13 green-lit a scaled-back version of the $8 billion Willow oil field development project, angering climate activists while delighting lawmakers from Alaska who have been battling to secure the project.
Milton Ezrati, chief economist at Vested, tells NTD's Stefania Cox the Federal Reserve is now caught in a bind after Silicon Valley Bank's collapse, but that the Fed is doing what it can to maintain people's trust in the system.
The House Oversight Committee has subpoenaed 14 years' worth of Bank of America records related to Hunter Biden's business dealings with three associates.
A strong winter storm will be hitting much of the Northeast United States. New York Gov. Kathy Hochul declared a state of emergency and warned there could be power outages.