President Joe Biden on Jan. 6, two years after rioters breached the U.S. Capitol, awarded medals to Capitol Police officers who were on duty that day as well as poll workers and election officials.
Biden gave Presidential Citizens Medals to 14 individuals, including officers Harry Dunn and Eugene Goodman, as he hailed the response by law enforcement to the breach.
"History will remember your names. They'll remember your courage. They'll remember your bravery. They'll remember your extraordinary commitments to your fellow Americans. That's not hyperbole; that's a fact. That's a fact," Biden said, calling the officers "heroic."
Relatives of officers Howard Liebengood, Brian Sicknick, and Jeffrey Smith were given medals. Liebengood and Smith committed suicide after the breach while Sicknick died of natural causes. All three were on duty on Jan. 6, 2021. No officers died on that day.
U.S. Capitol Police officers Dunn, Goodman, Aquilino Gonnell, and Caroline Edwards were joined by Metropolitan Police Department officer Daniel Hodges and former Metropolitan Police Department officer Michael Fanone.
"I want to thank you all for your service, your strength, your courage, and, I know it's a corny thing to say, but your patriotism," Biden said.
Also awarded medals were poll workers Ruby Freeman and Shaye Moss and officials from three states: Michigan Secretary of State Jocelyn Benson, a Democrat; former Arizona House Speaker Rusty Bowers, a Republican; and Al Schmidt, a former Republican election official in Philadelphia.
Freeman and Moss, her daughter, were working at State Farm Arena in Fulton County, Georgia, during the 2020 election when observers and media were told to go home, leaving a window of time when none were present but counting continued. Rudy Giuliani, former President Donald Trump's onetime lawyer, has accused Moss and Freeman of planning the lack of oversight as well as election fraud, pointing to video footage that appeared to show workers producing ballots after telling the observers to leave.
Trump this week criticized Freeman on his Truth Social media platform and drew attention to the purported "water main break" that caused the evacuation of part of the arena on election night, which was later found to just be an overflowing urinal.
Biden said Thursday that Freeman and Moss "were just doing their jobs until they were targeted and threatened by the same predators and peddlers of lies that would fuel the insurrection," referring to the Capitol breach. The president praised the women for testifying during a hearing of the House Jan. 6 panel.
Biden said that Benson "refused to back down" after being threatened in the wake of the 2020 election, that Bowers "put his obligation to the Constitution of this country ahead of everything when he refused intense political pressure to decertify the 2020 election results," and that Schmidt, who was just appointed as Pennsylvania secretary of state by new Democrat Gov. Josh Shapiro, "did not bend, he did not bow, he did not yield to the political threats and pressure" during the election.
The ceremony took place as the House of Representatives carried out additional votes for speaker. Rep. Kevin McCarthy (R-Calif.) received enough votes to win the race overnight.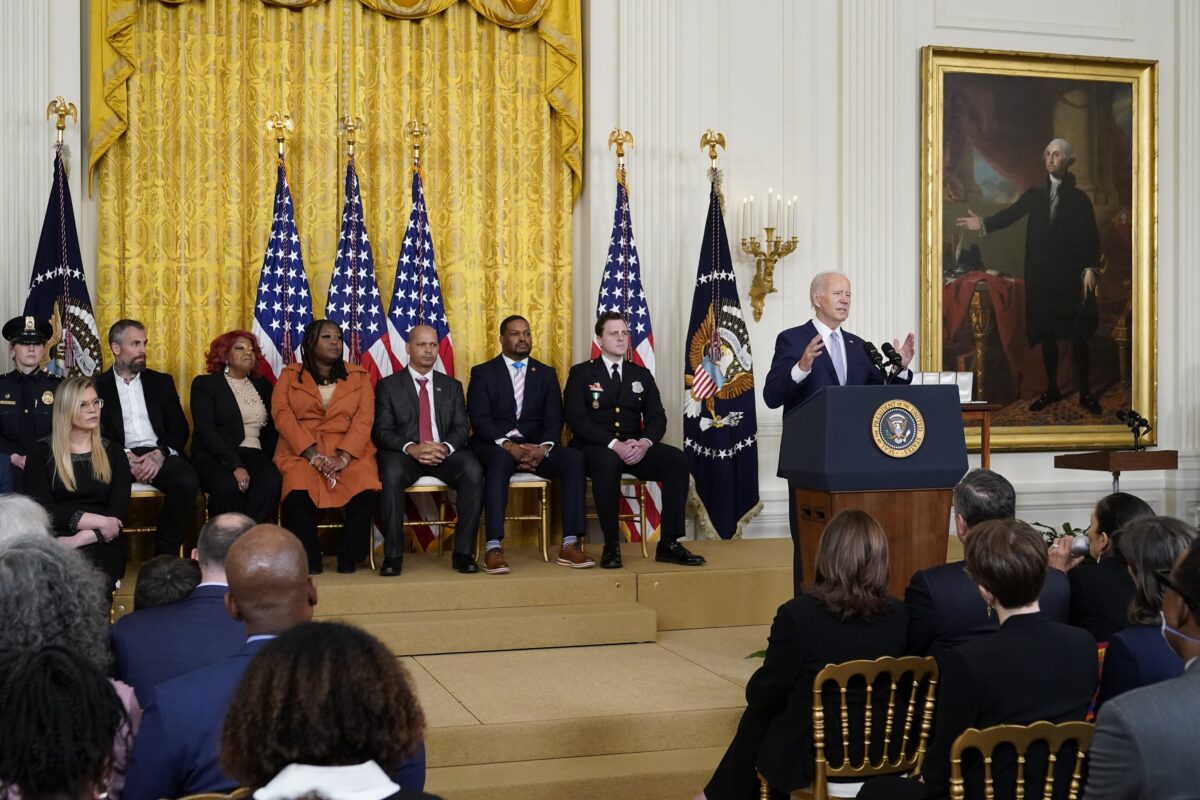 Marks Anniversary
In a separate event outside the Capitol, top Democrats including House Minority Leader Hakeem Jeffries (D-N.Y.) marked the anniversary of the January breach.
Jeffries claimed that multiple officers "gave their lives" protecting Congress, adding later that "as a result of the events on Jan. 6, the lives of five heroic officers were lost" and that a sixth died defending the Capitol in April 2021.
Jeffries was referring to four officers who committed suicide—Liebengood, Smith, and Metropolitan Police Department officers Gunther Hashida and Kyle deFreytag—as well as Sicknick. The sixth was Billy Evans, who was killed several months after the breach by a radical Muslim.
Only one of the deaths has been linked officially to the breach. The Department of Justice classified Liebengood's Jan. 9, 2021, suicide as a line-of-duty death under pressure from family members and after Congress passed a law reforming the Public Safety Officers' Benefits Program.
Family members of the officers read their name during the event before holding a moment of silence.
Biden referenced the new law, which he signed, in his prepared remarks, saying it "recognizes death by silent injury … so future families of public safety officers who die in the wake of traumatic circumstances will get the benefits they deserve."
Ashli Babbitt, a military veteran who entered the Capitol, was shot dead on Jan. 6 by U.S. Capitol Police officer Michael Byrd. The officer was later cleared by the Department of Justice. Babbitt's mother was detained Friday during a protest marking her daughter's death.
Three others died on Jan. 6 in or around the Capitol. Kevin Greeson and Benjamin Phillips were determined to have died from natural causes while the death of Rosanne Boyland was described as accidental. Video footage, though, showed that she was struck by an officer as she lay on the ground near the Capitol, and a use-of-force expert told The Epoch Times that the officer who struck Boyland committed felony assault.