Retired Harvard Law professor Alan Dershowitz said that the discovery that President Joe Biden kept classified documents from when he was vice president undermines arguments to prosecute former President Donald Trump.
Trump's Mar-a-Lago residence in August was raided by FBI agents as prosecutors alleged that he kept classified records There. But this week, Biden's lawyers said that classified records were found at Biden's Delaware home and a Washington office that he had used, triggering a Thursday announcement from Attorney General Merrick Garland that he appointed a special counsel to investigate the matter.
"You cannot have two systems of justice unless the claims against Trump passed what I used to call the Clinton-Berger test," Dershowitz told Just the News on Wednesday, responding to the two incidents. "Now it's the Clinton-Berger-Biden test. Unless his conduct is so much more egregious and unlawful than what the three Democrats were accused of doing, you can't have a criminal prosecution of Donald Trump."
Dershowitz then stated that Biden possessed these documents when he was vice president and, unlike Trump, did not have the authority to declassify. After last year's FBI raid, Trump and former White House officials have said he declassified a range of materials when he was president.
"We know for example presidents can declassify material when they're in office, but not after they leave office," he said. "We know that vice presidents cannot declassify material."
However, the former law professor and high-powered criminal defense attorney said that neither Trump nor Biden should be prosecuted over these documents.
"There's not enough for a criminal prosecution of either of them," Dershowitz told the outlet. "Even if there was some inkling that maybe Trump should be prosecuted for Mar-a-Lago, it's not going to happen now. Merrick Garland is not going to want to be perceived as somebody who applies the law differently to Democrats and to Republicans."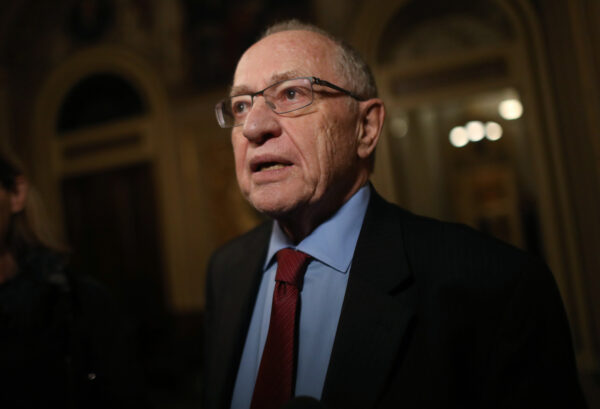 During an exchange with a reporter Thursday, Biden was asked about whether he knew those documents were in his garage. Biden said that he knew they were there.
"So the documents were in a locked garage?" Fox News reporter Peter Doocy asked him. "Yes, as well as my Corvette," Biden answered, also telling reporters this week that he is "coopering fully" with the Department of Justice.
White House Responds
This week, the White House has been scrambling to respond to the classified materials revelation, and Thursday was no different. In a news briefing, White House press secretary Karine Jean-Pierre fielded numerous questions about the reports and Garland's announcement, at times struggling to give cohesive answers.
"We're trying to do this by the book–as I said yesterday, this was under review by the Department of Justice and the process is as such: when the president's lawyers realized that the documents existed … they reached out to the archives, they reached out to the Department of Justice—rightfully so, may I say. That is what you're supposed to do, as lawyers, that's what they did—and they have fully been cooperating with the Department of Justice," she told reporters.
Later, Jean-Pierre declined to state if Biden was confident that there are no more classified documents in any other locations.
"I can just refer you to what his team said … this search is complete, he is confident in this process, and I will leave it there," she said.
Garland Announcement
Earlier Thursday, Garland announced he's appointing a special counsel to probe the finding of those documents, naming Robert Hur, a former Trump-appointed U.S. attorney in Maryland, to lead the investigation.
"The extraordinary circumstances here require the appointment of a special counsel for this matter," Garland said, adding that Hur will investigate whether any person violated the law. "This appointment underscores for the public the department's commitment to both independence and accountability in particularly sensitive matters, and to making decisions indisputably guided only by the facts and the law," Garland said.
Biden's lawyers found the first set of documents in a locked closet in the offices of the Biden Penn Center in Washington on Nov. 2, just before the midterm elections, but publicly revealed that development only on Monday.
Biden did not say when the latest documents were found at his home, only that his lawyers' review of potential storage locations was completed Wednesday night.
The Associated Press contributed to this report.