Biden Urges Americans to Travel Early Ahead of Winter Storm; Concerns of Deeper Recession Linger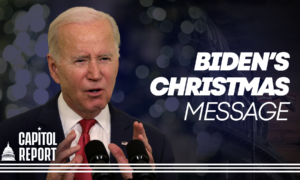 Congress has approved $1.7 trillion to fund the government for next year. The Senate barely garnered enough votes to push it through—with most Republicans opposed.
President Joe Biden is delivering a Christmas address. What is his message, and his warning about dangerous winter storms bearing down across the country?
Rep. Byron Donalds (R-Fla.) joins us to weigh in on the economic outlook for the U.S. economy heading into 2023. What does he also say about the collapse of crypto giant FTX and what it means for the industry going forward?
Tavi Costa, economy expert and partner from Crescat Capital, joins us to assess key indicators that determine the fate of the economy.
With several Twitter Files installments now released, the FBI is striking back. The agency says conspiracy theorists are discrediting its reputation.
The average life expectancy for Americans has dropped to the lowest in 25 years.