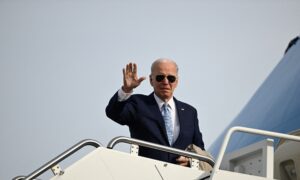 President Joe Biden visits El Paso, Texas, on Jan. 8 in his first trip to the southwestern border since taking office.
Republicans and some Democrats who represent districts along the U.S.–Mexico border have repeatedly called on Biden to visit the border amid surging numbers of illegal immigrant crossings. They've also accused the administration of pursuing an "open borders" agenda by rescinding numerous Trump-era immigration rules.
The Biden administration on Jan. 5 announced steps that officials said would improve border security and help slow illegal immigration while helping migrants obtain legal status in the United States.
The administration is expanding a parole program that was restricted to Venezuelans to would-be immigrants from three other countries. People from Cuba, Nicaragua, and Haiti are now eligible to apply for legal status for two years, provided they find a sponsor inside the United States and pass a background check.
Under U.S. immigration law, the secretary of Homeland Security may grant parole to individuals who would otherwise be illegal in the United States. The program, launched in October 2022, leveraged that power to thousands of Venezuelans. Up to 30,000 people per month from the four countries who are paroled can come to the United States for two years and be allowed to work. They're required to legally enter the United States and aren't permitted to go to Mexico or Panama without authorization while their application is weighed.
Biden is slated to attend the North American Leaders' Summit in Mexico City on Jan. 9 and Jan. 10, where he is expected to meet with Mexican President Andrés Manuel López Obrador and Canadian Prime Minister Justin Trudeau.