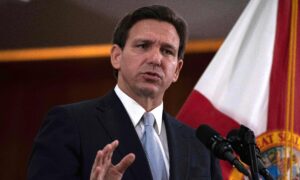 Nineteen Republican governors, including Florida Gov. Ron DeSantis and South Dakota Gov. Kristi Noem, penned a letter calling out President Joe Biden's commitment to environmental, social, and corporate governance (ESG), which they say poses a direct threat to the American economy, individual economic freedom, and the country's way of life. The governors asserted that the proliferation of ESG has placed investment decisions into the hands of the "woke mob" and that financial institutions should return to profit-driven strategies.
The letter comes in response to a new rule proposed by the Department of Labor that would require fiduciaries—entities that manage assets or provide financial advice—to elevate the importance of "the economic effects of climate change and other ESG factors" when making investment decisions. Congressional Republicans attempted to block the change but Biden has said he would use veto power to uphold the new rule.
"Yet again, President Biden put his political agenda above the wellbeing and individual freedoms of hardworking Americans," the letter from GOP governors reads. "Retirees, already suffering from the reckless fiscal policies of the Biden Administration, will continue to experience diminished returns on the investment of their hard-earned money while the corporate elite continue to use their economic power to impose policies on the country that they could not achieve at the ballot box."
Under current financial laws, fiduciaries must exercise "prudence" when making investment decisions. Traditionally, this requirement was in place "in order to minimize the risk of large losses," according to the Department of Labor.
The department's new rule would add greater weight to ESG issues, potentially exposing asset managers to liability for omitting environmental or equity-related data when assessing investments.
The governors accused Biden of putting "the pensions of thousands of hardworking Americans at risk" by threatening veto power. They also accused the president of trying to "bypass the ballot box and inject political ideology into investment decisions."
In addition to DeSantis and Noem are Govs. Kay Ivey of Alabama, Mike Dunleavy of Alaska, Sarah Sanders of Arkansas, Brian Kemp of Georgia, Brad Little of Idaho, Kim Reynolds of Iowa, Tate Reeves of Mississippi, Mike Parson of Missouri, Greg Gianforte of Montana, Jim Pillen of Nebraska, Chris Sununu of New Hampshire, Doug Burgum of North Dakota,  Kevin Stitt of Oklahoma, Bill Lee of Tennessee, Spencer Cox of Utah, Jim Justice of West Virginia, and Mark Gordon of Wyoming.
The signatories vowed to enact state-level policies to counteract the administration's ESG push.
"As Governors, we are committed to protecting the interests of our constituents and will keep fighting the Administration's decision to jeopardize retirement savings for millions of Americans to promote far-left priorities," they wrote. "This may include blocking the use of ESG in all investment decisions at the state and local level."
While not giving firm commitments for any particular action, the governors suggested forbidding state and local regulators from including ESG-related calculations in decisions related to the use of taxpayer money and the issuance of government bonds. It is unclear how such a mandate might clash with environmental considerations.
Another suggestion mentioned the prohibition of "Social Credit Scores" when determining whether an entity is eligible for financial services.
As the letter put it, this could mean "stopping financial institutions from discriminating against customers for their religious, political, or social beliefs, such as owning a firearm, securing the border, or increasing our energy independence." This follows recent controversies surrounding the surveillance of firearm-related purchases by several credit card companies—including Visa, Mastercard, and American Express.
The letter marks the latest stand by conservatives to confront "woke" ideology. The Biden administration has yet to comment on the letter.