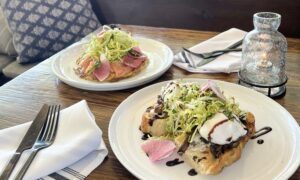 Hungry diners will have dozens of options to satiate their appetites during the 15th annual Orange County Restaurant Week—no tickets or passes required—running from March 5 to 11th.
One hundred and fifty restaurants will be participating with prices for any budget, including pre-chosen menus ranging from $15 to $70 per person.
Dining options include multi-course meals, brunch spreads, specialty steaks, fusion cuisine, and much more, with updated menus at each eatery, specially created for the event.
Groups of any size are also welcome, with meal options available for date night, family-friendly options, and more elevated "luxe" dining experiences.
Those looking for specialty cocktails are in for a treat as well, with locally-inspired blends including the fruity "OC Spritzer" at Santa Ana's Benchmark restaurant, a sangria-style "Orange Royale" cocktail at Costa Mesa's Cafe Sevilla Spanish Restaurant and Tapas Bar, and dozens more to choose from.
Among the dozens of options for meat lovers is Famous Dave's Barbecue in Irvine, featuring spare ribs hand-rubbed with signature spices, which are then pit-smoked for four hours over a hickory fire before being slathered with a barbecue glaze over an open flame to seal in all the flavor with a crispy, caramelized coating.
For those with a sweet tooth, options include "Atomic Creamery" ice cream shop in Newport Beach, which will feature loaded brownies topped with ice cream, a decadent strawberry shortcake, and Irvine's "Tea Maru," serving a variety of matcha and other sweet teas and specialty cookies.
A full list of participating restaurants can be found here.