Billionaire investor Bill Ackman said he is "extremely concerned" by the federal government-backed infusion of $30 billion to First Republic Bank by 11 of the top banks, saying the plan will create a "false sense of confidence" and risks the spread of contagion.
On Thursday afternoon, 11 banks—including JPMorgan Chase, Wells Fargo, Citibank, and Bank of America—said they would provide $30 billion to First Republic after the California-based regional bank saw its stock plummet amid fears that customers would withdraw their deposits from the institution. It came after Silicon Valley Bank and Signature Bank of New York collapsed last week, triggering federal intervention.
But Ackman wrote in a lengthy, scathing Twitter post on Thursday night that the banks' "press release announcing the $30B of deposits raised more questions than it answers … lack of transparency causes market participants to assume the worst."
"I have said before that hours matter. We have allowed days to go by. Half measures don't work when there is a crisis of confidence," wrote Ackman, who previously called on the federal government to take swift action after SVB's collapse. Ackman again suggested that more federal intervention is needed: "We are beyond the point where the private sector can solve the problem and are in the hands of our government and regulators."
"FRB is no SVB," he wrote, referring to First Republic Bank and Silicon Valley Bank. "It is a well-managed, well-capitalized, high-service bank with good assets that is beloved by its clients. It is caught up in a bank run due to no fault of its own. It does not deserve to fail. We need a temporary systemwide deposit guarantee immediately until expanded and modernized [Federal Deposit Insurance Corporation] insurance system is made widely available."
Another hedge fund billionaire, Ken Griffin, has taken the opposite stance and said that government intervention isn't needed. On Monday, Griffin told the Financial Times that the recent federal actions are causing the U.S. capitalist system to collapse.
"The U.S. is supposed to be a capitalist economy, and that's breaking down before our eyes," he warned, adding that the FDIC move to protect previously uninsured depositors at SVB is a "loss of financial discipline."
What Happened
In a news release, 11 of the largest U.S. banks said they will provide an infusion to First Republic after a volatile week that saw the lender's shares plunge. They include Bank of America, Citigroup, JPMorgan Chase, Wells Fargo, Goldman Sachs, Morgan Stanley, BNY-Mellon, PNC Bank, State Street, Truist, and U.S. Bank. Those deposits will be uninsured, the statement said.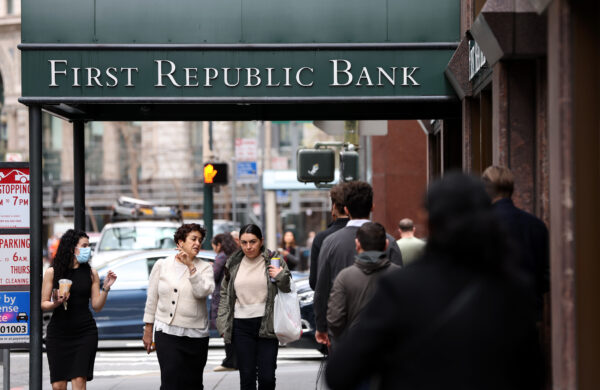 "The actions of America's largest banks reflect their confidence in the country's banking system. Together, we are deploying our financial strength and liquidity into the larger system, where it is needed the most," the banks said. "Smaller- and medium-sized banks support their local customers and businesses, create millions of jobs and help uplift communities. America's larger banks stand united with all banks to support our economy and all of those around us."
First Republic's stock closed at roughly $115 per share on March 8, but as of March 16, it traded below $20 as it was halted multiple times throughout the week. By the end of regular trading on March 16, its shares rose by almost 10 percent.
On Friday morning, shares of First Republic dropped by upwards of 18 percent.
It came hours after Treasury Secretary Janet Yellen insisted to senators during a hearing that bank deposits and savings "remain safe" and that the federal government is committed to ensuring that deposits are safe and that the American banking system is sound.
"I can assure the members of this committee that our banking system remains sound and that Americans can feel confident that their deposits will be there when they need them," Yellen told lawmakers in a prepared statement. "This week's actions demonstrate our resolute commitment to ensure that depositors' savings remain safe."