Bobulinski Says FBI Buried Evidence; The Chinese Fentanyl Threat; Elon Musk's Renewed Twitter Bid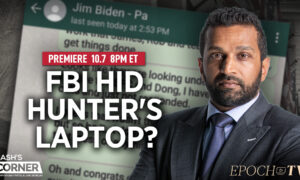 This episode will premiere on Friday, Oct. 7 at 8 p.m. ET.
On this episode of Kash's Corner, we discuss the Chinese fentanyl threat, Elon Musk offering to buy Twitter again at the original price, and allegations by former Hunter Biden business partner Tony Bobulinski that the FBI buried evidence of Biden family wrongdoing.
"Call logs don't lie. Text messages don't lie. Photos don't lie. Internet traffic data … it's hard empirical data," Patel says.
"The fact that [Bobulinski] laid out this amount of information, and the FBI has never talked to him since that interview, not one phone call, not one email… as a former national security prosecutor, to me, that is totally unacceptable," Patel says.
* Click the "Save" button below the video to access it later on "My List."
Follow EpochTV on social media: 
Twitter: https://twitter.com/EpochTVus
Rumble: https://rumble.com/c/EpochTV
Truth Social: https://truthsocial.com/@EpochTV
Gettr: https://gettr.com/user/epochtv
Facebook: https://www.facebook.com/EpochTVus
Gab: https://gab.com/EpochTV
Telegram: https://t.me/EpochTV